LOGIC ERP Solutions: A Benchmark for Best Retail Solutions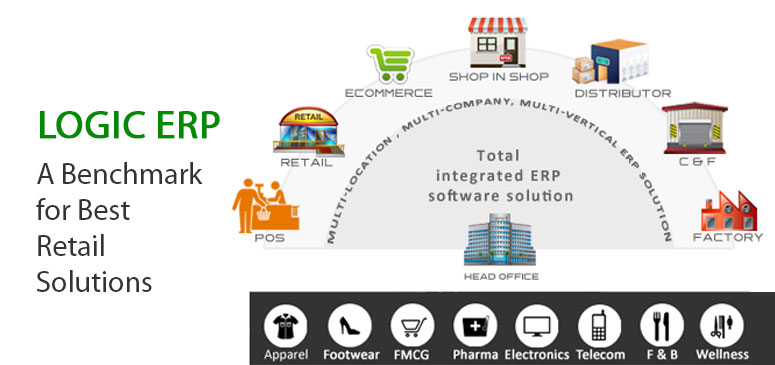 LOGIC ERP Solutions Pvt. Ltd., under the aegis of its Managing Director –Swarndeep Singh, is a company that intervened into IT Services in the year 1993. Where traditional retail software vendors provide only in-store operation and PoS (Point of Sales) management, LOGIC offers niche vertical-specific business application for retail industry. It serve as a single platform of complete ERP solution under the brand identity "LOGIC Enterprise – Total Integrated ERP Software Solution" to manage Manufacturing, Warehouse Management, Loyalty Management with e-Commerce as well as Payroll. Their ERP solution is low in cost of ownership, with rapid RoI and a single point of accountability.
"We always strive to approach with creative concepts and ideas to evolve exclusive ERP solutions that embrace cutting-edge technologies, extensive research work and aggressive testing with repeated simulation. To scale the prowess, LOGIC envisages being a well-known brand in the entire PAN Asia and Gulf countries by 2015," says Singh. He emphasized, "to enjoy the success of 'Dream of LOGIC', the pinnacle would be in serving widespread regions of Europe, North America and Latin America by truly being the "Best ERP for RETAIL".
Innovatively, the company is rendering its expertise to most of the big players, commercial houses and top business brands of Retail, Apparel & Footwear, Pharmaceutical, FMCG, Electronics & Telecommunication, and many other vertical. One of their striking stories speak about their zest to accomplish that has never been achieved before.
Reebok India Ltd. has a huge network of over 900 PoS in multiple locations across India. They needed to be technologically supported for day-to-day technical & functional problems. Additionally, they wanted transactions of all PoS to reflect at head office for MIS, maximum or less than an hour old transactions of retail stores. They implemented LOGIC's Online Reporting Solutions and Auto Report Mailer to manage their warehouse and head office operations and conveniently warded-off the worries of sales team that needed sales & target reports and ledger of franchisee & channel partners on the move.
LOGIC has successfully resolved concerns of other retail clients like Disney, Lee Cooper, Killer, Gini & Jony, Beverly Hills and more. Other concern addressed is the requirement of both books of accounts, i.e., Indian accounting format and foreign books, which was successfully implemented to their clients 'Calvin Klein' and 'French Connection'. Their in-house workforce of professionally experienced teams always aim towards result-driven practices, attention to needs and real-time communication.
Trustworthily, LOGIC has never ignored the security of the most important asset of their client i.e., 'Data'. The servers are robust and coupled with the best security software to ascertain intrusion-proof protection. However, for ERP on Cloud, company strictly adheres to non-disclosure policy. Advancing with their 'On Premises Model', the data will now be available at the customer's end. Moreover, the company is all set to roll out a new dimension in data security, where, every customer will have their own admin panel to manage their data and password policy.