Selecting A Retail POS System: Top 5 Things To Consider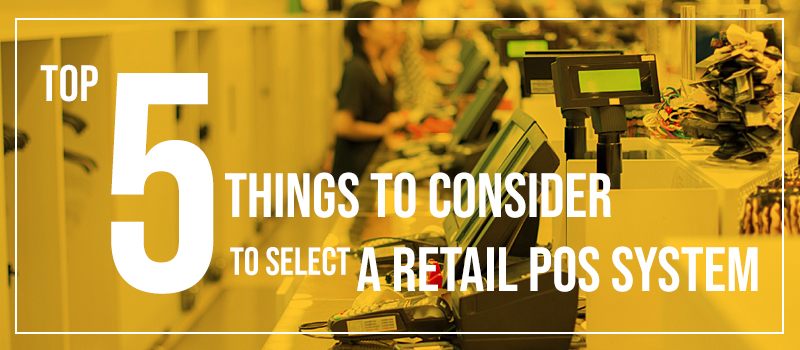 Are you planning to select a retail POS system for managing your retail business processes? It is a vital decision, that you should make after analyzing every important aspect that a software must have. Are you unaware of this? Don't worry, we will guide you to make a better decision to speed up your business profits.
Following are the five key features that a Point of Sale (POS) system must have:
Inventory Management & Tracking
This feature allows you to keep track of every product in your stock on a daily, weekly or yearly basis. It will prevent you from over-ordering, and the system should also give you an alert when you are low on any product quantities. You will get the complete picture about which products of your are performing well and which don't. Also, reminders and tracking will make it easier for you to plan and manage the flow of cash. It doesn't matter whether you have 10 or 10,000 products, the software must be reliable to keep track of every product in a detailed manner.
Proper Reporting System
Your system should be capable of generating the following reports:
1. Customer Reports
Your retail management system should help you in identifying your best customer base. With this, you can make better decisions to engage them with your services. Make sure that the system comes with the proper customer reporting mechanism.
2. Product Reports
The product reporting will provide you data of all your stock which will include the worst and best-selling items. It will help you to make better pricing and merchandising decisions.
3. Employee Reports
The success of a retail business also depends upon its employee's performance. Who are the extra-ordinary associates of yours? Which employee needs improvement in his/her work? Are the sales targets? All these questions will get answered with the right employee reporting tools.
4. Custom Reports
The software must enable you to create your own custom-made reporting. No doubt that ready-made reports are helpful, but sometimes you will have to build the reporting of your own. That's why your Point Of Sale (POS) system must offer flexible reporting feature.
Easy to use POS Software
It is critical that a POS software you are opting for your retail business should be easy to use. You will be using the software for every transaction daily. If the system will be complex, it will make difficult for you and your employees to troubleshoot, learn, and update. Go for a system which is easy to use and also fulfill every important need of your business.
Split Payments or Multiple Payment Methods
Credit cards and cash are now traditional payment methods. In this digital age, people are using mobile payment methods. Make sure that your POS allows you to receive such payments. It should also be able to split a payment in case your customer wants to use cash, an Amex, or gift cards.
Bulk Items Importing Option
If you have a few products to sell, then manually uploading each item will not be a problem for you. But in case you are putting a large number of items on sale, then it can get tedious and problematic for you unless you have a software that has a bulk product import feature. Make sure that your retail POS software enables you to upload all your items in a bulk upload.
Pricing is also an important aspect, but it shouldn't be your top priority if you want to succeed in your business. LOGIC ERP provides you with a great opportunity to run and manage your business processes. You don't have to worry about compatibility issues. If you are new to the retail industry, then it will be a very useful software solution for your business. It will help you grow your trading to next level.