Reasons Why Pharmaceutical Companies Need Pharma ERP Software?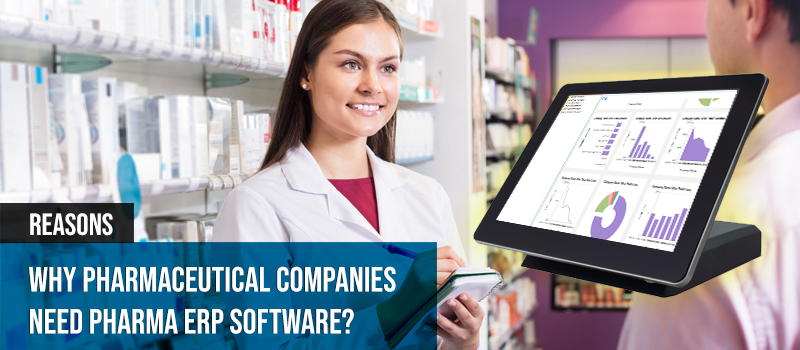 From the last couple of years, the pharmaceutical business is experiencing a huge competition in the unpredictable manufacturing market. The manufacturers need to be much quicker about making appropriate decisions, such as:
To cop-up with changing healthcare standards,
Managing production requirements,
Regulating the changes made by the Government,
Implementing innovative and new production requirements to strengthen the business process.
Having a reliable Pharma ERP Software can help in managing all these requirements. As the demand of customers is increasing day-by-day, the pressure of selling best quality healthcare products is also increasing over pharmaceutical companies. They need to even consider the price tag of the items to withstand in the market.
You can't deny the fact that the manufacturing procedures are very complicated as they change daily. Even the timeline and scale of the operations are critical, thus making you necessary to implement an ERP software to ensure smooth functioning of all business processes.
As a doctor also, you have to deal with hundreds of patients daily, which makes it important for you to maintain the record of your patients, If you want to know that how does a Pharmaceutical Manufacturing & Wholesale Software can ensure that you don't lag behind in the pharmaceutical business, the following reasons can help you in it:
Accurate Management of Patient's Records
With an ERP system, you can maintain the patient's record digitally. It will store their current status and history, such that whenever they will come again into your premises, you can check their old records to have a better understanding of their health issues. You can even keep track of their payments, medicines bills, and pending payments.
Meeting Government & Industry Regulations
Everyone desires that their business grow successfully in the global market and have a competitive edge over competitors. For this, you such meet regulatory requirements such as:
Quality assurance according to GMP norms,
FDA 21 CFR,
Validation Protocols,
Price Tags,
Quality Management.
When you implement a Pharma specialized ERP software, it integrates the formulation management with regulatory requirements, which gives you a productive business model. It will ensure that your Pharma Business meets all Government regulations and industry norms.
Marketing & Sales Management
Every Pharma ERP software comes with sale management functionality. With this, you can implement instant sales order processing. You can help you:
Regulate your sales and marketing activities.
Maintain customer history and records,
Create automatic marketing campaigns,
Transfer information automatically to a sales order,
Execute promotional campaigns to get better ROI, etc.
Recipe Management of Drug
No doubt that Pharmaceutical businesses undercut the drugs price to stay in the competitive market, but what about the GMP norms. You have to also maintain the salts amounts according to GMP norms to ensure the effectiveness of the drugs. In this situation, an ERP software is most preferable to streamline your manufacturing procedure and assures a good Return Of Investment. You can easily integrate the government and industry norms with ingredient formulation with an ERP software.
Items Distribution Management
Another benefit you can have with ERP software is that you can monitor the batches from the item requisition stage to IPQC stage. As a manufacturer, you can monitor the lot or batch work-in-progress and their delivery status remotely. You can even keep track of the damaged stock and return status.
Inventory Control & Management
The success of a Pharmaceutical business depends upon proper management of various drugs, medicines, salts, and equipment. It is a time-consuming process but very important, which should be error free. Your Pharma ERP software must be able to:
Monitor inventory levels on a regular basis,
Ensure the required material is available for production,
Record the data on material usage,
Display inventory status on time,
Give a reminder to replenish the stock.
Proper Status Reporting
Reporting is a crucial task due to compliance needs and statutory vigilance of the Pharma Industry. Keeping the record of every process and related documentation is necessary for future analysis and audit checking. So when you have a proper status report in an ERP system, you can access it from anywhere. Cloud storage comes quite handy in such aspects. All you need is Internet access.
LOGIC ERP is a highly advanced Pharmacy Management Software that can streamline all the necessary processes in your Pharma Business. You will get real-time inventory data, can securely keep records of patients. As a pharma professional, you will get a better assessment of medicine quality and can plan the production of next batch. Get the LOGIC ERP benefits to minimize wastage, raise productivity and increase the efficiency of the business process in your organization.