LOGIC ERP: Offering Reliable Mechanism to improve Billing Process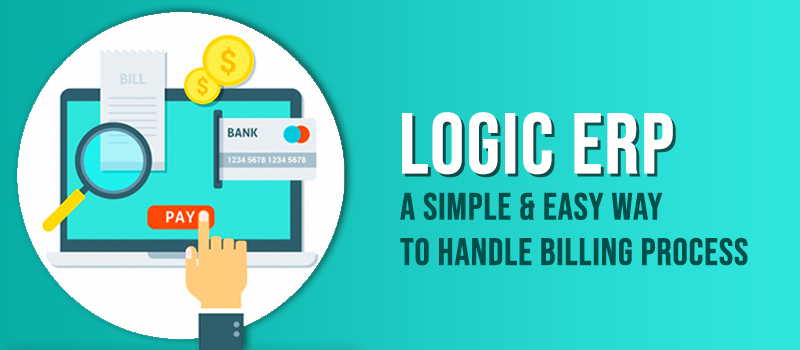 One who knows time management definitely succeeds in their task. That's why it is the most important asset in the business world. In the last few years, business owners have shown their interest in implementing various technology-driven solutions. Also, market trends and competitions evolve with time, which creates difficulty for some people to adopt high-tech solutions. But, what if there's a software solution that you can use for long-term and is easy-to-use. A scalable, reliable, and robust solution, compatible with your business needs.
Billing is one of the most important aspects of every business. A billing software comprises of key features such as:
Accounting,
Inventory management,
Easy billing, and
GST return filling.
Also, multi-user billing mechanism is now a need of the hour for businesses nowadays. It is because many billing machines run at the same time.
Most of the software claims to have multi-user billing feature, but when you install them in an actual working environment, they fail. But, LOGIC ERP software solution offers multi-user billing facility without compromising your business operations.
The thing is, you never realized that there's any other software solution available in the market that can change the way you carry out your billing process in a positive way.
When you are using a multi-user software for billing, all the systems will show the same inventory details. In a situation when your inventory is not able to deal with all the bills at a time, then it gets refected as negative stock. As a result, the product will get removed from every bill automatically and you have to re-check the bills. Imagine such a thing happens when there's a huge queue at a billing counter. It will be chaos, requiring a lot of staff-efforts.
To provide an instant solution, most of the software service providers try to be more creative by reducing stock level while saving the item, instead of saving the bill. But what if the power outage occurs suddenly, or an employee accidentally cancel the bill? The multi-user billing software concept will fail completely as the stock wasn't updated.
As one of the leading software provider, LOGIC ERP considered all these facts and situation and provided a reliable, efficient and robust solution to every billing problem. The billing process in LOGIC ERP works in the following way:
"Operator Select and Save the item -> Inventory Updated -> Inventory status updated on other operators billing screen."
Same goes for bill cancellation too. In case the bill was not saved or got canceled due to some reasons, the stock level will restore and reflect on the panel immediately. The user can also open multiple billing windows (based on the licenses purchased) on one screen.
LOGIC ERP is an integrated billing software, designed to:
Generate 100% correct bills,
Handle reduction/addition of products on a bill,
Inventory Management, etc..
Thus you can say that LOGIC ERP is a reliable inventory and accounting software solution provider that supports multi-user billing. As a business owner, if you desire to surpass your competitors and reach new heights, then invest in LOGIC ERP and watch your business grow.