How POS Software Can help you Organize Retail Business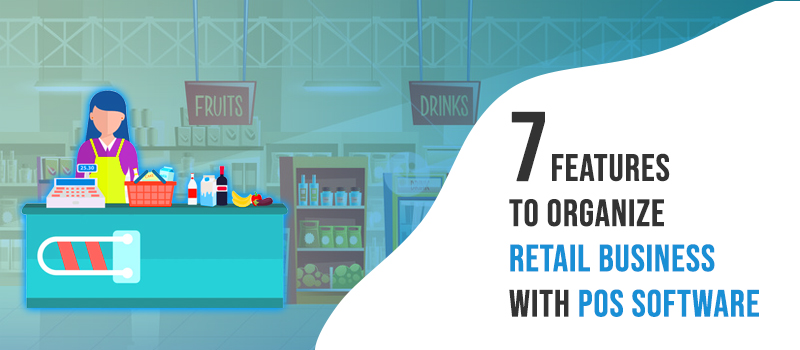 When you look into the market, you will find dozens of Retail POS software claiming to be best than others. But that's not completely true. Every business segment has different needs, which concludes the usage of POS software. An apparel store will require a different type of Point of Sale features as compared to bakery or restaurant. But now, after countless surveys and researches, the experts have suggested various unique parameters, necessary for POS software for any retail business.
Following are some necessary POS features that you should consider when purchasing a POS system for your retail business:
Work as an Inventory Handler
A scalable Point of Sale system must have a functionality of an inventory management software. It enables staff to handle customer's queries regarding the availability of the product. Also, the store manager will have instant MIS available with which, he/she can help in the demand-supply assessment.
Instant access to reports
With POS system software, you can check registers total along with detailed payment information at real-time. You will get instantaneous access to monitoring data in the form of real-time reports, which you can check everywhere at any time. As an admin, you can view the up to date numbers.
Easy Checkout with Invoicing
One of the essential features of POS billing software is that it should enable speedy checkout of items with instant billing in a purchase. Nowadays, point of sale billing software comes with barcode scanning checkout systems that are necessary for supermarkets and retail stores.
Effective & Dynamic Reporting Tools
Every retail Point-of-Sale software must have a user-friendly reporting mechanism. The user should be able to generate reports according to his/her needs, or else, they can use pre-added reporting templates. The user should be able to view information such as:
Sales statistics,
Yearly sales & round the hour transactions,
Product models, styles, quantity,
Periodic sales numbers, etc.
Assisting Customer Relation Team to run Loyalty Programs
In every store or supermarket, a CRT (Customer Relation Team) is responsible for maintaining good relations with the customers and generating new leads for the business. It requires a great understanding of what is selling and why. By studying these aspects, the CRT can design and implement loyalty programs and schemes to gather more customers. POS software can assist in the implementation of such projects and can provide accurate data analytics.
Stay Connected with Multiple Branches all the time
Earlier, when a person is running multiple branches of his/her business at different locations, it is very hard to stay in touch with every branch. But now, the POS comes with online admittance that can assist you to stay connected every time and anywhere with your business. It is a perfect feature for retail firms with more than one branch.
Improve Customer Experience
If you look closely around you, the retail markets, superstores, or any type of business are no longer bound to cash registers. With the feature to accept customer's transactions anywhere, along with acquiring complete details of retail items, your staff can speed-up the transaction process. The wait time of your business will decrease for clients, which will promote positive customer experience.
Other POS System Features
Dedicated POS Mobile App
User-friendly and easy understandable billing interface
Touch Screen POS
Quick Ordering and Payment Gateway
Post Pay Bill
In a retail business, POS act as a core component when deployed with complete understanding. By carefully integrating with your business operation, it can give you outstanding results for your business growth and cost optimization. At LOGIC Enterprise, we know that selecting retail POS system is an important decision for any retail business owner. With our point of sale software, you can streamline your retail store operations. It would eventually increase your business profits to a great extent.