Why ERP Software is Important for E-Commerce Business?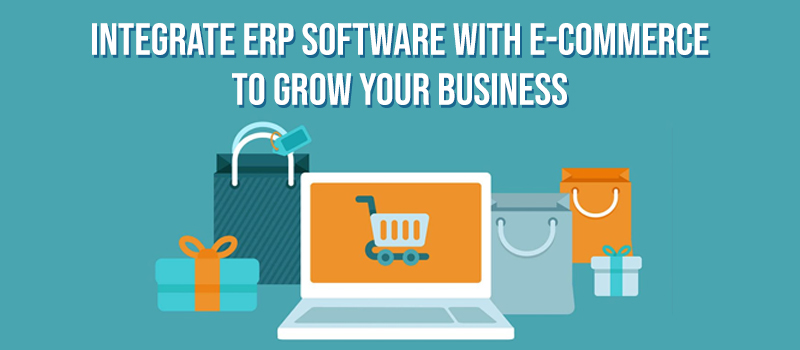 Enterprise Resource Planning Solution is a business management software, and its job is to help businesses manage the flow of information and data via integration applications. You can find E-Commerce ERP software in multiple versions, mainly designed to handle tasks of digital stores that deals in distribution, human resources, accounting, finance, services, and manufactures. To be exact, e-commerce ventures are utilizing ERP's at the backend to handle:
Inventory management
Customer data
Payment process
Order Shipping
Product information & pricing
Order management
Taxes
E-Commerce Integration
With E-Commerce integration setup, you can transfer all the inventory, transaction, and customer data in a real-time. You can keep track of the data every time as the information flow will be bi-directional in every channel.
E-Commerce ERP Integrating
No matter which platform you are using, it is important to maintain the flow of data to the between ERP and e-commerce platform. Also, you can establish a seamless contact between the inventory and storefront to prevent any type of misconduct in data sharing. By integrating ERP with an e-commerce business, you can automate and schedule various task. The store management will become an easy task for your business by using E-commerce ERP software.
Best results with ERP & E-Commerce Integration
Reduction in human errors in the integration process.
Notifications will be sent in real-time to the customers.
Duplication of data will reduce.
Easy management and synchronization of customers orders and details, inventory details.
Prior testing to handle ERP integration challenges
Every business must perform prior testing of ERP integration with the online store before they make the set up live. It will give a better understanding of the whole process and will ensure better processing of data. Every transaction detail will get updated automatically after successful testing.
Selecting an E-commerce ERP system
Implementation of ERP software requires immense thinking and numerous considerations. Make sure that you don't get dazzled by the promises made by vendors as they only create hype about the features. There may be various features that you don't even need. The important factor is to consider the areas that you need ERP to handle. Then seek the options that meet all or the majority of requirements. There will be many E-commerce ERP software, each one of them specialized in a particular way.
Following are some tips to help you finalize an ERP for your business:
Make a proper list of vendors and narrow them down according to your requirements.
Sort the software according to mobile-friendliness feature.
Do a proper evaluation of every option you choose and narrow them down.
Look for additional information on the Internet or seek help from peers.
Must be easily adaptable to change in management.
Benefits of integrating ERP with E-Commerce
Implementation of E-commerce ERP system will improve your business productivity in the following ways:
Promoting multiple products on multiple marketing & sales channels and auto-process all the transactions taking place on various platforms.
Automatic calculation of financial records and generating reports of sales and purchases along with profit and loss of accounts sales, budgeting, payroll, and purchase charts. No need to rely on manual accounting and book-keeping system.
Categorizing real-time information for better product management, inventory control and boosting higher yields. The integration will automatically adapt to changing product prices, special cut-offs, and sales promotion. It will result in better customer satisfaction.
There are endless profits for integrating ERP and e-commerce. It also enhances productivity and brings in the organizational discipline. With LOGIC ERP E-Commerce software system, your online store will set up a platform for your business growth and transactional management.