Using Process Manufacturing Software to upgrade your Business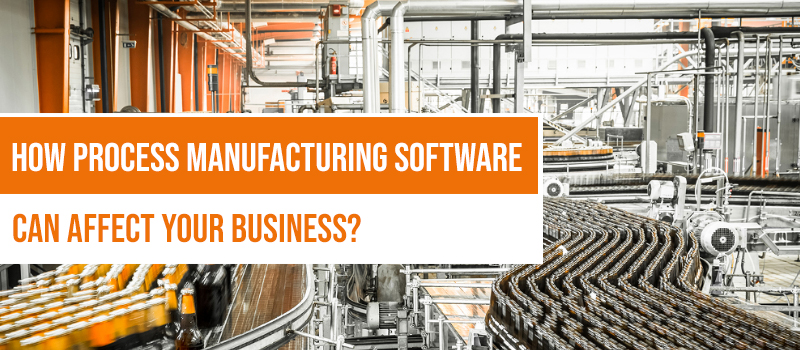 When running a business, the manufacturing process requires a lot of professional thinking to handle it precisely. Almost every business owner nowadays use manufacturing software as it offers a variety of features that affect different businesses in different ways. For example, there are systems solely dedicated to the process manufacturing, accounting systems that handle the accounts process, and much more. There are plenty of benefits of process manufacturing software, but it depends on the particular features embedded in a software tool. The factors that impact the degree of success you get from such systems are:
The vendor you choose,
Your preparation before deploying the system in your work culture, and
Features included in the program
Now, the question is, "how a process manufacturing system software could benefit you in your business?" Let's check it out.
Process Manufacturing
In general terms, process manufacturing is a technique for creating products by using formulas or recipes. When the final product is made, you cannot separate the raw materials from it. For example, products like cake, cough syrup, soft drinks, refined oil, etc. fall under the process manufacturing category. A common feature in process manufacturing is chemical processes.
There's a big difference between discrete manufacturing and process manufacturing. In discrete manufacturing, you use raw materials to make the final product, which can be broken down afterward. For example, the screws on a TV remote, you can remove them. Although the creation of these products is done via manufacturing workflows, the needs of discrete and process manufacturers are very different and therefore have different solutions.
Companies that deal in Food and Beverages and Pharmaceuticals has to deal with heavily regulated government policies. The process manufacturing software is built by keeping all those regulations in mind. And if the company works at the national business level, then the global regulations are also included as well. The process manufacturers could benefit from the features in the following ways:
There will be a reduction in spoilage of items.
Proper recipes management
Detailed information about the product like manufacturing and expiration dates, etc.
Benefits of Process Manufacturing Software
You can centralize your daily business operations into a master database, which will synchronize the key elements such as:
Finances,
Warehouse Management,
Employee Management,
Customer Relationship Management,
Distribution Management, and much more.
By integrating these critical functions, you can boost the productivity level and increase your revenue.
Now the question is, "how exactly your business is going to be affected by the combination of these tools in a positive way?" Here are some of the benefits that your organization can have with process management software:
Reduction in supply loss with inventory management
With a process manufacturing system, you can determine the materials you require and when to purchase them based on multiple factors like previous and current demand, inventory levels, etc. It will ensure that you have the right ingredients of good quality when you need them to produce the item. You can also keep track of all the raw materials from start to finish, along with expiration dates of the products.
It will make sure that you don't place unnecessary order for the materials, which will increase the profitability of the business. You will get the exact amount of the materials that you need to place an order for. The software will track and maintain a database of expiration dates, which will reduce the spoilage of products that you can no longer sell.
Using lot management to meet compliance regulations
With the lot management feature, you can trace every aspect of the production cycle. It means that you can instantly generate schedules and reports, allowing your business to pass inspection without worrying about legal regulations failure.
Maintaining the privacy of trade secrets while reporting
The people working in the food industry, their recipes or ingredient lists are their trade secrets. They tend to be more careful, especially when it's about the products that are trademarked. To your delight, both cloud-based and on-premise process manufacturing software vendors can encrypt your data to ensure privacy. You can even ask them to encode your secret ingredients within documents like materials billing.
Prevent internal theft and losses during production
Have you ever estimated how much product you can produce from the supplies you got? A process manufacturing ERP software can calculate the amount of merchandise each batch yielded during production and how much it can produce when operating at the highest functionality level. The software offers transparency of information to:
Identify better production goals,
Detect stock theft that needs investigation, and
Work on the factors resulting in losses.
Increase in production rate
With the steady increase in industry competition, the expectation of customers from vendors is also increasing. By using process manufacturing software system you can reduce the timelines of order fulfillment which in turn will build a better customer base. You can achieve this by keeping track of the amount of time spent on every step of the production process. It will give you details of which process is time-consuming so that you can make prior plans to deal with an increase in customers demand. This will also ensure that the delivery time of your company does not slow down.
Adjusting order capacity faster
With a process manufacturing solution, you can calculate the exact amount of labor and materials needed to meet the client's requirement. With the automation ability, you can pinpoint the exact amount of the next batch to fulfill your orders. It will also calculate the next timeline to take more orders so that you can reach your actual capacity of maximum production.
Planning substitutions for unexpected supply shortage & changing demand
A situation might occur when you don't have enough materials to produce an order on time. In such situations, process manufacturing ERP software would enable you to create backup plans to create the substitutes. It will consist of the number of other ingredients or materials you need to produce a product when you don't have the necessary materials on-hand.
You can also customize the orders of your customers with special requests or those who have specific allergies. The software will allow you to compare the cost of each customized order, analyze the ingredients of the product in greater depth, which is useful when you have to make quick decisions to reach out to new suppliers or change the current vendors. It will also ensure that your financial status may not get affected negatively because of customized products.
Features of Process Manufacturing ERP Software
The above-mentioned benefits can be made possible only because of the key features included in a process manufacturing software system. Before selecting software, you must make a list of key features that your business needs. After that, discuss with the potential vendors whether or not they can include those features in the software. Following are some of the functionality that you might want in your software solution:
Manage suppliers with supply chain management
With a supply chain management feature, you can determine which suppliers offer the best materials to fulfill your business needs. You can also inspect the quality of finished goods, automate the quote process, and forecast the demand. Some vendors even provide you with RFP (request for proposal) support.
Additional features will include:
A program to access inventory details like purchase orders and requests for quotation,
Management of raw materials,
Web-based platform to configure unique products online.
Allocating resources with project management
Allocating resources to create a final product is sometimes a very hectic process when time is of the essence. With process management modules, you can allocate resources such as labor and time without worrying about complexities. Some tools use an agile methodology to optimize and streamline the operations. The software will offer transparency of the data related to how the project went throughout the design lifecycle, along with project ownership history and ability to maintain project schedules and timelines.
Managing shop floor with production management
The production management feature is integrated with product lifecycle management and computer-aided design solution. Doing so, you get the real-time data regarding the product lifecycle, which would assist you in making required changes to the product along the supply chain.
With production management, you can also allocate labor and time for a particular task. It will ensure consistency and efficiency. Capacity planning and scheduling cost estimating, creating competitive quotes are additional vital functions related to production management features.
Asset management feature
Managing the assets of a company is a very crucial process in most of the businesses. Your ERP software can help you in the following ways:
Keeping track of factors like energy cost and fluctuation in value.
Maintaining service records and documents associated with ownership or acquisition of a fixed asset.
Handling tax information associated with your fixed asset.
Account management feature
Financial tools are very important features in manufacturing ERP software. They contain essential functions related to accounting such as:
Accounts Receivable,
Accounts Payable, and
Balance Sheet.
With manufacturing accounting tools, you can also have features like:
Budgeting and forecasting according to company data,
Invoicing,
Project-based accounting,
Analytical accounting,
Billing, and
Sales tax calculation.
With a process manufacturing ERP software, you can streamline and automate your business operations. It comes with various functionalities like distribution management, asset management, and financial management. You should know that these are essential factors for any business that can quicken and improve the workflow many-folds. As a business owner, you can gain an edge over your competitors by using a well-catered process manufacturing ERP software.