How POS Integrated Payments Will Transform Your Retail Business?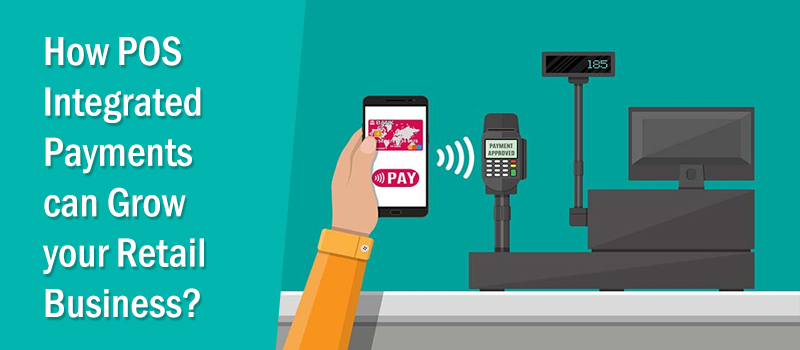 When you are running a retail business, having a scalable payment solution is very necessary. Although a standard payment processor and POS can manage the sales, the right software solution can streamline your business operations and accounting, improve efficiency, and lower the costs. By combining these facts, your store productivity will increase, which would result in better customer service and higher profits.
Having an integrated payments system will give you all these benefits. In this blog, you will know why payment integration in necessary in retail, and how it will take your business to new heights.
Integrated Payments
Integrating payments means aligning the platforms and systems to facilitate the payments section of a business. In a retail business, you have to connect the POS system with a payment processor, so that the data would flow smoothly from one platform to another.
By doing so, you do not have to enter the customer and credit card information manually at the checkout counter. It is because your POS system is integrated with a payment processor, which automatically fetch the necessary information when you initiate the process at your POS terminal.
You might be thinking that payment integration only works for the checkout counter, which is only half true. Integrated payments would have other positive effects on various business areas, including profitability, business intelligence, and customer service.
Reduction in Human Error
Luckily for you, by connecting your POS with the payments processor, you won't have to worry about human errors. Along with no doing manual entry at checkout, POS integrated payments will eliminate the requirement of manual end-of-day reconciliations, which reduces the chances of manual mistakes.
Lowering the Costs
Manual checkout process costs a great deal of time and money. It even slows down the transaction process. But streamlining your reconciliation and checkout process will result in massive savings, both in money and time.
Run a retail store more efficiently
The last thing you want to do as a retailer is to keep your customers waiting. You will agree on the fact that no shopper wants to wait in a long queue near the cash counter to pay for their purchased items. You will miss out on the sales if your checkout process is taking too long.
When you integrate your POS and payment processor, you can decrease the checkout time and the lines will move quickly. Your shoppers will not have to wait for long to complete their transactions. The employees can server shoppers efficiently during busy hours, which will keep productivity and customer satisfaction levels at maximum.
Better Reporting and Analytics
By integrating retail technologies and payments process you will make it easier for yourself to get insights and data about your business. All the information will be available for you in one place, and you can check reports on various platforms. In addition to this, you can also create custom reports in multiple formats, depending on your need.
POS payment reports will give you details able credit card payments, the flow of cash, and inefficiencies that may affect your business. The payment reports information can help you prevent internal errors and theft, determine customers behavior in terms of payment options, and check discontinued sales or full-price sales.
Integrating payments with POS software system have a great impact on the business. This step will put your business on the track for higher productivity, lower costs, and more success rate. With Logic POS software, you can maximize your sales profit, accept more payment types, run multiple billing process on one screen etc.