How Apparel ERP Software can help Manufactures save Time & Money?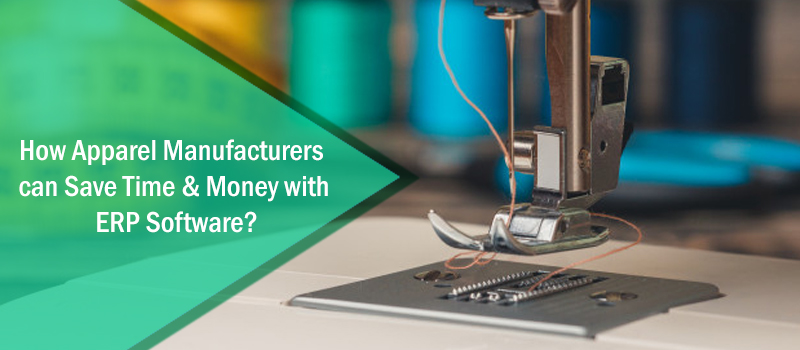 Currently, fashion, apparel, and textile industry have taken a new shape with the involvement of Apparel ERP software solutions. Such software is enabling manufacturers and distributors to work productively while increasing the bottom line. Today, almost every apparel manufacturer rely on ERP to support their operations and manage growth rate.
Key Problems Apparel Manufacturers face without ERP
Improper Process Integration– Manufacturing is a very complex process that needs 24*7 supervision and tight coordination between departments such as:
Sampling,
Quality Assurance,
Fabric Store,
Spreading & Cutting,
Finance,
Sewing,
Finishing & Packaging, etc.
To manage all these departments, you need a fully integrated Apparel software which can interconnect all the modules with each other.
Data Security Issues– Some of the important documents in an apparel business are:
Sales/Purchase Order
Industry-Specific Brochure
HR Files
Employee Data Sheets
Manufacturing Order Cost
Fact-Sheets
They are usually overlooked as there's no proper security and management of data. You can use the ERP system that offers cloud storage to manage and access the data anytime and anywhere.
No Real-Time Management– In the modern world of manufacturing real-time viewing, editing, and reporting are the basic necessities. As a business owner, you need to find solutions that can make communication and collaboration a cakewalk.
Improper Inventory Management– When you do not pay much attention to your stocks, it leads to inventory mismanagement, theft, etc. It certainly affects customer satisfaction in a negative way and leads to depreciation in goodwill.
As technology is changing the business world, ERP software is your answer to streamline every process in an Apparel and Textile manufacturing unit. It is an integrated business application, enabling you to streamline your business operations while saving time and increasing productivity.
How ERP can help you save Time & Money?
An ERP system helps you address tangible and intangible savings by providing you with state-of-the-art functionality according to your business needs. Here's how it can save you both time and money:
Admin Cost
You can maintain all the customer's records on a single platform. It will minimize the amount of admin staff and time needed.
No need to store employee data on paper-sheets or re-entering data for invoicing purposes. With this, you don't have to worry about losing employee's data and there'll be no time wastage. Manufacturers can address customer requests, feedback, and queries in real-time. There'll be no manual processing, which means no manual errors.
Operation Cost
An ERP solution can automate order processing and simplify business operations. It will allow you to handle small-scale batch runs, tack order status, product tracing when it's on the route, and various other activities systematically. This will prevent confusion in order management, will promote time management and employee efficiency.
In an apparel industry, manufacturers have to meet rapidly changing demands of customers as the time flows. Most of the time they face the challenge of not having a proper overview of materials and resources, which cause stock out or inventory overflow. Therefore, ERP is a foundational platform for managing and viewing the materials flow as per orders. As a manufacturer, you can also view your business data and take adequate decisions.
Installing the right Enterprise Resource Planning software in your business is a hectic and time-consuming task. But, you should never step-back from upgrading your current software. From KPIs evaluation to real-time data editing and tracking to a 360-degree view of your manufacturing unit, a total integrated ERP software solution will provide an end-t0-end business management solution. It will empower your company to achieve its long-time and short-tome goals in a particular time-span.
Key Benefits of Apparel ERP solution implementation
Better Time Management
You can allocate the right person to the right work to fulfill purchase orders. It will reduce repetitive data entry, errors, and will promote better time management.
Accuracy
ERP software helps you transfer the correct information to the authorized users working in any part of the world. It facilitates better decision making, improves the connection between vendors, coworkers, and customers, and improves productivity.
One Dashboard, Multiple Functions
You will get a complete view of every operation or department on one dashboard:-
Sales/Purchase
Supply Chain Planning
Accounts & Finance
Billing
Inventory Management
Branch Management, etc.
Inventory Control
Apparel ERP software helps you to understand your inventory levels to maintain the right portion of merchandize across the organization. It acts as a key to systematic management.
Real-time Reporting & Tracking
ERP offers you the capability to track and make reports of resources in real-time. By upgrading your business software with an Enterprise Resource Planning, you can keep track of the shop floor, shipment, warehouse, procurement, etc.
With LOGIC Apparel ERP software, you can decrease your operational and administrative costs up to great extent. Employee satisfaction will get a boost and the time will get managed more accurately.