Steps to Choose Right Apparel Software for the Fashion Industry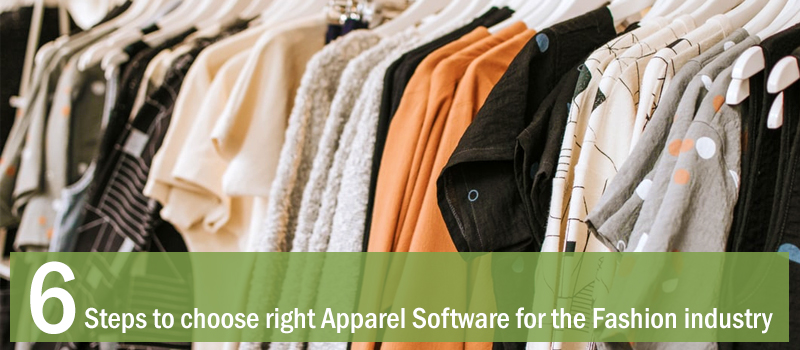 In today's market, to remain competitive, a fashion business needs transparency and efficiency in their processes. In this context, apparel software plays a key role in recognizing the complexities of product orders. If you have to automate the fashion industry operations, you need a reliable software, which must be capable of –
Handling complex product matrices
Streamlining manufacturing operations
Managing retailers demands
Staying up-to-date with daily clothing trend is only a small part, but by streamlining the entire operation will make your industry move ahead. To maximize the manufacturing and distribution operations, you have to focus over:
Color Schemes management,
Omni Channel Sales,
Handling rapidly changing seasonal and customer demands, and much more.
Why fashion industry needs apparel management software?
The market trends are changing daily and increasing the competition among clothing brands to attract more customers.
Consumers are more attracted to the variety in their choices. So they will always look into offers and schemes when shopping.
Apparel management software enables you to control costs and losses by organizing the inventory. You can classify the least selling and most selling items based on the sales data. It will help you to make better decisions like placing new orders, implementing discount schemes, etc..
You can retain more customers when everything on your premises is interconnected. It will help you to address your customer queries more efficiently, which will increase your growth revenues.
Steps to choose right Apparel Software
You may agree with the fact that the fashion industry is one of the most dynamic industries in the world. It frequently changes to accommodate varying marketing trends. Before you select apparel retail software for the fashion industry, make sure to conduct a complete analysis of your business requirements and challenges you are facing. Following are all the steps you can follow to select the best ERP system for your fashion business:
Analyze your business requirements
Analyze the flow of your business operations and check where the loopholes are if any. It will help you to understand whether you need a standalone application or a fully-featured module set. Make sure to write down a list of business processes and the challenges you are facing. It will help you to shortlist the software that can fulfill your business requirements.
Compare your business needs with ERPs capabilities
In the market, you will see make ERP systems that claim to be the best in their domain. Try to shortlist the ones that cop-up with your business needs. Check whether the ERP system maps with your business operations perfectly? Make a list of all the features that the ERP is offering. Analyze the inbuilt capabilities of the software over a flexible style matrix for size, design, color, and fit.
Compare ROI Matrix Vs Cost
Investing in ERP deployment is a big business decision and should be measured on the scale of returns. You cannot ignore the business benefits expectations you have with the ERP solution. Make a list of all the benefits and drawbacks, including the cost of deployment and calculate the total cost for every solution. You have to judge at your end.
Check Scalability of the System
The apparel ERP software system should be able to adapt to the changes that occur in the market such as price variations, demands, inconsistencies in the availability of raw material, and market dynamics. Go for the solution that enables you to deal with global supply chains. An AFS system should:
Be capable to deliver business capabilities unique to your requirements.
Enable your team and departments to communicate and collaborate smoothly.
Allow you to deliver the best customer service.
Make sure you go for customized version of ERP
As the fashion industry deals with unique challenges every day, so you should go for a customized version of an ERP. In a customizable ERP system, you can select its functionalities based on your business requirements. Make sure it contains features such as:
Sales/Purchase
Reporting
Inventory Management
Finance
Accounting
Customer Relationship Management, etc.
The software should offer better responsiveness
Flexibility and responsiveness are two basic aspects that every ERP system must offer. Due to the rise in the competitive business environment, cloud-based solutions are making easier for apparel business owners to control their business tasks from anywhere and anytime at an affordable price. LOGIC apparel software allows you to keep an eye on inventory updates, calculate sales in stock numbers, and check order status. If you are running multiple stores at different locations, then it's the best choice for you.
Why choose the LOGIC fashion ERP software system?
Centralized management with complete visibility of every process going on in your industry.
It offers POS integration with inventory, accounts, etc.. It will enhance the customer shopping experience, give you a clear understanding of inventory levels, sales, and your team performance.
A customizable ERP system enabling you to choose the feature according to your business needs. You only have to pay for the services that you want to have and in return, you get a feasible ERP software system that focuses on your business requirement.
An easy accounting and reporting mechanism that lets you have a brief understanding of your profits, revenue, sales growth, etc. It provides complete transparency about the type and number of transactions made in a day, week, month, or year.
Able to organize customers' data in a safe and secure business environment.
There are plenty of other benefits that you will get by installing LOGIC AFS software. It will enable you to integrate all the business operations such as manufacturing, sales, distribution, design, inventory management, services, financial, etc. Additionally, it will help you in keeping up with the changing trends in the market.