Benefits of Using Cloud ERP System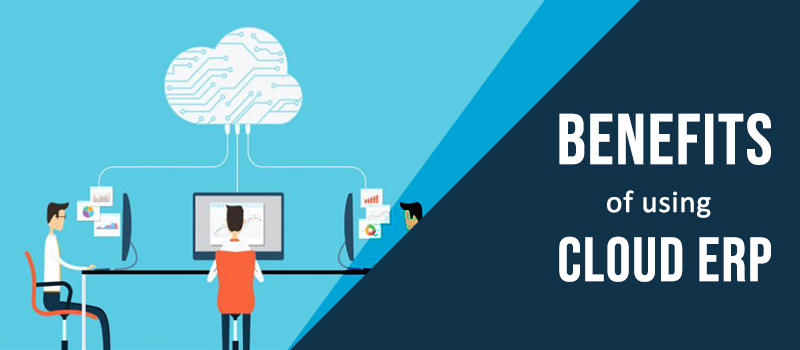 Before you think about the benefits that Cloud ERP will give you, you should know how it differs from other ERP systems? First of all, cloud ERP is a service that does not require your company's IT staff to manage. After its deployment, the company's ERP software, its data, and information, everything is managed by the software vendor via the internet cloud, which you can access by using a web browser. Your service provider will be responsible for:
Hosting and maintaining IT infrastructure,
Ensuring the safety of the data involved,
Making sure that the system is always running, and
Implementing product upgrades on time.
With this, your IT resources can focus on innovating and growing your business more effectively.
If we talk about on-premise ERP solutions, they have to be installed locally on your computer system and servers, which is managed by your staff. This approach requires a large upfront investment to buy, and handle the software and hardware needed to run it. People usually prioritize on-premise ERP systems because of the data control and security it offers in the office. They can be customized much easier as compared to cloud solutions, which is a plus point for most companies in specific industries.
But in today's business environment, if you want your business teams and employees to have a proper collaboration on the important spreadsheets, documents, and access data from remote locations, then a cloud ERP software system is the right choice.
Cloud Encryption is Secure
Most people think that cloud encryption is not secure enough, which makes it an easy target for hackers. However, it is not true. Cloud ERP software comes with solid security measures to protect the data from getting hacked by a third party. The system tracks all the activities and encrypts the data stored within the ERP software.
Lower Costs of Operating
On-premises systems require manual and continuous management to keep it updated with the hardware and software updates. Sometimes, this can negatively impact your business budget. On the other hand, cloud ERP requires low operating costs. The cloud vendors provide subscription plans for ERP solutions that are reasonable and can be customized according to your company's budget.
Real-time Analytics
Having the capability to access important information in real-time is one of the greatest benefits of cloud ERP software. Real-time analytics allows you to access data at any time from anywhere. You must have the access rights and a secure internet connection for this. It also enables you to keep the data up-to-date, ensures process optimization, and helps you to make important business decisions.
Scalable Infrastructure
Cloud ERP offers scalability in business operations by adjusting the entire infrastructure according to the size of each stage for the company development. In the case of onsite infrastructure, scaling could be a complicated and costly business aspect, whereas the cloud simplifies the entire process for you.
Flexibility in business processes
As long as you have internet connectivity, you can access all the data and information from any location, at any time. The cloud system will store and operate everything remotely, so even if your sub-branches are spread across the country, all the data will get uploaded in real-time from any device like computer, smartphone, tablet, etc.
Reliable Support Service
The cloud ERP system is a subscription-based model. You get the 24/7 service support in case any issue might arise. In the case of on-premise hosting, you have to additionally purchase the support package.
LOGIC offers its cloud ERP solutions by keeping in mind the latest changes occurring in the market and the demand of the business owners. Whether you are a retailer, a store owner, or running a chain of business, you can choose the desired cloud ERP package based on your business requirements.