Colorbar Cosmetics goes Live for Aaptak e-Bills developed by Logic ERP at its Stores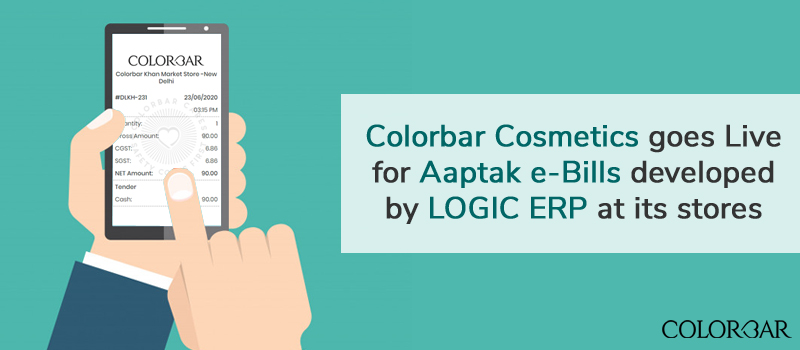 Colorbar Cosmetics is one of the leading beauty brands in India today. It has a strong geographical presence through 1000+ multi-brand outlets, 105 exclusive stores, 15 C &F, two mother warehouse and 350 distribution of chains. Its international formulations, premium packaging, and rapidly evolving product innovations are the secret for its fast-growing and demanding segment of female consumers.
But as we all know the COVID-19 pandemic affected every business sector in the world, Colorbar wasn't left untouched. As they were working on new business strategies, our Logic ERP team also suggested some changes to improve their business operations.
INTRODUCING DIGITAL E-BILLS IN COLORBAR STORES
Digital bills or e-bills are the system-generated messages that consist of the billing details of the consumers, which can be sent via SMS, email, etc. These digital e-bills can also be viewed in the Logic ERP Mobile App. When Colorbar was brainstorming on the new ideas to improve their customer service, the Logic ERP team reached out to them and gave them a suggestion of implementing Aaptak e-bills.
HOW IS IT GOING TO BENEFIT COLORBAR?
The customers will not have to keep paper bills as a record, which has the possibility of getting lost. Instead, they will get e-bills that are mobile-friendly and will save paper costs. It will also decrease the chances of spreading the virus as the customers will not come in contact of paper receipts.

Colorbar can collect consumer's data to work on the marketing strategies so that it can provide better customer service next time they visit the store.

e-Bills will boost online traffic to their store. They can send digital bills to the consumer after he/she makes purchase from the online store.

Data collected by a digital bills system will give clarity about customer's behavior, leading to higher customer satisfaction, greater loyalty, and more referrals.
Logic ERP and Colorbar team worked together on this strategy and successfully implemented a digital bills system in 100+ stores. It is a must-have feature for every business that deals with consumers should implement if they want to grow in the post COVID-19 era.