Why Should Retailers Use POS Software in their Retail Business?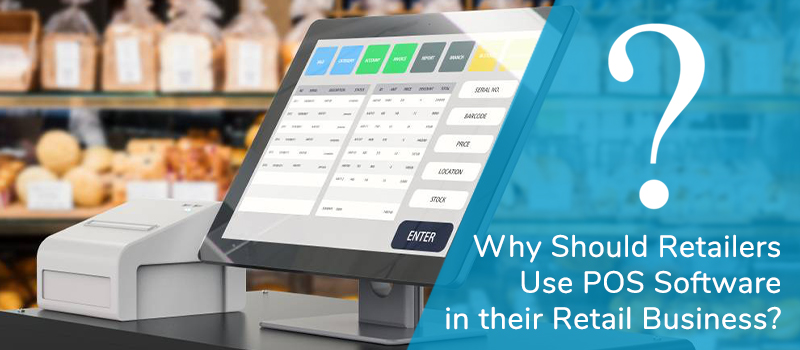 Since the COVID-19 outbreak has started, the world witnessed a rapid change in shopper's buying behavior. The rate at which online transactions and online shopping trend has grown over the last couple of months shows that old business models are no longer an option to work with. For retailers, if they desire to grow their consumer base, centralize the business management process, and make the sales process more effective and efficient, they have to upgrade the business model first.
In the post-COVID-19 era, one who upgrades itself with the market trends will be able to survive, and reliable point-of-sale software can help you in it. POS software does more than just processing sales transactions. As everything is going online due to the age of digitalization, cloud-based POS solutions are running the market right now. Here's a list of few benefits of a Point-of-Sale solution:
You get real-time access business processes and reports about sales, purchase, etc..
Automates time-consuming tasks like billing, data entry, transactions, etc.,
Real-time inventory management and secure handling of customers' and employees' details,
Reduction in business errors, and much more.
In 2019, the global POS software market size was at $8.2 billion, which will expand at a CAGR of 10.1% over the forecast period. If we talk about the SME segment, the market size is expected to expand at the CAGR of 11.7%. For the retail segment, the market for POS software was valued at $2.8 billion in 2019. Right now, more-and-more SMEs are integrating cloud-based POS software solutions with their business models for better scalability and affordability. Based on the progress, the cloud-deployment segment will witness the highest growth rate between 2020-2027.
If you want to make data-driven decisions for your retail business, then having robust retail management software is inevitable for you. Following are some points that will help you understand why POS software is necessary for the current age of business:
IT'S SUPER EASY & EFFICIENT FOR RETAILERS
The user-friendly interface of LOGIC retail management software delivers an unparalleled and seamless experience. The POS software made with cutting edge technology has the potential to improve the retail business efficiency in day-to-day endeavors. The continuous data synchronization makes it easy for users when processing bills. It will automate the billing and data collection process, which will reduce errors responsible for business losses.
REDUCE TIME & UNNECESSARY EXPENSE WASTAGE
For small or medium-scale retail businesses, it's important to focus on time and resource allocation as they are on the growing stage. They don't have much time to spare on sales processes. A billing POS system can help you save both time and money at the same time. LOGIC POS software is so easy to operate that you can train your employees within a few days. It will speed up the checkout process, and your staff could perform billing in the least time possible. The extra time can be spent on customer service and management. Your inventory management would be better, thus preventing losses.
ESTABLISH A PRO-SHOPPER APPROACH WITH A BETTER RETAIL MANAGEMENT SYSTEM
Since the start of the COVID-19 outbreak, the world experiences a drastic change in customer's shopping behavior. It's time that retailers should look for innovative measures to provide the level of services their customers desire for. And the best way to do so is by providing a smooth in-store experience for enhancing customer satisfaction. A retail POS software by LOGIC can help you in doing so. It supports multiple payment modes that enable shoppers to pay via UPI, mobile wallets, etc.. You can also use AapTak App to take online orders and schedule them for online delivery. It also lets you send e-Bills directly to the customer's email address or mobile numbers.
RETAINING CUSTOMERS WITH LOYALTY PROGRAMS
Thanks to the best-in-the-industry features that LOGIC POS software comes with, it has done wonders in garnering customer loyalty. You can schedule promotions or discount schemes on sales for your customers, which could make them shop at your store more often. You can send SMS notifications regarding new offers available to your customers, which could increase the chances of them visiting again. It will help you to stay connected with the customer.
GET REAL-TIME SALES REPORTS AND DATA
The time when people use to run their business on assumptions is long gone. You need to have in-depth insights about your business if you want to climb the ladders of success. It will help you to strategize better to get effective results in your retail business. With the LOGIC POS system, you get real-time access to sales and data reports, and now, with mobile reporting, you can check the business performance from anywhere and anytime. You get clear visibility regarding products that needs re-stocking, sales history, etc.
In the retail industry, if you want to stay ahead of the competitors, you have to implement smart approaches and change strategies accordingly. And LOGIC POS software can help you in doing so.