5-Reasons you should use ERP software to run Grocery & Kirana Stores in 2020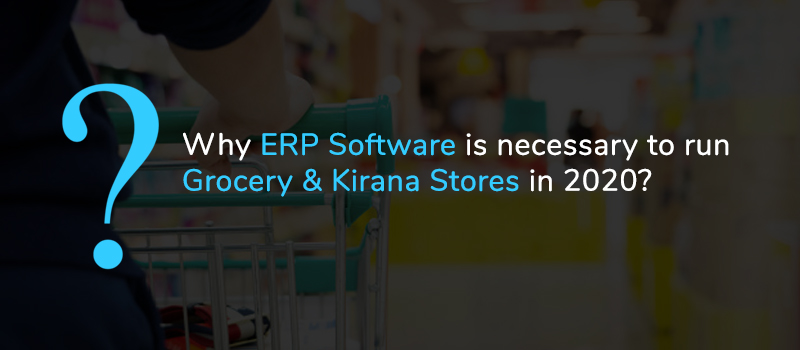 Since the start of the COVID-19 pandemic, one of the industries that witnessed a sudden boom in the business is the supermarket industry. When the global lockdown was announced, people started overstocking as there were concerns regarding how long it's going to last. Due to this, most of the supermarket owners faced difficulties in managing their stock levels and business operations. Seeing this, the need for having an ERP system in a supermarket business became very important.
Right now, the situation is, if you want to ensure proper management in your business and inventory process, you should have a supermarket management system. It plays an important role in centralizing information, which is responsible for productivity and sales boost. As more and more people are preferring online groceries and other items shopping, it is now inevitable to have a cloud-based ERP system, that enables you to control your business from anywhere and anytime. It offers convenient access to improve the store operation's effectiveness. Here's the complete detail:
FAST & EASY TRANSACTION PROCESS
The cloud-based LOGIC ERP system for supermarkets comes with an integrated POS that records every online/offline transaction automatically. It also reduces human error and helps the employee to conduct the transaction process feasibly and accurately.
You can make the transaction process much quicker, monitor data in real-time, and reduce customer waiting time. The data will go to a centralized database and you can monitor your business performance to make better decisions.
PRECISE BUSINESS REPORTING
You can retrieve accurate business information from sales, purchase, inventory, and other processes reporting. With LOGIC, you get real-time, accurate, and reliable information, which you can use for better and quicker business decision making.
LOGIC ERP application comprises of integrated functionalities that make it easier for you to plan and control your supermarket or grocery stores. Customizable and mobile reporting ca help your management team to address competition and change in market demand more accurately.
EASY INTEGRATION WITH OTHER MODULES
A supermarket or grocery store comprises of multiple channels that staff has to use simultaneously. ERP software ensures integration between those channels so that your business runs effectively. The staff doesn't have to send manual reports or create memos anymore as every update is available in the system. Access data anytime, improve communication between departments, and much more with an integrated cloud-based ERP system.
EFFECTIVE INVENTORY MANAGEMENT
The integration between inventory and purchasing system allows the ERP system to display an automated alert when a stock level of a particular item or no. of items is low. Also, purchasing management becomes much easier because of approval matrices. The purchasing staff will not have to wait to get approval for purchase requests. The authorities can approve the purchase requests on their own dashboard and proceed with it within the same platform.
MANAGE CUSTOMER DETAILS IN A CENTRALIZED DATABASE
You can easily manage customers and address any difficulty regarding acquiring and retent customers with LOGIC cloud ERP software. It is capable of recording the customer's purchase history, analyze the trend, and provide the data to create personalized marketing campaigns. Not only that, but you can also automate the pricing management and store the pricing history along with discounts if any.
There are plenty of other reasons why you should install an ERP system in your supermarket or grocery store. It is a handy tool for management if you want to survive the competition. And now, there's also an online ordering app "AapTak" that allows you to collect online orders from your customers. With LOGIC cloud-based ERP software and mobile app, you can improve the supermarket or grocery store operations efficiency and gain higher profits.