Why use ERP Software in Mobiles & Electronic Store Business?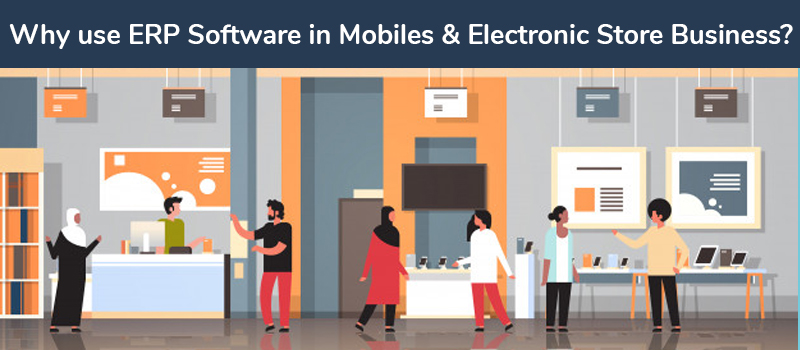 To decide on which technologies and solutions your business shouldn't and should invest is a tricky task. Also, you are responsible for growth and innovation within your business. On the other hand, you have to make sure not to bet on a failed project. So, is it worth it to invest in ERP software? This question might have come into your mind at least once. Especially, if you are running the mobiles and electronics store business. To find the right answer, we would have to look into the benefits that ERP software solution could bring to your business.
ADVANTAGES OF ERP SOFTWARE TO ELECTRONIC STORE BUSINESS
First thing you should know that ERP systems are the key assets for an organization. They ensure that your business runs smoothly while protecting and unifying your data, producing reports, and automating processes. Not only that, but it also makes your day-to-day operations and business planning more efficient. The following are given several benefits that an ERP system can bring into your electronic store business:
COMPLETE VISIBILITY
An ERP system provides complete access to every process involved in your business and provides you with complete information related to every department at your store. For example, you have to monitor inventory levels daily, including inventory that's currently in transit and consignments that are yet to arrive. With cloud-based LOGIC ERP software, you know precisely what the status of your inventory levels is, and how to control working capital more accurately. Having complete visibility enables more coherent workflows and real-time tracking of processes with maximum efficiency.
FLEXIBILITY IN INSTALLATION
One of the major benefits of ERP software is its modular makeup. LOGIC ERP offers several applications that you can implement together, based on your electronics business needs. You can choose which components or features work best for your business and can leave out what you don't need. There are two major deployment models: on-premise and cloud. In the case of an on-premise system, you can install software on the computers and servers. With a cloud-based ERP system, the entire software bundle will be handled off-site by the ERP provider. If we take into account the current scenario, the cloud-based ERP software has become very popular and will continue to rise in the upcoming years.
BUSINESS PROCESS STANDARDIZATION
LOGIC ERP system is developed according to the industry's best practices.
It can bring major benefits to your mobile and electronics business. You can also standardize your processes and systems to enhance productivity and efficiency. The consistent results delivery will allow you to improve the way your organization operates. Most of the processes will get automated, which further reduces costs and errors. There'll be less friction and improved communication between departments.
QUALITY & SECURITY OF DATA
Having an ERP system will improve data quality and security parameters. LOGIC cloud-based and on-premise ERP systems allow easy sharing of data across functional silos like marketing, business development, customer service, and sales. It enhances collaboration between departments throughout the company. If you are running a mobiles and electronics business, you need a feasible connection between inventory, billing, marketing, and sales department. You can even control who can see and edit the information. Both cloud-based and on-premise LOGIC ERP systems offer you a high degree of data quality and security.
FACILITATE REGULATORY COMPLIANCE
One of the critical tasks for businesses is to meet compliance requirements. Maintaining accurate financial records isn't easy, but you have to do it whether you like it or not. LOGIC ERP facilitates regulatory compliance by validating and securing data, combined with built-in and customizable reports.
SUPPLY CHAIN MANAGEMENT
As a mobile & electronics business owner, you have to deal with moving physical inventory and production. With an ERP system, you can bolster supply chain management in multiple ways, like, integrating inventory management with the POS system. LOGIC ERP allows the capability of integrating the POS system with the inventory department to keep track of the item's movement. It shortens lead times; facilitates on-time deliveries, and various other benefits to enhance overall operation and business success. You can also perform multiple billing, manage stock levels, and reduce overages involving production and inventory.
The outcome of totally streamlined business processes and long-term boosts in productivity implements LOGIC ERP software systems worthy investment of your resources and time. To know more about our services, contact us.