5 Factors that influence Pharma Manufacturing Industry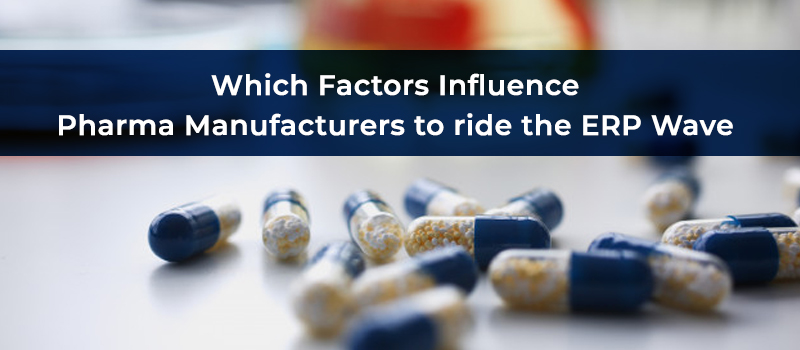 The pandemic, growing competition, rise in consumer demands, and the complexities in manufacturing processes has made the pharma business to look for that differentiate it from other industries. Not to mention that centralized management, cloud data-backed analytics, streamlined workflow, and better decision making have become important ingredients for every industry. And to address these essential components, Enterprise Resource Planning software is an optimal choice.
Every industry has its own set of requirements and reasons to implement an ERP software system, and it's the same for the pharmaceutical industry. Over the last couple of years, the world witnessed a dynamic shift in the pharma industry, especially during this pandemic time. Pressure from the competition, strict production regulations, price wars, and the ability to innovate something new has kept everyone on their toes. The personnel who deal with pharma manufacturing will understand it better. Customers are now well informed and there's also a vigilant regulator that pharma companies have to address. High-quality healthcare products at the best price are becoming the first choice for the consumers too. The pharma distributors and manufacturers tackle these issues by maximizing efficiency, reducing cost, and streamlining operations. If you also deal with the pharma business, you can understand the importance of maintaining the highest quality standards across all processes, precise regulatory compliance, and faster production lines.
Logic ERP cloud and on-premises pharma software empower your business to automate, integrate, and consolidate the key operations of your company. You can keep track of key operations like intellectual property, expiry management, quality control, finance and costing, regulatory compliance, formulation, inventory, and so on. Following are the reasons how an ERP system can seamlessly sync and connects multiple operations across the pharma business:
INVENTORY & INGREDIENT MANAGEMENT
Pharma ERP software consists of modules that enable inventory managers to monitor inventory levels and control pilferage. Not only that, the ingredients necessary for production are handled in real-time. There's also an option for auto stock replenishment, inventory level reconciliation, material usage monitoring, etc..
RECIPE MANAGEMENT
One of the important aspects of pharmaceutical manufacturing is recipe management. In this extreme competition, price wars are often led between competitors. Because of this, the formulation of ingredients is critical to control the price value and effectiveness of the drug. A pharma ERP software can help you to store critical drug recipes with adequate security and safety.
DISTRIBUTION PROCESS MANAGEMENT
The lot and batch-wise tracking are one of the key functionalities in the pharma industry. Imagine if you have to replace a whole batch of medicine due to a regulatory crisis. What would you do? With Logic ERP, you get a dedicated module to monitor batches at every stage. No matter if it's a requisition stage, sales at a retail store, or IPQC (in-progress quality check), as a manufacturer, you will never lose sight of what you produce. It's a lifesaver feature.
MANAGE REGULATORY COMPLIANCE
Logic ERP cloud & on-premises systems can help you in managing comprehensive compliance amid continuous changes that occur in the regulatory world. Being the software designed for the pharma industry, it integrates regulatory mandates with formulation management to provide full compliance. Then there's also document management, which is the core of statutory audits and vigilance. Keeping a record of historical data and documents related to processes are necessary for future analysis and audit checks. You can store all the information at a single point and access it remotely via the ERP system.
MANAGING MARKETING & SALES
Using the predefined templates in the ERP system, you can easily manage sale order processing and contract. It would be easy to store and manage customer history and records, create price quotes by analyzing past data -> then map all the information concerning the sales order to create automated marketing workflows.
Well, the functionality of an ERP system for the pharma manufacturing industry is not limited to the comments above. As machine learning and artificial intelligence are making their ways in different sectors, the ERP systems will surely receive a big update in the future. And if you don't want to lag behind your competitors, then give a try to Logic ERP cloud and on-premises software for the pharma industry. The level of customization and flexibility it offers will help your business to accommodate future changes in the pharmaceutical environment.