Introduce Cashless Payment Mode into your Business with Logic ERP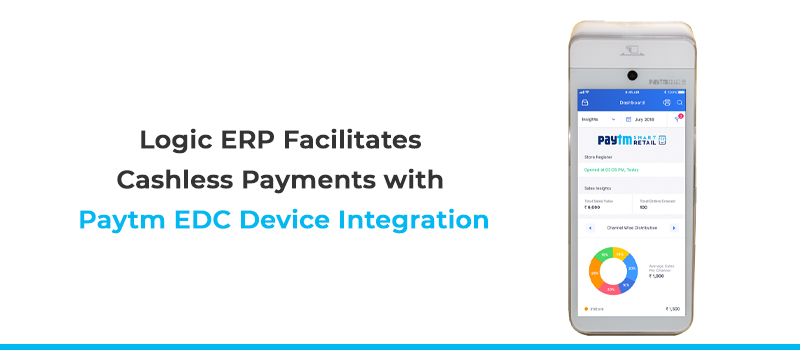 With the ongoing coronavirus and anticipation of a more dangerous pandemic might occur, businesses and industries have started to rethink over daily operations. Consumers no longer want to wait in long queues to make transactions, neither they want to touch the cash and coins that might have been touched by thousands of strangers. Which is why contactless payments are becoming a necessity for every business.
If we look at the scenario of the last couple of months, contactless payments have proven to be a convenient way for customers, retailers, distributors, and other businesses to conduct swift, socially distant, and seamless transactions. Whether you provide doorstep pickup, delivery service, or on-the-go product sales, retailers need to find solutions that protect the health of the customers and employees.
Logic ERP is compatible with multiple payment solutions that can reduce human contact when consumers shop at your store. Paytm EDC device integration is one of them.
Paytm EDC Device Integration
To facilitate cashless payments, Logic ERP took one-step forward by integrating with the Paytm EDC device. It allows your customers to pay via Debit/Credit Card, UPI, Net Banking, QR Code, and PPB. All you have to do is enter the amount on the screen that you need to collect, and the machine will show options to insert or tap the card, or scan QR.
If you are looking for a secure, industry-specific ERP with quick payment options, then Logic ERP is here for you. Not only will your billing process speed increase, but the risk of getting infected with a virus will also decrease simultaneously. Your customers will receive payment receipts via SMS, and you don't have to worry about the extra cost of paper rolls.
You can keep track of all the transactions, refunds, and settlement for wallet, UPI, credit/debit card, Net Banking on a single platform, thus saving your precious time. If you are also looking for a customizable On-premises or Cloud ERP Solution with touchless POS and transaction capabilities, then Logic ERP is a perfect choice for you. Contact us to know more.