Using Aaptak App to Take Grocery & Kirana Store Online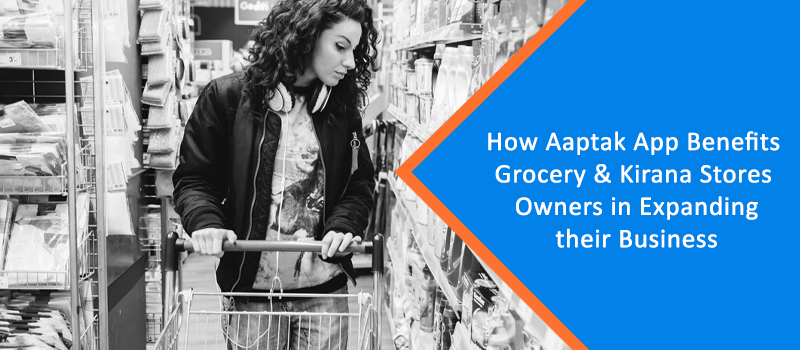 Mobile apps have influenced the lifestyle of almost every person on this planet. Not only that, but mobile applications are playing a vital role in business transformation also. Over the last couple of years, various segments have come forward to digital transformation and take the business online. Out of which, the grocery business experienced astonishing growth in the last 3 years.
Various enterprises, SMEs, etc., have already shifted their grocery & Kirana store business online with feature-rich grocery mobile apps. And as good news, Aaptak App developed by Logic ERP is one of them. If you are wondering how you can open your grocery store on the Aaptak app, then click here. This post will guide you to the step-by-step procedure of opening your store online.
As 2020 has been the year of pandemic, people are concerned about their well-being. They are looking for solutions that satisfy their grocery needs from the comfort of their homes. Right now, the e-grocery business is one of the fastest-growing businesses in the economy. That's why, if you are still stuck with an offline grocery store, you are losing more without even knowing.
According to GroceryDive, by 2020, more than 30 million users will be using mobile apps for grocery shopping.

By 2021, online grocery sales will cross a 29.7 billion cap.
So let's see the benefits of using the Aaptak App in detail:
BETTER ORDER & INVENTORY MANAGEMENT
By linking the app to your ERP software, you can easily handle the orders that come through the app. When your customer places an order via the Aaptak app, it will automatically go into your grocery or Kirana store software. Besides, the item stock gets updated in real-time whenever someone places the order. And if your inventory levels are running low, you'll get an automatic update regarding it.
MORE CONVENIENCE TO YOUR CUSTOMER
One thing that every business owner should consider while running a grocery store is to provide a level of satisfaction to its customers. Convenience is an essential part of it. During in-store shopping, customers have to physically lookout for groceries, stand in a queue to pay the bill and have to physically touch the items to review them. And since the COVID-19 pandemic is still going on, people are avoiding touching anything or anyone outside of their homes as much as possible.
So, what's the solution for this is, enabling them to shop from your store via the Online Grocery Shopping app. And that's where Aaptak App comes in. When you open your online grocery store, your customers can order from the comfort of their home and get it delivered at their desired place.
ANALYZE CUSTOMER BEHAVIOR TO DELIVER PERSONALIZED OFFERS
Managing customer data and using it to analyze their shopping behavior is one of the crucial tasks when running a grocery delivery business. You need to collect all types of saga such as their likes, dislikes, interests, frequently purchased items, etc… You can use such data to create personalized offers that can pick your customer's interest. With this strategy, you can also attract more users to your online grocery store.
TOUCHLESS PAYMENT OPTION
Multiple payment options give the user flexibility to pay via UPI, wallet payment, QR scan, etc… They can pay using any method. Doing so, the risk of getting infected by paper currency will also decrease.
BETTER USER INTERFACE
To sell groceries online via a mobile app, you need to make sure that the app has a better user interface to attract users. Aaptak app enables you to upload product images that can help users to understand what type of item you are selling. Not only that, you can add detailed information regarding the item to enable your consumers to understand what they are going to buy. It's the best strategy to expand your consumer base.
There are plenty of other benefits of running an online grocery and Kirana store. To know more about how the Aaptak App by Logic ERP can help your store grow, contact us now.