3 Things to Remember when Selecting Touchless Payment System for Retail Business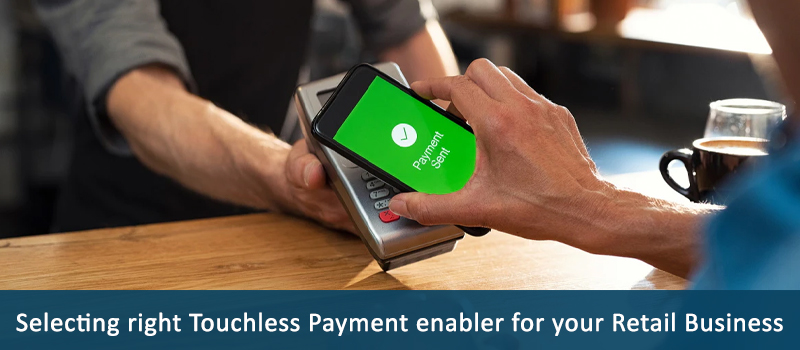 In the current scenario, almost every business segment is trying to make its strong digital presence. Whether it's a small or medium scale business or a big enterprise, everyone wants a reliable online presence to work in the digital environment. In all these aspects, the digital payment mechanism plays a crucial role. Imagine sending e-invoices directly to your customer's smartphones so that they can pay online. It would save a great deal of your and their time as well. It would also allow consumers to pay digitally, which can be a positive factor for small retailers in expanding their customer base.
Because of the ongoing pandemic, consumers are choosing contactless payment methods over cash transactions. It allows them to pay digitally at a POS terminal via UPI, tapping cards, QR code scanning, etc. Over the last few months, both consumers and retailers have sped up the adoption of digital payment mechanisms, which is going to rise even further in the upcoming years. The usage of e-wallets and UPI are some of the major trends that gained more popularity in this pandemic period.
Factors contributing to the adoption of electronic transactions are the need for social distancing, avoiding physically transferable cash, and no contact exchange. It brought a change in the payment habits of retailers and customers. An ERP system incorporated with digital payment mechanisms and cloud technology is the best way to follow an automated business handling and payment collection process rather than manually.
Following are some of the rules you need to follow when selecting a digital payment enabler for your retail business:
MAKE REDIRECTS AS SIMPLE AS POSSIBLE
One common problem in an electronic billing system is the redirects that occur during switching between sign up and checkout process. That's when glitches occur the most, and sometimes break up the transfer. This is why make sure not to confuse the network with multiple redirects, and incorporate the billing API into your network as-much-as possible.
OFFERING MULTIPLE PAYMENT MODES
Do not limit the payment options for your customer. But it doesn't mean that you have to incorporate every single form of digital payment system into your ERP system. Logic ERP cloud & on-premises retail software provide various payment modes like UPI, credit/debit card swipe, wallet payment, QR code scan, etc. Make sure you also provide four or five payment methods at your retail store.
CHOOSE YOUR SOFTWARE WISELY
One of the biggest obstacles is to select the right industry-specific ERP software that can seamlessly handle the business as-well-as payment process. Logic ERP integration with Paytm EDC devices and various e-wallets makes it a reliable contender to support your retail billing system. Not only does it make the billing process faster, but also provides multiple payment options for the customer. As the competition for customer retention is among retailers of every segment, Logic ERP cloud & on-premises business solutions can help you to gain competitive edge over competitor.