Lower DOH Value to Enable Steady Retail Inventory Flow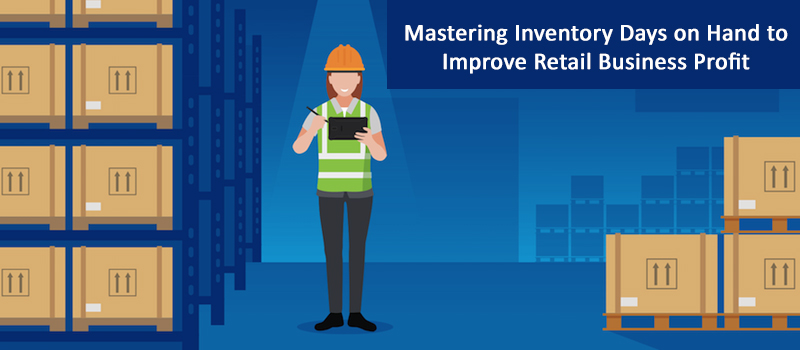 For every retail business, inventory is like a heart that holds all the processes together. If there's mismanagement of stocks, your business performance will get affected. But if you handle the inventory efficiently, the cash flow will be steady and the customer satisfaction level will be higher. This is why, when running a retail business, it's said that you should give top priority to inventory performance. One thing that can help you in this regard is by knowing the inventory days on hand.
By calculating the inventory turnover ratio, the inventory DOH will inform you about the potential changes that you should implement in the inventory management protocols.
Inventory DOH
Inventory DOH, also known as days of sales inventory is the number of days an inventory stays in stock (on average). It gives you the measurement of the money that you spend on acquiring an item's stock is staying unmoved in your inventory. In simple terms, inventory DOH gives you the measurement of your inventory liquidity. The lower your inventory days of hand value, the better would be the management. A high DOH will result in overstocking or dead-stock issues, as the dusty inventory rot on your shelves, leading to a low inventory turnover rate.
Importance of Inventory Liquidity
Having poor inventory liquidity would make customers bored as they see the same things on your shelves whenever they come to your store. As a result, they would probably shift to other stores to make their purchase. While you are stuck with old inventory, your competitors, on the other hand, will successfully lure your customers away with new products.
The higher the inventory liquidity, the more customers you can retain with new products and refreshed stock. You can better plan how to handle the customer demand cycle. For example, suppose you are a fashion retailer. You have to deal with women's clothing and footwear. If you have higher inventory liquidity, you can turn your inventory into revenue and can bring trendy clothing brands to bring new customers. But if the liquidity level is low, you might lose the trendy edge as the money you spent in purchasing inventory is still held up in stock, which isn't moving at all.
Calculating Inventory DOH
You can calculate Inventory DOH with the following formula:
Days of Inventory on Hand = Average Inventory / (Cost of Sales / No. of Days)
The number of days here is 365 for a complete accounting year and 90 for a quarter year.
To calculate Average Inventory, you can use the following formula:
Average Stock = Ending Stock
Average Stock = (Stock at the Start + Stock at the End of Period) / 2
The 'stock at the start' is the stock you possessed at the beginning of the period you are calculating. The 'stock at the end of the period' is the stock you held on hand at the end of the period you are calculating.
Improving Inventory Days on Hand
You calculated your inventory DOH, and it turns out that the numbers are very high. So, how can you improve it? Firstly, analyze how often you are ordering. It might be the case of overstocking. Logic ERP cloud & on-premises software offers customizable reporting in multiple templates that provide you in-depth inventory details. Overstocking is not good for any business. It would result in slow inventory movement, overstuffed shelves, and a decrease in customer numbers.
With the advanced stock replenishment module offered by Logic ERP, you can adjust your ordering values, so that you only bring in new stock when you need it. In case you have excess stock, you can use the following methods to deal with it:
Run discount offers:

You can try liquidating excess stock by offering discounts and schemes. It will catch the eye of budget-conscious consumers and might resume the inventory flow again. With Logic ERP software, you can run multiple discounts offers smoothly.

Donate the excess stock:

In case, the excess stock is sitting on the shelves for a very long time, and no one is buying it, donate it.
With real-time inventory updates offered in Logic ERP software, you do not have to worry about running low on inventory. Once you master inventory management, you can easily earn more profits from your retail business.