Impact of ERP Software On Your Business Return On Investment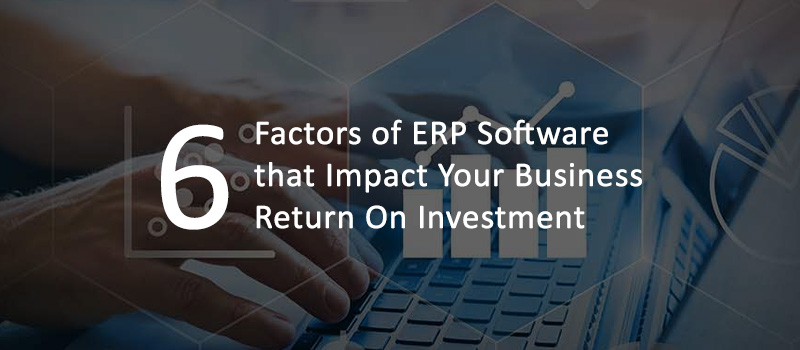 In a world where technological innovations are the driving force behind every business progress, no one wants to lag in the competitive market. Whether it's a local, national, or international market, everyone wants to earn profit and invest in assets that offer a better return on investment. An ERP software is also one of those assets that assure better business productivity and help you in managing operations. But the implementation cost is always a matter of concern for most.
To make the purchase more cost-saving, you need to calculate the ROI of the ERP system and analyze whether it's worth it or not. In this article, we have covered some key points that can help you determine the worthiness of the ERP software you want to purchase and understand its ROI in a precise manner.
ROI Analysis of the ERP Software
An ERP software system is responsible for improving integration between processes, reducing operational costs, and increasing the productivity of your business. The system is designed to help you control the profitability and growth of your enterprise, no matter what industry you deal in. However, if you do not avail the benefits that you were expecting from the software deployment, then it would be a disaster for the overall business growth.
That's why calculating the ROI for the ERP system selection is important. It will help you in understanding how efficiently you can utilize ERP and what benefits you can avail in the short and long run to justify your business investment.
Parameters to Measure ERP ROI
Return on Investment is not only about financial gain, it's about the productivity of the operations that are managed by the company. Following are some of the key parameters you need to analyze when measuring the ERP ROI:
Labor cost

Operation planning & control change

Production efficiency analytics

Administrative costs

Materials cost

Regulatory compliance change and cost

Sales revenue and Gross Margin %
Role of ERP implementation in Delivering ROI
Logic ERP deals in both, cloud-based and on-premises ERP software implementation. When implementing an ERP system, you have to pay an upfront cost. Once the system is implemented successfully, you can avail benefits within a particular timeframe and can understand the profits your business can enjoy in the future.
The ROI measurement process is different for every business. Some factors are the same across multiple business domains. Following are some of those factors that can help you understand that how Logic ERP cloud & on-premises system can bring maximum ROI to your organization:
Centralized Database
Logic ERP software system allows the integration between multiple business functions. You don't have to install individual systems for every department. By doing so, the operations are well organized and more manageable. It also saves a lot of time and money as the information will travel much faster between departments and will also deal with data redundancy.
Improved Operations Efficiency
After implementing the Logic ERP software system, you can measure the business operating expenses for inventory, utilities, wages, resources, machinery, infrastructure, and so on. By regularly monitoring your business performance, you can assure the proper workflow management and streamline of business operations. When you have a clear understanding of each function's expenses, you can reduce their operating costs also.
Better Decision Making
The Logic ERP cloud & on-premises software allows you to have complete access to critical business data in real-time. With features such as mobile POS and reporting, you can check your business stats from anywhere, anytime. With this, you can make better decisions to improve the profitability and productivity level of your enterprise. Decision making is a crucial aspect of any business in deciding the right path to lead the organization towards a better future.
Easy Data Processing & Sharing
Having a better alignment between departments and the workforce will deliver a perfect on-point output. One of the biggest benefits of the Logic ERP software system is that you can add, modify, and easily share crucial business information between departments. It increases reliability and improves the communication process within employees.
Easy-to-interpret Business Data
It is not so easy to analyze and interpret business data, and when it's done manually, we can assure that there'll be high chances of errors and mistakes. It's a job that requires a lot of hard work and dedication. But you can eliminate this issue with the help of ERP software. Logic ERP cloud and on-premises software stores all data in a centralized database and provides you with multiple reporting options. With this, you can improve the communication across silo departments to make better business decisions.
Improved Customer Satisfaction
Every business revolves around its customers. Better the customer satisfaction level better will be the profitability and productivity of the business. With Logic ERP business software, you can conduct touchless transactions, multiple billing at a time, touchless POS, customer feedback management, and much more. Providing customers with satisfactory services will keep your business running.
Calculating the ROI can be a problematic task. Analyzing and monitoring the investments such as implementation fees, license fees, renewal fees, etc. is crucial. Also, you have to handle the amount of effort and time you are going to invest in ERP implementation. We at Logic ERP provide you with industry-specific, agile, and reliable cloud and on-premises software solutions to keep your business flourishing. To know more about the services, contact us now.