How Logic ERP helps you in Running a Sustainable Retail Business?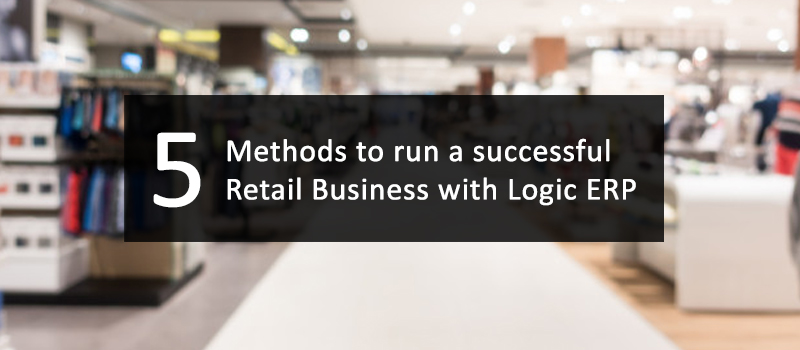 The COVID-19 pandemic was like a wake-up alarm for business owners all over the world, which forced them to rethink their current business models. Especially in the retail sector, everyone started looking for sustainable retail practices to acquire current and potential customers. You have to understand that today's consumer is well aware of the technological advances that are best in their interest. When the stores reopened again after months of lockdown, consumers started preferring the stores that provide fast, contactless, and reliable shopping experience. So, for implementing sustainable ERP practices in your retail store, take a look at your Point of Sale.
How to run a sustainable ERP store with Logic ERP?
The touch/mobile POS system by Logic ERP will help you to tackle sustainability issues in 2 ways:
Managing inventory waste

Running eco-friendly business practices
These practices can help you to save money and give a surety to your customers that are doing eco-conscious shopping practices when visiting your store.
Facilitating curbside pickup
Curbside pickup means placing an order remotely (via online ordering apps, eCommerce, etc.) and then collecting the order at the store without making physical contact with anyone. Since the COVID-19 outbreak, such practices are becoming popular among buyers. By integrating with AapTak mobile app by Logic ERP, you can facilitate in-store or curbside pickup in your retail business and give your customers their option to order beforehand.
Tracking inventory levels in real-time
By integrating inventory management with the POS system, you can keep the inventory count in check. Ordering items that you don't require will only create extra waste or dead-stock, which will impact your profits also. But if you know how much inventory you have, you can be economically and environmentally stable simultaneously. The advanced stock replenishment module by Logic ERP will help you to counter the stock refilling issues, out-of-stock issues, and much more.
Generate E-Invoices
With Logic ERP, "Say No To Paper Receipts." Paper receipts possess a huge threat to our environment, as 93% of the receipt contain BPA or BPA chemicals (According to elemental+). Also, the amount of water required and trees cut down every year puts a huge strain on our mother nature. With the Logic ERP point of sale system, you can send e-invoices to your customers via SMS or email. Not only that, you can manage the transaction details in real-time as you do not require bookkeeping or receipts to tally the records.
Optimizing purchase orders
Order new inventory when it's necessary. You can do so by optimizing your purchase orders by using sales data. Logic ERP cloud & on-premises software provides you with modules that can help you to keep track of the reordering points of your customers. This way, you will know how fast the items sell and how quickly the new orders arrive at your store. You can also set the appropriate inventory level and automate the reordering points.
Replacing plastic gift cards with e-Gift vouchers
Cut down the plastic gift card cost by creating e-gift vouchers, which you can also send to your customers via SMS or emails. Also, you can showcase discount offers on our online ordering app Aaptak to let consumers know about new schemes and offers in your retail store. This way, you save both money and the environment.
A sustainable retail business will benefit both you and your customers. Not only consumer-friendly but having an environment-friendly retail practice will also bring you more profit value to your business. So starting now, if you are ready to start a sustainable retail business, then Logic ERP and its touchless/mobile POS, cloud & on-premises business services will guide your business to a better future.