Transform Your Grocery Business With Logic ERP Software Solutions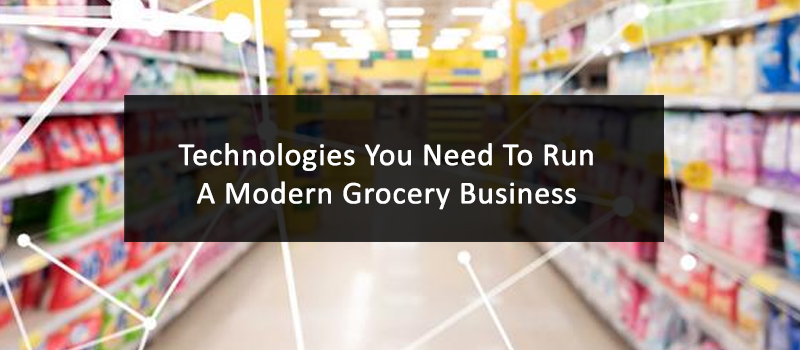 Managing a grocery store business is very difficult as the groceries are perishable, which leads to many ups & downs in this business. And since the COVID-19 outbreak started, consumers prefer to buy and pay online for their grocery shopping. The global pandemic restructured the entire model of the grocery business. The majority of customers say that the concept of on-demand grocery is convenient, safe, and time-saving.
Why do you Need a Grocery Management System?
No matter if you are running a small, medium, or big grocery store, you need a platform to manage your entire business process. A system that can streamline operations, track inventory or stock movement in real-time, manage online orders & payments, handle sales, etc.
Grocery products decay faster. It is a business that keeps the owners and staff busy all the time because of its action-packed and complex nature. The retailer has to keep inventory fresh and moving to avoid the item's wastage. The greater the wastage, the greater will be the loss. Therefore, as a grocery store owner, you need a well-integrated, automated, and user-friendly business management solution to keep track of entire operations.
Challenges Faced by Grocery Retailers
There was a time when vendors use to sell groceries moving street-to-street. Then came the concept of e-Groceries, where sellers can sell the items online. The question is, what caused such changes to occur in the last decade or so? Let's take a look at the top-challenges that caused the evolution of the grocery business in India:
Distrust in Online Grocery Shopping
People like to hold items in their hands to inspect before buying them, which is not possible in online shopping. So, there was a need to integrate the offline and online shopping experience to solve this problem.
Lack of Smart Technology in Physical Stores
Traditional grocery stores refusing to move to smart technology, thus, lacking in providing a better in-store experience to consumers. It also affects the efficiency of business operations.
Inability to Collect the High Volume Orders
Being stuck with a traditional ERP system, it's impossible to manage high volume orders and deliveries while keeping in check product cost, quality, and time.
Software Solutions to Handle Grocery Store Business
For the past few years, business owners have started to invest in business management software solutions to overcome the challenges mentioned above. By integrating and automating multiple processes, the retailers can streamline their grocery business and take it to next level.
Touch/Mobile POS System
The primary tasks of a Point-of-Sale software system are to speed up the billing process, ensure the availability of fresh products, and minimize costs. The POS system by Logic ERP allows integration between multiple departments to enable the seamless flow of information. It helps you with:
Optimizing Shopping Experience
You can provide the best customer shopping experience via sales channels, from anywhere and at any time. It is a best practice to boost your profits and sales through patronage and customer loyalty.
Centralizing Data Management
Whether it is inventory data, employee & customer data, billing information, transaction details, etc., monitor and manage everything from the front end to the backend through Logic ERP custom POS solution.
Advanced Analytics & Reporting
The customizable reporting and analytics that come with a POS solution can predict buyers' shopping behavior so that you could make better business decisions.
Cloud ERP Software System
If you want to remotely control the supermarket chains, the Logic ERP cloud software solution is a perfect substitute for your traditional ERP solution. It allows you to make better decisions by utilizing real-time data.
No one likes to hear the phrase – "We have run Out-of-Stock." It is the most annoying thing that can happen in the hour of need. It is one of the reasons that lead to losses for retailers in the grocery store business. But if you have a cloud POS software system, you can avoid such incidents from happening. The cloud POS solution by Logic ERP will help you in the following ways:
Inventory optimization

Labeling & barcoding of items using RFID

Waste control

Integration with the online delivery app

e-Commerce integration

Accepting online payments

Multi-store integration

Run multiple billing screens

Inventory integration with POS system

Customizable reports

Return stock management

Real-time stock alerts

Advanced stock replenishment

Sales & demand forecasting

Viewing purchase order history and much more
Why Choose LOGIC ERP?
Our 25+ years of experience have enabled us to provide a feasible and reliable solution based on our client's expectations and business goals. The Logic ERP cloud POS and mobile app solutions have led grocery retailers all-over-India in upscaling their business while meeting consumer's expectations. Our team of experts will provide you thorough consultation and guidance regarding what features or modules of Logic ERP grocery software solution are best for your business and how you can implement them.