Organizing the Kirana Store With Technology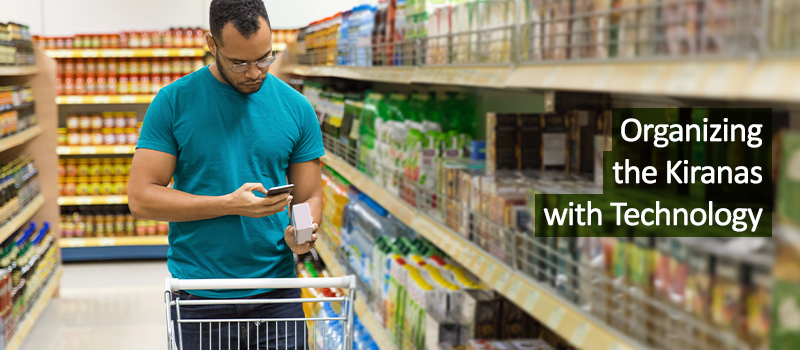 Most of India's food and grocery consumption flows through Kirana (i.e., small retail) stores that are present all across the country. The system is quite old but has been serving the purpose splendidly even though the store operators face several key challenges. Some of the most commonly encountered challenges include stock-outs, dealing with multiple distributors and traders at the same time, and needing to visit a physical market at a distant location to procure staples. Not to mention that arranging transportation for the same is equally painful.
WHY KIRANAS NEED TO HARNESS TECHNOLOGY?
A perfect solution to these problems is one that not only simplifies these processes but also reduces time and effort.
56% of people (involved in retail) residing in metro cities noticed a positive change in the attitude of consumers after the lockdown.

79% of people in non-metros stated that consumers are purchasing speciality food items and DIY items in unprecedented quantities to the extent that it is getting harder for Kiranas to source such items due to stock-outs. These items were baking goods, ready mixes, special masalas, instant foods, namkeens etc. The percentage for the same in metro cities is 75.

50% in metros and 79% of respondents in non-metros stated that they noticed a surge in new customers that came to their store after the lockdown period.
Such consumer trends make us shift to technology for innovative solutions that can help Kirana owners tackle these problems efficiently. This is the reason why 20% of the Kirana store owners across metros and non-metros have already started using online platforms for getting a steady supply of goods and assistance in deliveries.
No doubt that Kiranas have proven themselves to be both agile and resilient since they were able to bear the brunt of an unforgiving pandemic. But we still need an online solution that can further simplify their hustle.
PRESENTING AAPTAK MOBILE APP: A SOLUTION?
COVID-19 pandemic boosted digital transformation, and now, people prefer online shopping methods over traditional shopping. It not only is convenient, fast, and simple, but safe too as you don't have to go outside to collect your food essentials. But there is still a huge number of Kirana stores that are not online since there is a lack of applications or software that can help with local online shopping of groceries or other essential items.
There are some platforms that offer Kiranas to get on board, but they are quite complex, and a lot of time and effort is required to understand their functionality. Keeping in mind these pain-points of Kirana owners, Logic ERP came up with the Aaptak Mobile app that promotes online shopping and provides a secure way of doing business.
HOW DOES THE AAPTAK APP BENEFIT THE CONSUMERS?
It allows the consumers to search for the local stores in their respective areas from where they can buy the desired items.

Adding to the simplicity, you can easily order essential goods from the comfort of your home through the mobile app: no need to go out in these crucial times. Stay home; stay safe.

The app also supports online payments to ensure that everything is simple and hassle-free.

Consumers get the freedom of choosing their preferred time-slot for the delivery of goods, ensuring that their lives don't get disrupted while waiting for the order to arrive on the allotted day.

You can keep track of your online orders and will get a digital bill on the app.
WHAT'S IN IT FOR THE SHOP OWNERS?
Store owners get a convenient option with a simplified approach to taking their business online while enabling their consumers to order online.

They can keep the crowd minimum in the store that will ensure their safety too.

Digitized mode for accepting payments for the orders and the feature to upload bills within the app. (i.e., their personalized Kirana store software with the features of a supermarket billing software at their disposal)

It will help them expand their consumer base while helping them reduce the workforce required to maintain the store.
The pandemic has made us realize the importance of our health, and the Aaptak mobile app ensures that it is maintained at its best. A common benefit that both consumers and shopkeepers can enjoy through this app: they can keep themselves safe, away from the fear of getting infected by the coronavirus since they won't have to go out to buy goods.
FINAL WORDS
Technology is taking over every sector, and retail is no stranger to it either. It is transforming our lives by simplifying our day-to-day tasks while ensuring that our comfort is not disrupted. Now, when the modern landscape is full of people who are turning to technology even for the smallest things, it is crucial for the Kirana sector to harness technology too, and Aaptak mobile app is their way to it. It brings features like that of a cloud supermarket software to help shop owners increase their sales while helping the consumers by saving their time.