How ERP Software Help Garment Manufacturers Save Time and Money?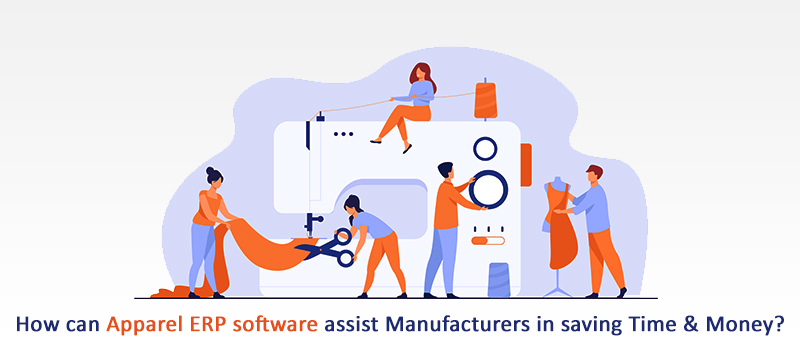 The ever-changing fashion industry is known for its dizzying expectations, specific legislation, and fickle consumer preferences. To be competitive, a clothing company must be adaptable, versatile, and able to keep things in perspective. This is made possible by the use of the appropriate technological resources. In such cases, ERP software may assist apparel business owners in addressing their business problems and remaining competitive in the industry.
Why Does The Fashion Industry Need Apparel Management Software?
Market dynamics shift on a daily basis, heightening rivalry among clothing brands to attract more customers. Consumers are more drawn to a wide range of options. As a result, if they go shopping, they will look for exclusive deals and schemes. Apparel management software allows you to control costs and losses by organizing inventory. Based on the sales data, you can categorize the least and most common products. It will help you make better choices such as placing new orders, introducing discount plans, and so on.
Apparel software is suitable for large, medium, as well as small apparel brands that want to upgrade their operations and grow fast in the lifestyle market. You get a comprehensive, cost-effective, and adaptable software solution tailored to your company's requirements. When all on your premises is connected, you will be able to retain more customers. It will allow you to respond to customer inquiries more effectively, increasing your growth revenues.
7 Ways ERP Software Can Help You Increase Productivity While Saving Time And Money
Standardize the manufacturing process
By implementing an ERP program, you can standardize your apparel company's manufacturing processes. To ensure a continuous workflow, you can implement personalized development protocols. It will also assist you in improving and standardizing company processes using best practices in the apparel industry. It will simplify the manufacturing process and save time, resulting in an efficient workforce and improved performance, which would eventually result in better productivity.
Better management of the available manpower and machinery
Aside from operations management, an ERP software can also help you in handling your workforce and machines, among other things like remuneration, work hours management, and labor management. Depending on the capability of your unit, you may also plan your shop floor processes. You'll also get real-time feedback on processes and productivity from each machine, which will help you make better decisions.
Entire information in a single database
You can store all of your company's data in a single database. It will ensure the data across all sales divisions and platforms is reliable. Order monitoring and consolidation, cumulative production, real-time inventory update, and so on; you can access all of these functions with a single click of the button. You will have full market visibility with optimized end-to-end features. It guarantees you easy access to information, timely business insights, an effective workflow, and increased efficiency.
Manufacturing ERP software is now integrated with cloud technologies. A cloud apparel manufacturing software provides a more versatile, convenient, and safe web-based environment for apparel manufacturers. You will be able to communicate with your local and international suppliers in real-time. The operations will be safe, and you will be able to access the data through your smartphone from anywhere and at any time.
Garment software provides compelling benefits such as bill of materials (BOM), material preparation, financial management, and many others. By implementing apparel ERP, you can reduce the scope of manual errors and reworks while maintaining consistent quality. As a result, the time saved on reworks can be used for more efficient activities.
Inventory management in real-time
Your manufacturing plant will be able to handle the sudden increase in throughput and run at peak productivity thanks to a real-time inventory monitoring mechanism. It takes into account both variance and averages in order.
Maintain complete control over operations while remaining competitive
An apparel ERP program will sync all operations, ensuring that all processes operate smoothly. If an issue arises, it will warn you instantly in real-time so that you can take appropriate action. It will save you a lot of time because you will not have to spend extra money or manpower to figure out what is causing the problem. As a result, every department will be more productive, and there will be no delays, reworks, or production halts.
Conclusion
While selecting the right ERP for your company is a time-consuming and difficult process, you should not let this stop you from updating your current program. A full-fledged ERP solution offers end-to-end management tools that will enable the business to outpace the competition and accomplish all of its long and short-term objectives in the time allotted. From analyzing KPIs to offering a 360-degree view of your manufacturing unit to real-time data monitoring and editing, the right ERP solution will do all of this and much more.