All You Need to Know About ERP Software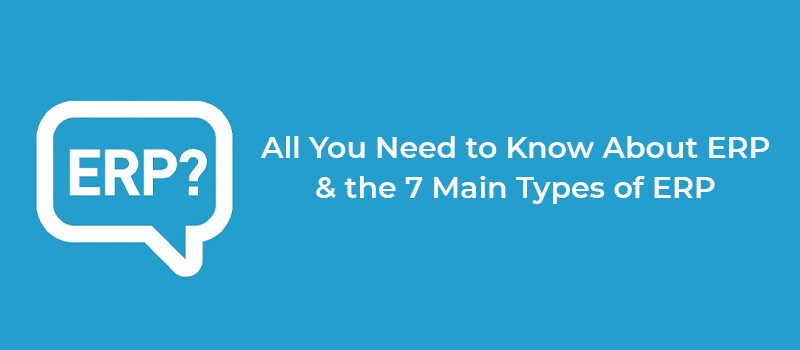 What is an Enterprise Resource Planning System?
Enterprise resource planning (ERP) software aids businesses in better managing all of their business operations and activities. An ERP system can assist a company in keeping track of a variety of details, sharing information across departments, and increasing productivity.
What is Enterprise Resource Planning Software?
ERP software is a collection of systems and technologies that helps medium- and large-sized businesses automate tasks and manage operations. A centralized computer network stores division-specific and company-wide data, allowing all members of the team who require it to access and then use it.
How does Enterprise Resource Planning Work?
An ERP system basically gathers company-wide data, optimizes operations that involve a lot of human labor, and distributes the resulting data throughout divisions in real time. This improves transparency between management and team members, allowing for better decision-making and higher productivity.
Logic ERP Software Is a True Value Add for Today's Businesses
Logic ERP software has evolved into a vital management tool for modern businesses during the last few decades. It not only helps with automation, organization, and financial details management, but also with reporting, logistics, and several other areas responsible for running a great business.
The finance and accounting section of the ERP system is an important component. These capabilities aid a company's finance and accounting departments in tracking costs and, as a result, identifying ways to reduce them. Since the financial aspect is incorporated into the entire ERP structure, this can be achieved in a business-focused and goal-oriented manner.
Since ERP is all about integration, it can have a significant effect on a company's logistics management. For example, product numbers can be scanned, and the transfer of products from the time of order to delivery can be easily taken into account. Transportation concerns, backorders, shortfalls and other logistical issues can all be detected, communicated, and resolved in real time, allowing management to make more timely decisions.
ERP automates mundane, repetitive activities that were previously performed by individuals. This not only helps businesses save money on these jobs, but it also allows them to move human workload to higher-paying, higher-level, and more fulfilling activities. Logic ERP's innovative distribution software allows you to quickly organize your products and inventories.
Since ERP systems store so much data, they can produce useful, insightful reports that can assist management in making better business decisions. Reports can be produced on a regular, weekly, monthly, or annual basis, and they provide real-time data so that decisions can be made based on the current state of the market.
Every business is unique, so having a computer system that allows you to configure how it is used is vital to it meeting all of your requirements. Since ERP systems are typically sold in modules, they allow for full customization. As a result, you can start with the most important components and gradually incorporate additional modules that are easy to integrate as your business grows.
Meeting consumers' ever-increasing and challenging demands is vital to a company's success in today's competitive market. Since ERP is all about integrating data, it aids in the development of superior customer service. Your members will have easy access to your company's procedures, order and distribution status, and production lines in order to fully comprehend what is going on. Customers will then be informed of this information, which can be used to avoid future customer service problems.
With the importance of exchanging sensitive data through an entire enterprise comes the necessity of keeping the data secure. Since an ERP framework streamlines data entry, all company data can be subjected to the same high degree of security controls.
Everyone despises corporate silos and the inefficiencies that they inevitably bring. ERP is critical in helping to break down silos because it focuses on incorporating data from all departments and then presenting it in a functional format to the same departments. This improves divisional coordination, allowing everyone to do their work more effectively and efficiently. As a result, company morale could increase.
Seven Different Types of ERP
Since ERP systems are so complex, categorizing them in useful terms can be difficult. Let's take a look at a few different categories to help you appreciate the various organizational frameworks and market segments.
Cloud ERP is the most modern version of this technology, which has been made possible by technical advancements such as high-speed internet. This is the most adaptable and effective ERP system available. Inventory management is simplified with Logic ERP cloud and on-premises software, which speeds up the pick-up procedure and improves the efficiency and productivity of your stock room.
Prior to the advent of high-speed internet, most businesses had to rely on an on-premise infrastructure. Within the confines of a single company, this ERP system must be mounted, maintained, and updated. Because of all the infrastructure management that an organization must have and maintain, it is also slower, less reliable, and more expensive to operate.
Software as a Service ERP
ERP is provided and hosted by a SaaS vendor or provider in this case, who also manages all updates, security problems, and data management. When compared to just the infrastructure accessible via cloud computing, SaaS provides a completely formed software offering.
The design of both cloud-based and on-premise systems can be general. As a result, they can be tailored for a variety of industries. These technologies must be extremely adaptable in order to have integration in a wide range of situations.
This is a special form of ERP that allows for the ongoing creation of custom apps with a high degree of customization. Logic ERP's solutions and mobile applications provide comprehensive insight across functions, allowing you to access information in real time.
Some smaller ERP vendors specialize in hyper-specialized solutions that cater to the unique requirements of a single industry.
These ERP systems are intended for small businesses that do not need all of the features offered by larger companies. These off-the-shelf ERP solutions are less expensive and simpler to implement because they concentrate on only the most important and simple features of an ERP system.
Conclusion:
Enterprise Resource Planning (ERP) has been a part of the digital industry for more than 60 years. Despite the fact that the adoption rate is rising by the day, many organizations are still unaware of its significance. Businesses, like the economy, are striving for a competitive advantage. ERP is becoming more common these days, resulting in an improvement in efficiency and benefit for businesses. As operating efficiency improves, the ERP market is expected to reach $86 billion by 2022.