Must Have Features in a Pharmacy Management System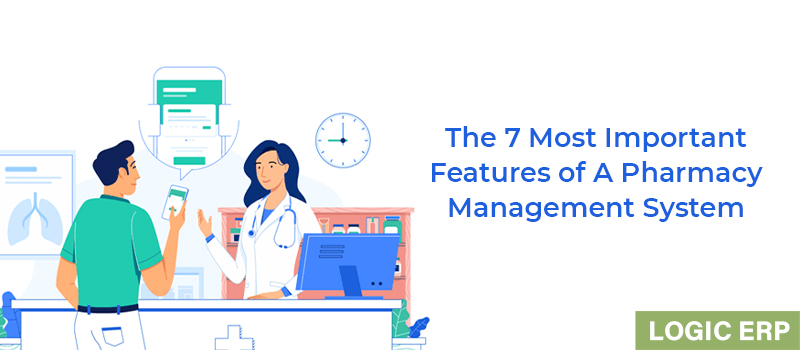 Pharmacy management software, often known as pharmacy software, is a system that stores all of the information regarding a pharmacy processes. It aids in the storage of data, the organization of the entire system, the control of pharmaceutical use, and the improvement of customer satisfaction. Logic ERP pharmacy software is a fantastic opportunity for pharmacy operators in this current era of rising technology. The software suppliers have created the programme in such a way that it assists the business owner in controlling their inventory, bookkeeping, and selecting the appropriate prescription based on background data analysis. Logic ERP cloud and on-premises pharma software allows you to automate, integrate, and consolidate your company's essential activities.
To completely digitize their pharmacy, pharmacists make use of the primary pharmacy management system features. Using pharmacy software that is equipped with all basic and advanced pharmacy software capabilities aids in the management of all business operations while increasing profitability. Patients sometimes choose to go to the pharmacy for normal treatment instead of visiting the doctor in their daily routine, and advanced pharmacy software capabilities can assist in suggesting drugs based on the salt compositions of these minor diseases.
The 7 Most Important Features Of A Pharmacy Management System
Management of Prescriptions
Prescriptions are difficult to read; patients are unable to read them, which can lead to confusion. Illegibility of prescriptions is also a source of error when it comes to administering the proper medication. The pharmacist will not have to read the prescriptions over and over again thanks to software. The pharmacist can keep track of the prescription and dispense the medication as needed. Errors are less likely when data is stored in the system.
Alerts and SMS
Pharmacists can receive early information and notifications from the software if any of their patients will require the drug soon or if the medicine is about to expire, thanks to a pharmacy management system. He can send SMS to patients in advance, reminding them to purchase the next dose of medicine. This is one of the most popular pharmacy software features, and it aids in the improvement of client interactions. The consumer can just reply to the message to request a refill, and the pharmacist will bring the medicine to the patients.
Reporting
Reporting is an essential component of any organization. Proper reporting and data analysis lead to more informed decision-making and significant revenues. On a daily basis, pharmacists contact a variety of sales reps, patients, doctors, and medical professionals. However, recalling all of the facts by hand is impossible. As a result, pharmacy software is created, and all of the data pertaining to each of these may be simply kept in the system, which can then be analyzed for growth initiatives. These reports provide useful information such as which areas of the businesses are operating well and which need to be improved.
You can also employ the document management feature of logic ERP, which is essential for statutory audits and monitoring. For future analysis and audit checks, it's vital to keep a record of historical data and documents connected to processes. You may keep all of your data in one place and access it remotely using the ERP system.
Management of Doctor/MR Commission
One of the most important aspects of pharmacy software is commission management. It's critical to maintain track of which doctor's prescription or medical representative sold which medicine in the pharmacy. Every prescription and drug sold out at the pharmacy generates a commission, which the programme can readily calculate.
Expiry Management
Expiry management is another essential component of a pharmacy management system. Expired products cause pharmacies to lose a lot of money. Medicines are purchased in bulk at any pharmacy, with varied MRPs and expiration dates, making it difficult for pharmacists to keep track of each one. Many drugs are left on the shelf after they have expired, and they can only be thrown away. If a programme with an expiry management system is installed, it will alert the pharmacist to any drugs that are about to expire, which the pharmacist can either sell to the client or return to the supplier. This prevents large losses and ensures that the products are not thrown away. Inventory managers can monitor inventory levels and control pilferage using components in Logic ERP pharma software.
Re-order Management
Setting reorder points, determining when to replenish stock, determining which product performs better in the inventory, and so on. This kind of information is invaluable for any pharmacist who wants to stay organized and informed. Pharmacists can define the minimum and maximum stock level points, and the programme will alert them when the stock falls below the minimum level, allowing them to reorder. This software also proposes the best buy option based on the programmes of nearby suppliers and offers additional savings. You can quickly manage sale order processing and contracts using Logic ERP pharma software.
Collections of digital images

Everyone in the new normal practices social separation. Customers want to pay online but at the drugstore the risk of contracting numerous diseases is the greatest. As a result, pharmacies must feature a digital collection option where patients can pay without touching anything for the purpose of health and safety.
Conclusion
The must-have features in a pharmacy management system, on the other hand, aren't restricted to the items listed above. As machine learning and artificial intelligence become more prevalent in various industries, pharmacy management systems will undoubtedly be updated in the future. If you don't want to fall behind your competition, choose Logic ERP, a cloud-based and on-premises software for the pharmaceutical sector. The degree of customization and flexibility it provides will aid your company in adapting to future changes in the pharmaceutical industry.