How Grocery Stores Can Thrive in Post-COVID Era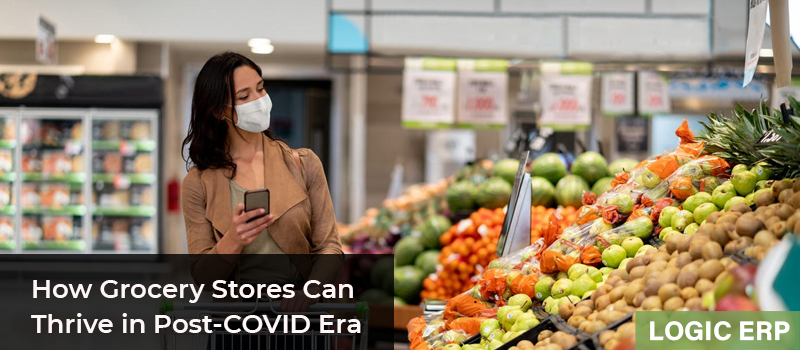 Despite the fact that India has substantially overcome the impacts of the shutdown, Ecommerce penetration remains low. In comparison to the US and China, which are the home of the most successful eCommerce firms. However, we did set a new record for festival shopping. COVID has prompted smaller retailers to join the bandwagon and try their hand at internet selling. Mostly because of the advantages and possibilities for expansion it has offered. Over 70% of Kirana businesses are aiming to move online, according to Mint, a news publication. Grocery shops' decisions on how to fulfill rising demand and a changing competitive landscape will influence their status well beyond 2021. To compete during the pandemic, grocers of all sizes had to create efficient online storefronts, but what qualities could they include in their online presence after the outbreak? We shall see how Logic ERP can provide solutions to FMCG retailers.
Flexible Services: Those who were compelled to attempt online shopping for the first time due to quarantine measures must have had a positive experience in order to continue using their new online grocer after the pandemic. After the pandemic passes, the online grocery providers that are most adaptable and capable of handling high order quantities will keep their customers' loyalty. Shoppers will become accustomed to depending on these services to provide the most necessary products on a regular basis. Even if these consumers were totally acclimated to an in-store-only experience only a year ago, they've adapted in light of new events and developments. Retailers must also rethink each stage of the purchasing journey to remove friction from the online experience, encouraging repeat use and making the process simpler.
Engaging customers where they prefer to purchase is one method to do this. More and more customers (up to 70% more) are placing orders using mobile platforms such as iOS and Android. The user-friendliness of these apps is important for future online buying. Customers must be able to pick items by weight, piece, packaging, and other factors to replicate the in-person experience. Furthermore, merchants must allow customers to add a high number of products to their shopping carts. A shopper may have up to 100 items in their cart, and grocers must have an e-commerce infrastructure that can manage this. As retailers stay flexible to meet demand, these improvements will help transform the supermarket experience and Logic ERP is the one to look up to for ERP solutions for grocery businesses.
Saving Time By Personalization: Consumers have become accustomed to receiving the right goods at the right time via online navigation and checkout procedures that have been meticulously designed to reduce clicks and increase conversion. Customers, in summary, want a personalized purchasing experience regardless of the goods. Personalization is a fantastic method to simplify the customer's online buying experience and help them save time. Many online grocery businesses, on the other hand, do not offer customization or other time-saving features to their customers; in fact, just 42% of online grocery buyers who claim they have shopped for groceries online just once in the last 12 months believe the online experience saves them time.
At various phases, such as through personalized digital flyers, personalization technologies can be integrated into the web platform. Customers are more likely to buy comparable goods each time they go to the grocery store, therefore merchants need a full picture of their customers purchasing history to make these suggestions. Furthermore, Logic ERP solutions for FMCG retailers and their advancements in matching algorithms have enabled next-generation customization features based on complementary tastes or expert recommendations, rather than just historical purchase habits. E-grocery merchants will get an advantage over the competition by executing a plan to collect the necessary data in order to better personalize the shopping experience.
Using New Tech: Due to supply chain disruptions, both online and in-store, one fascinating side effect of the early 2020s has been a decline in choice for grocery customers. As individuals get increasingly accustomed to dining at home, especially for special occasions, this occurs at a time when buyers are seeking new food categories and taste sensations, particularly online. Grocers may utilize technology to manage inventory and sync their online and in-store product availability to manage their expanded categories (e.g., through smart shelf technology). Retailers must use technology-based category management tools and procedures to maximize the increased product offers. Grocers must use the same strategy online as they do in-store, when candles and cakes are placed close together to maximize sales.
Wrapping It Up
Shifts in how grocery stores respond to customer expectations have resulted in significant improvements, but merchant technology adaption is critical and your best option is to opt for Logic ERP for their robust ERP solutions for FMCG retailers. Grocery shops of all sizes, whether small, large or in the middle, must adopt a similar mindset if they want to not just survive but prosper beyond 2021. The difference between being fresh with customer desire and withering due to a lack of innovation is the preparation based on market demands.