Manufacturers and Distributors Can Gain Competitive Advantage Using ERP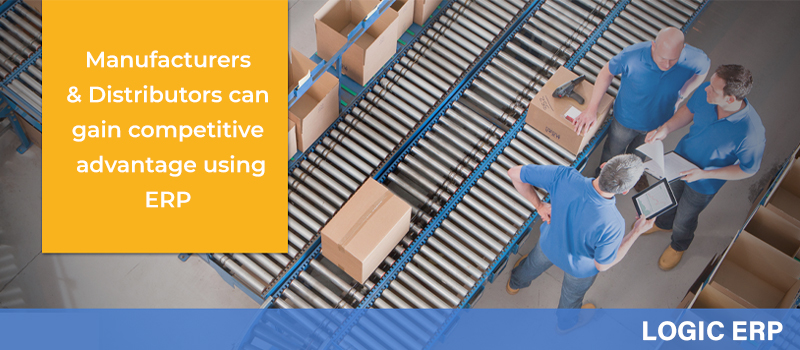 Modern enterprise resource planning systems have long been used by successful manufacturers to achieve a competitive advantage. Capturing and analyzing data is critical for resource management, reacting to consumer demands, and increasing revenues. As information technology advances, manufacturers will have new chances to operate quicker, smarter, and better serve their customers. A contemporary ERP solution provided by Logic ERP can give organizations a good place to start when it comes to gathering, analyzing, and exchanging data. You may begin to harness the potential of your data and information by linking the people and processes across your organization. While it is apparent that better technology is necessary to compete on a wider scale, the idea of digital transformation remains frightening for many manufacturers and distributors. It is expensive and time-intensive, and each company's digital journey must be unique. The important thing to remember is that digital transformation does not have to be an all-or-nothing proposition. Building a digital foundation will always be the first point.
Digital Foundation:
The process of converting all information to digital is referred to as "digitization." Many factories are still using analog technology, which must be replaced. Data may be collected and evaluated through digitalization to provide business insights. These analog characteristics are now measured on the machine and are available in digital format thanks to digitization. Manufacturers and distributors may view all of the activities in the supply chain and make required adjustments to business models and critical operations using these insights. The next stage is digitization, which allows these characteristics to be processed on the platform and supplied as useable data to specified functionalities. Because supply chains are increasingly competing against one other, the more business insights you have, the better you can manage your company.
Improved interaction:
Your executives will strengthen business connections throughout the supply chain and with customers by using trustworthy, real-time data. Working more closely with suppliers ensures that you have enough inventory to meet consumer requests. Furthermore, providing a pleasant client experience will boost customer retention.
Faster Response Times:
Manufacturers can simplify the order process, monitor inventory or production status, and respond faster to changes in operational activities or customer needs by integrating operations with an ERP solution.
On-time delivery improved:
At every touchpoint, having quick access to client-centric information improves the customer experience. Sales and customer care personnel may look through past and current orders, check on the status of a project in progress, and reply to client inquiries and needs right away.
Better resource management:
Having a better understanding of financials, inventories, production, and other key data allows you to make better data-driven decisions. Controlling expenditure, reducing waste, and managing labor resources all contribute to your company's efficiency and profitability.
Reduced costs:
Manufacturing businesses benefit from powerful ERP software because manual, time-consuming procedures are replaced with automated, simplified processes that provide real-time business information. Furthermore, ERP for the manufacturing business reduces labor costs by boosting worker productivity, while improved accuracy and decreased mistake rates reduce losses. Excess inventory and warehousing expenses are eliminated when inventory is correctly tracked and integrated with production planning. Finally, improved organizational visibility helps management make cost-cutting decisions.
Enhanced Customer Satisfaction:
Manufacturers may increase on-time delivery of products by using accurate production planning, improved inventory control, simplified process scheduling, and coordination of distribution networks. Maintaining client happiness requires timely delivery of items. Manufacturing ERP software provides real-time data, allowing decision-makers to receive an accurate view of inventory levels at any moment.
Improved adaptability of business processes by automating and streamlining:
For manufacturing companies, a comprehensive ERP system simplifies business operations and fosters automation. All data is available in a single place with comprehensive visibility in all capabilities – development, designing, inventory, procurement, manufacturing, finance, sales, delivery, and more – thanks to the simplification of operations. Furthermore, without relying on a single person or team, every member of the team may check the production status in real-time. For example, the design team may keep track of production progress and inform the buying and finance departments about the need for more raw materials. This increases system efficiency, boosts productivity, and aids businesses in keeping their client promises. The firm decreases its reliance on manual procedures by automating processes with ERP for the manufacturing industry. Logic ERP will help you to not only speed up the manufacturing process but also reduce mistakes and boost profitability.
Wrapping It Up
While there are several advantages to using an enterprise resource planning system for manufacturing firms, merely using any software will not help you accomplish your objectives. To get the proper software for your company, you'll need to work with an experienced ERP solution provider like Logic ERP. ERP can save you 23% and 22% on operational and administrative costs, respectively. A cloud-based ERP solution, such as Logic ERP, extends the benefits of ERP beyond data access and sharing. The cloud links machines, materials, and people in real-time, providing manufacturers with even more data they can use to gain a competitive advantage.