Departmental Store Workflow Challenges and Solutions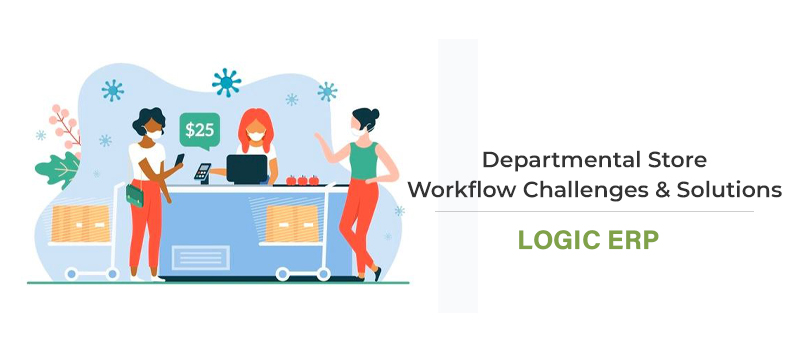 The buyer is the most crucial aspect of every business, and it is upon which your business plan is built. One cannot compel a customer to purchase items that are available in their store. The customers will go to another store if they are dissatisfied with your services or products. As a result, thorough study into buyer's purchases becomes critical. It's also critical to assess the complete customer experience in order to improve the efficiency of your retail store or chain of stores. Knowing what customers want is an important element of operating a store, and it takes extra work to overcome any obstacles. Let's take a look at some of the issues that department stores face.
COVID-19 transmission prevention
The COVID-19 outbreak lasted the full year of 2020. Since the beginning of the year, departmental proprietors have faced numerous hurdles ranging from contact-free service to home delivery alternatives. Before the outbreak, department stores used standard shopping procedures. They were not prepared for a significant increase in the usage of technology. They must, however, be modified to avoid coronavirus spread. The following processes must be followed by the store owners in order to achieve this:
Keep the number of buyers in the store to a minimum.

Keeping a suitable spacing between clients is essential.

To avoid turmoil in the store, adopt a simple and rapid checkout process.

Using cashless payment to avoid the transmission of viruses is a good idea.

Ensure that all personnel and clients are wearing masks at all times.

Keeping your items clean and sanitary.

Clients entering your store should be given hand sanitizers and their body temperatures should be measured.
Recruiting competent employees and personnel for your department shop
Employee selection goes a long way in determining whether your company succeeds or fails. A department store's need for skilled personnel is critical. They benefit the company in terms of sales and client retention when they work together. To attain the organizational aim, the department store owner needs to hire personnel that are quick learners and skilled. They assist merchants in reducing store management workload. Here are some of the disadvantages that you will experience if your department store lacks skilled personnel.
The first person that engages with a client and presents your goods is your store personnel. You give your client the option of visiting another retail location if you hire inexperienced employees.

If your employee understands less about your products and services, you may see a drop in sales.
Managing departmental outlets with many locations
Every entrepreneur wants to grow their company in this competitive industry. With the growing of a business, the owner's responsibilities grow. They must effectively run the business and coordinate between the stores. You'll need to hire more people, boost inventory levels, and manage all of your company's data intelligently. To tackle the multi-location retail chain difficulties, proper preparation is essential. If you don't have multi-location management practices in place, you'll have to deal with the following problems.
It's possible that you won't be able to gain centralized control over all of your retail operations.

You are unaware of all store chains' sales, purchases, and financial status.

You won't be able to communicate with your staff in a seamless manner.

Your valued consumers may be inconvenienced in receiving the services that they have come to anticipate from you.
We learned about the difficulties that a department shop owner faces while launching a store or upgrading an existing store to meet market demand. Let's take a closer look at the features of Logic ERP's software, and be aware of its ideas for better departmental store administration.
Increase the number of sales in your department shop
Logic ERP software is known for its user-friendly services that are simple to use and comprehend for both technical and non-tech users. It has capabilities that allow for flawless sales management, such as managing inventory and final delivery while maintaining top-notch customer service.
Organize and manage departmental purchasing
The software from Logic ERP has a robust and adaptable billing system. It simplifies billing and streamlines the checkout process for clients. It also offers a simple GST filing and billing mechanism to its consumers.
Order-tracking capability
The software from Logic ERP has an automated order management solution that enables store owners to track orders across several locations or chains. It gives its users access to a smart platform that boosts customer order operational efficiency.
Conclusion
Number of separate solutions are present in the retail, wholesale, and business chain markets at various prices and requirements. However, you must always select the greatest option that provides proper departmental store automation and solutions depending on departmental shop issues. They will be available at a variety of pricing and with a variety of features. What matters most is that you select software that meets your usability requirements. A single blunder might make the difference between a win and a loss for your company.