The Growing Importance of Distribution Management Software in Fashion Retail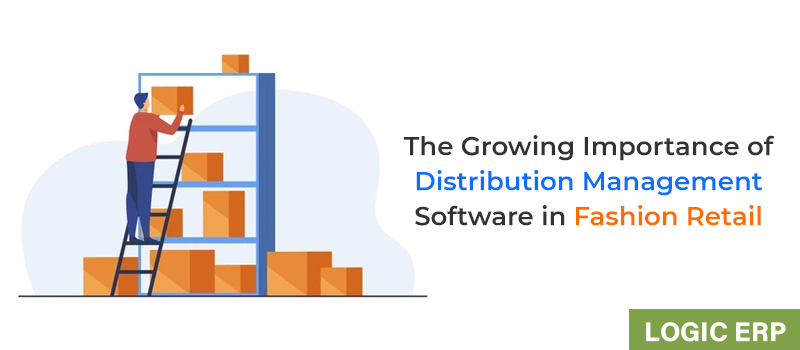 Today, the wholesale fashion industry is equivalent to 3 trillion dollars and 3,000 billion textile and garment firms are joining the market every day. The internet has opened up a world of opportunities for both buyers and sellers within the fashion industry. This growth has led to an increased need for software that can effectively manage this rapidly growing market and distribution management software is playing a greater role in the growth of fashion retail.
Distribution management is an integral part of the overall supply chain management process. The success of a business depends largely on the efficiency of its supply chain. The overall supply chain can be divided into several stages, and each stage has to be managed well for ensuring the smooth flow of goods from one end to another.
What role does Distribution Management Software play in the fashion retail industry?
Fashion retailers use distribution management software to efficiently manage the transfer of inventory from the supplier to store and store to customer. Following are just a few of the various advantages of such software:
Real-Time Visibility – Real-time visibility is a critical feature of modern distribution management software that helps fashion retailers to plan their supply chain strategies efficiently. With the help of advanced distribution management software like Logic ERP, you can get a 360-degree view of your distribution network, which allows you to plan and be prepared for any challenges that may crop up during the festive season.
Negotiating the scenario of a remote location – Today, many companies have expanded their business geographically to meet customer demands. As customers demand products, companies are forced to spread their distribution networks to reach and service the customer base. Using distribution management software allows a company to monitor the inventory levels, sales by location, and the performance of their distributors and staff members. One such software provider is Logic ERP, which provides customizable solutions for distribution management.
Simplifying the distribution process – A fashion distribution management software is a warehouse management tool that creates a streamlined inventory system to make locating items faster and easier. By using the software, distributors can view information on current stock levels and outstanding payments, track orders, and automate processes.
Quick and reliable claim settlement – Claim settlement is faster and more reliable with distribution management software. There are fewer steps involved in the process, since there are no intermediaries, and the software provides complete transparency between customers and suppliers. This fosters trust and strengthens relationships between both parties.
Plans for sales and production –The fashion industry has widely adopted distribution management software because it enables efficient forecasting, reduces costs, eliminates manual data entry errors, and improves customer relationship management. By visualizing the life cycle of customers' orders, a business using this software can optimize its distribution channels, ensuring effective operations using available resources.
Stock replenishment is more efficient –The stock-flow from manufacture to consumer and vice versa can be efficiently managed with distribution management software. With Logic ERP, you get a real-time view of inventory details, including the expiry date and batch numbers. It also enables you to keep track of every product on its journey through your business. This transparency of stock at each stage of the supply chain ensures that you make informed decisions based on actual customer demand and inventory availability instead of just estimates.
The Future of Advanced Distributor Management Software
According to McKinsey's State of Fashion Report 2022, the global fashion sector is regaining its footing after nearly two years of turmoil. Digital is providing a hub for growth as businesses adjust to new customer priorities. Despite this, the industry confronts substantial problems as a result of supply-chain disruptions, sporadic demand, and ongoing pressure on the bottom line. Growth will be a top goal in the coming years, with the majority of businesses failing to make a profit.
Tailored to your business needs, Logic ERP helps you grow your business faster by providing solutions that are scalable, reliable and flexible. Our advanced distribution management software offers supply chain visibility at every step of your supply chain – from procurement to delivery, so that you can take faster decisions that help you manage your inventory better.