How Can Digital Adoption Aid Your Business's Growth?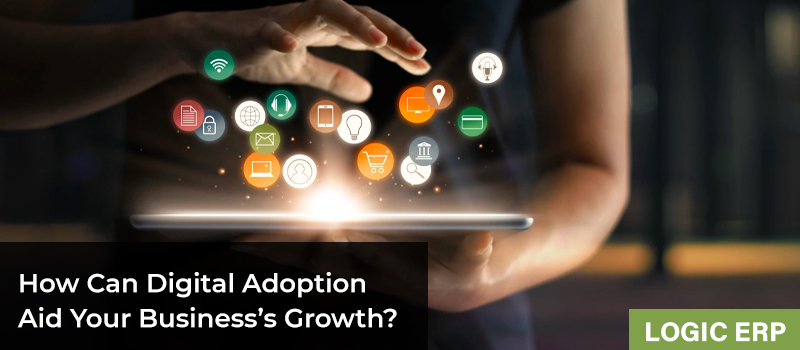 Today, we live in an increasingly automated world. New technologies are penetrating every industry and workplace. As a result, companies must integrate these technologies into their business processes. This is known as digital adoption or technology adoption. While this may seem simple, it often requires significant change management and training for employees. The technology available can also be confusing or intimidating, with new advances and updates every day. Digital adoption solutions make it easier for businesses to take advantage of the latest technologies. They help create processes that can be used to achieve more efficient, streamlined operations, while also reducing errors and maximizing productivity. 
Digitization expands the marketplace for small firms – The virtualization of operations allows customers to access services and products from anywhere, at any time, and with any device. A company will have a wider influence on customers and can reach more customers even if it operates in a single location. Digital infrastructure helps to achieve high quality, speed, flexibility, and cost-efficiency. By 2025, the global digital transformation market is anticipated to register $1,009.8 billion, with a CAGR of 16.5 percent. 
Evaluate each digital technology you utilize in retrospect – You can go back to the time when you used a physical filing system for the first time to now, where it sits in your computer software. This transition has saved businesses tons of money and effort. Every year, we are introduced to newer technologies that can be adapted by businesses to improve productivity and efficiency. Every business should identify what technology is required for the business, build a plan around it. Identify who will implement it and how long is it going to take? More importantly, what will be the impact of this implementation on the business?
How can digital technology assist small businesses – Digital technology has been at the forefront of advancements across all industries, and the SMB industry is no different. In every business, certain processes can be streamlined and made more efficient with the help of software, from ERP to CRM to marketing tools. Technology is a great enabler – it helps you learn more about your customers and prospects. There are many ways in which digital technology can help reduce costs and save time for small businesses, including automation of repetitive tasks, minimizing errors and omissions. As per a report digitally transformed businesses are expected to generate more than half of global GDP by 2023, accounting for $53.3 trillion. 
It is difficult to assess digital technology without experiencing it – As a general rule, it is difficult to assess a new digital technology without first experiencing it. The digital revolution has transformed how we communicate, share information, and entertain ourselves. Social media platforms have created virtual communities that allow us to communicate with people across the world. The handwritten letters have been replaced by email and the typist has been replaced by word-processing software. These are just a few examples of how technology has transformed our lives over the centuries. Technology has always impacted our lives, but this time around, it's different. Technology does not just impact how we live, but it changes what we do and even who we are!
The Age of Digital Liberty – In the last decade, we have seen a major shift in the way people run their businesses; from traditional businesses to online businesses. Today's business owners understand that technology can be used as a powerful tool for business efficiency as well as for customer satisfaction. Many business owners have left their old ways of doing things and are trying new ways of doing things with the help of digital technology. The results of this shift are tremendous as digital adoption has improved operational efficiency by 40 percent.
Logic ERP remains at the forefront of digital technology
Logic ERP is amongst the leading cloud-based enterprise resource planning software in India that can help scale your business. The ERP solution that we continue to develop today plays a crucial role in our clients' business operations. Logic ERP software offers a successful combination of standard functions and industry-oriented solutions that meets the highest requirements with the best possible flexibility.