How Kirana Stores Are Thriving in The Age of Digital Technology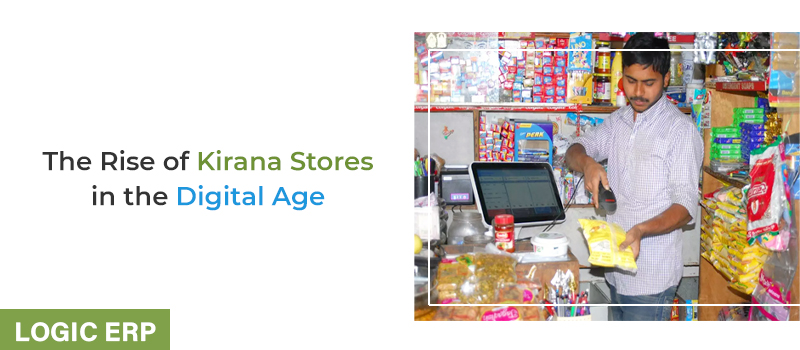 For the benefit of both businesses and consumers in the Indian retail sector, technological advances are required to modernize distribution and supply-chain processes. This can be achieved through Kiranatech—a process that converts Kirana stores into highly efficient businesses with the use of Kirana shop software.
The retail sector in India is unique because of its large potential and diversity of offerings. Although modern retail accounts for a small percentage of the country's retail market, many foreign corporations have entered the country by setting up B2B operations to cater to local industries' needs. At the same time, traditional retail—particularly grocery stores and small shops—still dominates the country's retail industry and is a vital part of the Indian economy as there are 13 million Kirana stores in India occupying 90% of the country's food and grocery retail. Grocery retailers can use grocery store software to design and implement an omnichannel strategy that builds consumer loyalty, generates revenue and helps them better understand consumer behavior. Logic ERP is one such service that can help Kirana stores to streamline their operations.
India's e-commerce sector is booming, and its fintech industry is playing a key role in the growth of the sector. Since the introduction of e-commerce platforms, there have been many developments within the country's fintech industry, one of which is BNPL services. Unlike the ancient Udhar Khata system—in which local businesses could issue a credit to customers who could return to buy supplies on credit—BNPL allows customers to purchase goods and pay back the loan over time. Sometimes BNPL can be risky, however, because interest-free loans are often available for a limited period and must be repaid in installments.
Transitioning from A Physical Setting to A Digital One
Digital technology is making it possible for smaller retailers to operate more efficiently, opening up new possibilities for them in terms of sales and expansion. From a paper-based, cash-intensive operation to a digital platform, technology has revolutionized how business is conducted in India's vast Kirana retail sector.
The Covid-19 pandemic has worsened the already dire economic situation in India. However, it has also forced many businesses to go digital and accelerate the adoption of technology. This digital revolution was driven partly by businesses' efforts to mitigate the effects of the deadly virus and partly by their desire to catch up to other nations that had experienced similar transformations. One example is the transformation of traditional grocery stores called kiranas into smartphone-wielding enterprises that use mobile payments via unified-payment interfaces (UPI) applications to serve their customers. While payments are only one part of the story while there have been several developments on other fronts too. A majority of Kirana stores have realized the benefits of e-commerce and are willing to try out new products that can streamline their operations. Retailers can opt for Kirana store software like Logic ERP that features inventory management, customer loyalty programs, price optimization, and much more – all in one platform.
Navigating the Barriers of Kiranatech
As Kiranatech promises hold potential, tech startups betting on this sector need to proceed with caution. The size of this market represents an enormous opportunity for expansion. What one must strive for is stickiness: several apps in the space, particularly on the storefront side have declared astounding growth numbers, but unless brick and mortar customer reach is improved, these numbers are just that—numbers. Once a startup has a customer base, it should aim to boost customer engagement by offering more services and investing in sales methods that will encourage users to return to the app regularly.
Although business owners may be flocking to Kirana stores for loans, banks should focus on data quality and not be sidetracked by the number of loan applications. Banks have struggled in the past with credit programs for small businesses; they must avoid repeating their mistakes. The companies disrupting local store supply chains must remember that eliminating middlemen will only lead to failure. Middlemen have played an essential role for many years; it is equally important for them to continue playing a significant role.
Logic ERP provides a fully-integrated grocery store software system that increases profitability and improves customer satisfaction. Logic ERP Kirana store software can be implemented without compromising efficiency in other areas of your business.