How Technology is Changing the Restaurant Industry: 5 Trends to Watch For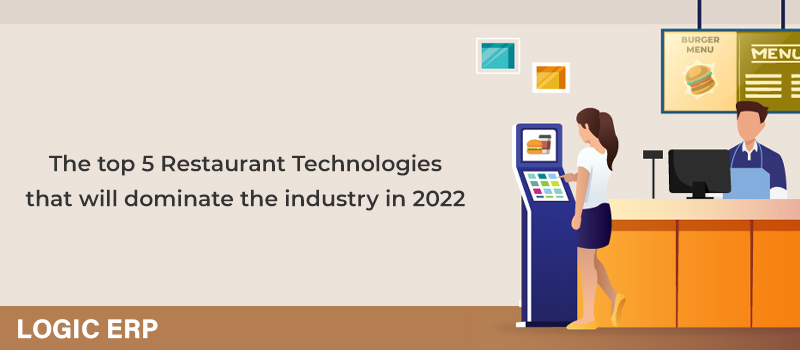 The restaurant industry has always been a fast-paced, high-energy business. Staying on top of the latest trends and in touch with your customers can be a challenge. The pandemic has pushed the restaurant industry to digitize its operations to meet the social distancing norms and ensure the safety of customers and employees. The past 2 years during the corona pandemic have been no different with restaurants constantly adapting to the changing needs of their customers and trying to stay ahead of their competitors. A study by DoorDash revealed that in 2021, the worldwide food delivery service market was valued at $106.1 billion, and by 2027, it is predicted to be worth $223.7 billion.
Consumers' expectations and demands for convenient access to food are driving restaurants to make significant changes in their business processes. The best way to determine what will be the next big thing in the industry is by taking a look at the technologies that are already making waves. Here are five that we think will dominate the restaurant industry in 2022:
Contactless dining – Since restaurants have started to reopen, we've seen a shift in how they operate, from what they serve, who they serve, and how they serve. While some changes are expected to be temporary (like reduced seating or menus), other shifts have been welcomed by both restaurant owners and diners alike. As we move into the future of dining, contactless or QR code dining is one example of how restaurants are adapting to stay ahead of the curve. With contactless dining, restaurants can offer a more personalized, streamlined experience for guests. It also helps restaurants maintain social distancing guidelines.
In-House Delivery – With the surge of third-party delivery providers, restaurants need to be strategic about how they approach delivery. In-house delivery is a less expensive option than third-party delivery services as it allows the restaurant to control the customer experience and also offers more marketing opportunities. When you have an in-house delivery fleet, your customers can come to expect reliable service, and even faster delivery times. In-house delivery drivers are only working for you, so they're not wasting time driving between restaurants. According to a Nation's Restaurant News survey, the vast majority (77%) of customers said speed-to-delivery and variety influence their restaurant choice.
Automated production planning in inventory management – The restaurant business is an incredibly competitive market. To make your restaurant stand out, it's important to emphasize a consistent quality experience for your diners. One way to ensure consistency is through the use of automated production planning in your inventory management system. A restaurant management software such as Logic ERP can help you keep tabs on all the ingredients you have, allowing you to forecast needs and produce reports. It will also minimize food waste and save you money by ordering and buying only what's needed.
Going Omni-Channel – Operating across multiple channels is now considered a necessity for restaurants to provide a consistent customer experience. Thus, restaurants are increasing their visibility in multiple channels, including digital and catering. Restaurants that utilize omnichannel marketing gain a competitive edge by providing a more consistent experience to customers. To do so, they need to adopt an integrated restaurant management software to ensure their operations run as smoothly as possible. Logic ERP's restaurant software helps restaurant owners manage every aspect of their business and ensures consistent delivery of services to help them stay on top of their game in the highly competitive industry.
Menu engineering and data analytics – In light of the recent covid-19 pandemic, restaurants have had to alter their business practices to remain profitable. Although restaurateurs have employed many strategies over the years to achieve this objective, menu engineering and data analytics is becoming increasingly effective. Through this system, restaurateurs can adjust prices and move dishes around on the menu based on what customers want. They can also determine how much money is being made on each dish so they know how to price their meals most effectively.
As the role of technology in dining experiences continues to grow, Logic ERP will evolve to provide seamless, efficient, and dynamic restaurant management software solutions to meet the demands of modern restaurants.