Modernize Rural Kirana Outlets Using Technology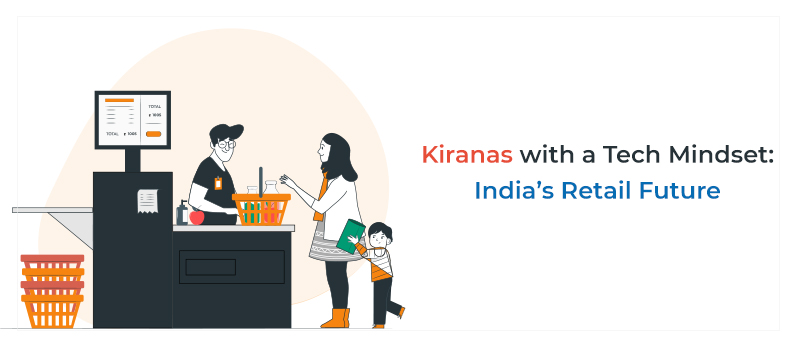 Technology can be a powerful facilitator for the unstructured retail industry, generating significant value in the process. This industry has so much potential that a new name, 'KIRANATECH', has been established to describe it. It is any technical strategy that enhances the efficiency of the functioning of the kirana outlets or any day-to-day processes that come under it. India possesses the world's most distinctive retail sector. For millions of individuals, these kirana outlets are a once-in-a-lifetime experience that reflects our country's variety. A kirana outlet may appear to be a single standalone store in a neighborhood if it operates alone. Yet take a look at how many areas there are and how many kirana stores there are in each of them; it's a vast retail legion!
The emergence of the COVID-19 pandemic has only widened this chasm, with a number of lockdowns impeding operations and negatively impacting kirana outlets in general. Several kirana establishments have closed or are trying to source supplies and avoid excess inventory due to limited movement, supply chain problems, labor shortages, and security concerns. Kirana retailers have resorted to technology-enabled B2B channels to help them manage continuity of operations and enhance revenue and profit. These systems enable them to acquire inventory, avoid overstocking or stocking out, and get real-time notifications. Kirana stores have evolved in recent years, adopting technology and revamping their procedures. We can surely say that tech-savvy kirana stores are the way of the future.
Difficulties faced by Kirana store owners
If COVID-19 pandemic showed us anything, it's that enterprises must become digital in order to thrive. This is especially true for retail businesses, both large and small. The outbreak prompted a lockdown and severe supply chain disruptions. It resulted in an increase in grocery orders from Kirana stores because it offered consumers a sense of security during this time of instability. An increase in orders, on the other hand, does not always imply a growth in business. It was tough for all of the store owners who were not used to receiving hundreds of orders per day to keep their finances up to date. While on the phone, some were scribbling on papers and any scraps of paper they could find.
This resulted in receipts being misplaced, journal records being mishandled, and, eventually, business being lost. But that's not all. With all buyers locked inside their residences, requesting payments by physically coming to the shop became difficult. Reminding customers of their debts also jeopardizes the cherished shopkeeper-client bond, which is crucial to the growth of Kirana stores. With all of these hurdles in mind, many store owners have switched to technology to solve these demanding problems and ensure that consumers pay their bills on time.
Make a stand with the help of technology
Logic ERP came up with the idea of contactless payments, integrating touchless POS, and a mobile app to ease online purchasing of necessary commodities for clients looking for solutions in order to deliver a safe grocery shopping experience to them. Logic ERP came up with the idea of integrating touchless POS, contactless payments, and a mobile app to ease online purchasing of vital supplies while everyone was worried and looking for solutions to deliver a safe grocery shopping experience to the customers. Owners of Kirana or grocery stores required a way of managing their businesses from anywhere any time. Shifting the existing business model to the cloud was the best method to deal with this problem. The ideal medium for it has shown to be Logic ERP cloud, which is the future of retail. The 'Aaptak' smartphone app was the next thing that Logic ERP came up with. During the pandemic, it allowed supermarket and Kirana store owners to sell crucial supplies online.
Conclusion
All thanks to these technological advancements, many now choose to order online rather than shop in stores. It's also a fantastic way to encourage contactless shopping and payment methods. In addition, the online shopping trend will undergo a significant transition in the future years. Technology, we feel, is the key to corporate profitability. You may ensure better business administration using Logic ERP online or on-premises software, which results in greater sales, client retention, stock management, and much more. You also have the option of customizing the ERP software to meet your specific business needs.