Getting Things Ready for a Digital Change Using Enterprise Resource Planning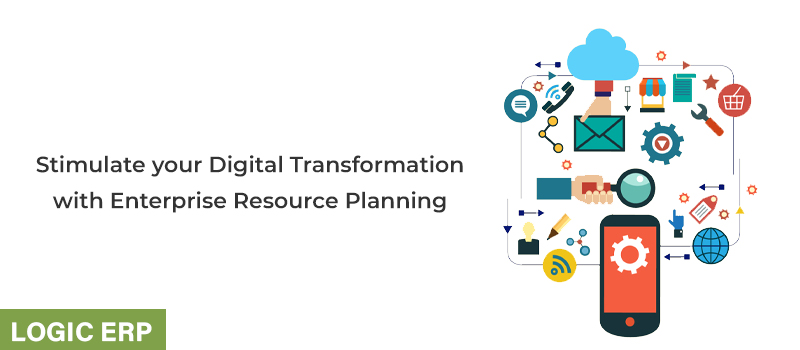 To cope with a dynamic and tough corporate climate, digital transformation is the rule of the day.
As a result, we see large as well as mid-sized businesses investing substantial resources and effort in digital transformation plans. While embracing digital transformation, businesses also tend to have the goals of more effective ERP (Enterprise Resource Planning) systems and productivity improvements in mind. ERP systems like the one from Logic ERP can help you modernize your company. In modern company and digital transformation, a solid ERP system may make a big difference.
Simply said, the major driver behind incorporating digital transformation in the workspace is operational effectiveness or process efficiency. Emergent technologies such as big data, IoT (Internet of Things), and ERP, are now included to achieve the intended outcome of digitization, thanks to advances in technology. How can ERP, on the other hand, help to influence digital transformation?
Significance of Digital Transformation
Digital transformation, as the name implies, is a process that guides corporate operations toward digitization, allowing them to take use of disruptive technology to boost effectiveness and competitiveness. The emergence of taxi-service firm Uber, for example, may be credited in significant part to digital change. The organization has fully embedded a smartphone application into its system to provide users with automation and efficiency. The goal of digital transformation is to make the company's growth more inclusive. It enables organizations to enhance customer experience while being compliant with the law. As we dwell in the electronic era, it appears that the ultimate purpose of digital transformation is to improve the ease and satisfaction of our daily life.
The Role of ERP is Critical
It's critical to improve your business landscape in order to establish a cognitive enterprise. Many businesses rely on ERP solutions as the cornerstone for their digital transformation. ERP software that is properly designed can assist firms in driving organizational changes and integrating high-tech technologies. ERP solutions are developed in both standard and industry-specific versions. A manufacturer specific ERP is required for manufacturers to successfully take advantage of modern technology. ERP used in manufacturing  organizes all aspects of a company's operations, including personnel, tools, and inventories, and encourages interaction through collaboration. ERP software like the one from Logic ERP unifies all business data into a single database, giving each division a single point of reference to remove information silos.
7 Signs That It's Time to Switch to a Modern ERP
Employees take far too long to do their responsibilities.
You'll need information on the go.
You won't be able to keep up with the ever-changing requirements.
You have heterogeneous data from systems that aren't well integrated.
You can't obtain vital information soon enough.
Customer needs are getting increasingly difficult to meet.
With your present system, support is expensive and difficult to get by.
Cloud ERP's Contribution to Digital Transformation
The cloud's data isolation design is safe and leads to faster access to data. Your most significant asset – your business data – is safeguarded by a layered security technique. The risk of theft and damage is reduced because cloud ERP servers are hosted in secure, central locations. Because of the economic benefit, cloud ERP providers can invest more resources in software, database, as well as security systems than a single organization.
Cloud ERP like the one from Logic ERP features a clear graphical interface, making it easier to get used to the system, and deployment is quicker and easier, reducing the need for IT personnel involvement. The vendor also handles maintenance and repairs, which eliminates the need for human IT support.
Cloud ERP streamlines productivity and gives you instant access to the information necessary to make quick, but precise decisions. It allows your employees to work on the go, whether from a different position on the worksite, at a customer's premises, at a hotel, or from home. As your company grows, you may scale it by adding more user licenses or components.
Markets are growing into different geographies and accessing international markets, necessitating the use of ERP to enable country localized versions and various affiliates. Modern cloud ERP allows for easy data sharing between enterprises, divisions, and multinational corporations.
Conclusion
The foundation for digitization is laid by modernized ERP software. A Cloud ERP system from Logic ERP can help with development, optimisation of resources, and operational efficiency. Modern manufacturing ERP software enables you to assess resource performance, optimize the production floor, streamline inventories, and use data to aid corporate strategy. It also assists you in gaining insight into operations, improving client experience, and utilizing modern day innovations to digitally alter your firm.