Significantly Role of Digital Transformation in the Retail Sector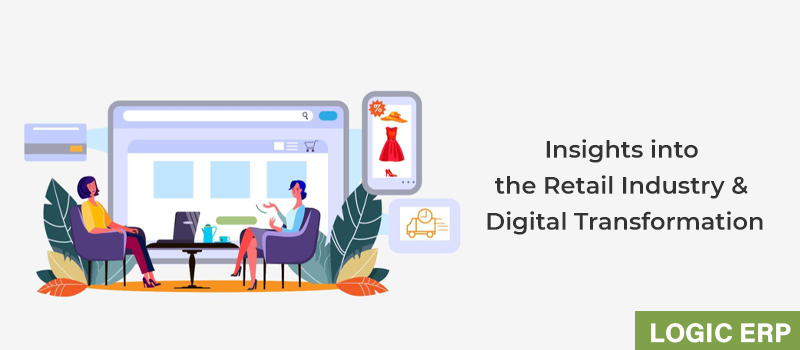 Consumers' perceptions of traditional brick-and-mortar purchases have shifted dramatically over time, resulting in hybrid experiences. With the rise of mobile shopping and e-commerce, smart technology – based business approaches for consumers are essential to propel the digital world forward. To stay ahead of the curve in the rapidly changing retail industry, a race to digital intimacy has begun. The change in strategy from retail location formats to online platform is widening the area of interactions, generating engagement and conversions, in this customer-obsessed environment. This article will explore the retail industry's digital revolution, recent developments, and how Logic ERP can help your company flourish.
What is Digital Transformation?
Digital transformation could be defined as the use of technology to significantly increase an organization's performance or reach. It entails integrating digital tools into all aspects of a company, resulting in substantial changes in how businesses function and give value to customers. The purpose of digital transformation is to improve operational efficiency and save costs while providing a better experience for consumers, employees, partners, and suppliers. Logic ERP is a digital ERP software software based on cloud that can help you scale your organization in India. Our ERP solution, which we are continually developing, is critical to our clients' business operations.
What are the Most Popular Retail Digital Transformation Global Trends?
In the retail industry, there are various digital transformation trends. Some of the global trends are as follows.
Using Big Data to Make Better Decisions
Another major digitization trend in retail is big data. Large, complicated datasets that are challenging to process using typical approaches are referred to as big data. Businesses can obtain insights into customer behavior, trends, and patterns by leveraging the power of big data.
This data can then be used to improve decision-making, operations, and sales.
Artificial Intelligence (AI) in the Making of Better Business Decisions
AI Technology has taken the world by storm, so how can the e-commerce sector escape its benefits? It has, however, already begun to improve e-commerce in many ways. It's used to personalize the user experience, make product suggestions, run chatbots, and detect fraud. By evaluating enormous amounts of data fast and accurately, AI can assist organizations in making better decisions. This data can then be used to improve customer service, focus marketing efforts, and make better inventory and pricing decisions.
Customer Engagement Through Augmented Reality
The moment when imagination and reality collide is no longer a distant memory. It is now, and the retail business is reaping the benefits in spades. Customers may now view things in a lifelike 3-dimensional space before purchasing them thanks to augmented reality. This gives consumers a better understanding of what they're getting and helps to cut down on returns. Customer experiences that are dynamic and engaging can also be created with augmented reality. Customers can, for example, use their smartphones to inspect products in their homes before purchasing them. This aids in increasing customer retention and sales.
Smart Inventory Management with the Internet of Things
With each passing day, the globe becomes more connected, and that's not restricted to humans. Even inanimate items can now be linked to the web and speak with one another thanks to IoT. It's used in a variety of industries, including retail, healthcare, manufacturing, and retail. One of the most important components of retail is inventory management. It aids in the reduction of waste, the optimization of processes, and the enhancement of customer happiness.
And, thanks to the Internet of Things, it's now simpler and more convenient than ever. Businesses may track inventories in real time and make smarter judgments regarding stock levels by employing IoT-enabled devices like sensors and RFID tags.
Improved Customer Experiences through Personalization
Personalization is the technique of adapting goods, offerings, and experiences to individual customers' requirements and preferences. This technology is being used in a variety of fields, including health, academia, and retail. Personalization can be utilized in the retail sector to offer personalized purchasing experiences. Online businesses, for example, can use user data to provide customized product recommendations. It aids in improving client satisfaction and loyalty. Logic ERP software combines conventional functionality with industry-specific solutions to meet the most stringent standards while maintaining maximum flexibility.
Conclusion
Both offline and online retailers are at a fork in the road. Many companies are hesitant to embrace digital transformations, putting them at a disadvantage in terms of key performance indicators. Customers, in the meantime, respond to timely, efficient, and meaningful experiences by spending money with brands that provide them. If you're looking to transform your retail business, Logic ERP can assist you. It's not just another web app; it's a fully immersive experience that spans all of your physical and digital channels.