The Value of POS Data in Replenishing Store Inventory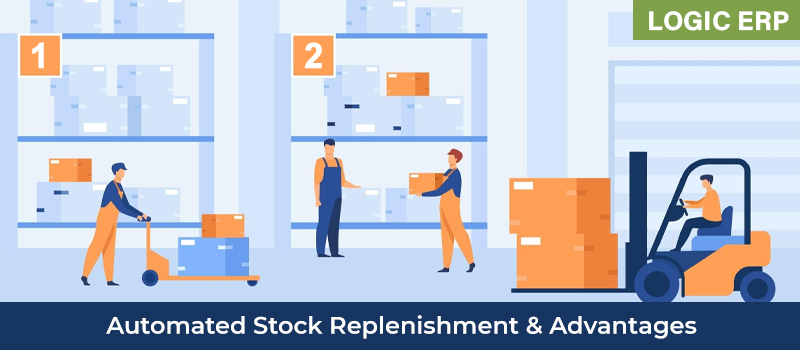 At the time of customer checkout, the point – of – sale data is automatically collected. Data about operations and business intelligence is included in the information. Customer information, desired items, payment method, purchase location, and a range of other vital related data can be obtained, for example. This information reveals a trend between purchases, inventories, seasons, and other factors, as well as providing insight into customer behavior. Although these data sets are valuable, dealing with them in their crude form might be difficult. The easiest method to get most from this data is to extract it, format it, and compile it in order to develop inventory management systems. After it has been compiled, it can play a significant role in replenishing shop stock. The POS software from Logic ERP can help you with automated stock replenishment.
Why Should POS Data Be Analyzed?
Every day, point-of-sale (POS) terminals collect vast volumes of data. It can be used to a minor extent since it is raw data. To provide merchants with a better understanding of their business, data must be grouped, normalized, and evaluated. POS data can be used to forecast stock counts, optimize marketing efforts, and acquire valuable insights into your prospective customers after it has been analyzed. The flow of the sales cycle is disrupted by returns, exchanges, and refunds. Sending your products to retailers and wholesalers does not ensure that they will end up in a customer's shopping cart. Your point – of – sale data can help you see trends in the aftermath of such interruptions, leading to more efficient sales and distribution processes.
By looking at what things customers buy together, POS data may be utilized to gain a deeper knowledge of them. By grouping things that are important to customers together, this data supports firms in discussing potential promotions and shop layout. Logic ERP has a well-operational point-of-sale system that may help you ensure that all of your activities run properly.
When Out-of-stock is a No-no, POS Data Comes in Handy
Out-of-Stock is regarded as a betrayal in the retail industry since it prevents customers from making transactions when there is a need. POS data tracks patterns to see which items are in great demand at different times of the day, month, or year. Through proper supply chain management, this aids firms in sales forecasting and prioritizing the necessary commodities to have in their stores. The ability to manage several market segments while maintaining the necessary finished goods is the most significant gain a retail organization can receive. Daily sales data with significant gaps during peak load periods can be utilized to figure out how to tackle out-of-stock situations broken down into simpler levels, which is a solid inventory management strategy.
Promotional Events & Inventory Management System
Using Point – of – sale data to its fullest capacity during a marketing event allows retailers to make more precise inventory control decisions in less time. Using POS data reports, the promotion can be tweaked to work better. Sales, consumer demand, quantity sold, how customers react to various promotions, and the impact of external factors such as local events, holidays, and weather on the supply chain may all be tracked in real time by management. It will become easier to determine the return on investment of a particular programme as even more data is collected and analyzed. These calculations will contribute to the design and implementation of future promotions, as well as the development of bespoke inventory management algorithms to avoid excess inventory.
Furthermore, the information can be used to improve sales promotions, demand forecasts, inventory control, and net income. The Logic ERP Point-of-sale system is an example of a successful POS system that supports retail companies in running an efficient inventory management system.
Follow up on dormant stock and get rid of it
Unsold goods are a major waste of time and resources. These things were purchased with company funds, but they are now sitting in a storeroom or on store shelves, doing nothing to benefit the company. This unused inventory gradually raises costs. This is a situation where POS data can help. The system may generate a content trending report as well as emphasize the exact quantity of items. Stakeholders can use these figures to manage inventories and set a minimum order quantity in order to avoid ordering too much. Alternatively, to better manage inventory, they may decide to stop importing particular products.
Conclusion
As you've seen, point of sale information can be a welcome boost for stock items replenishment. Even so, it's not everything. It's also useful in other aspects of inventory management. Logic ERP has been assisting new-age firms with the implementation of outstanding inventory management software as well as modern retail management systems with ERP capabilities.