3 Reasons to Move as Soon as Possible to Logic ERP Cloud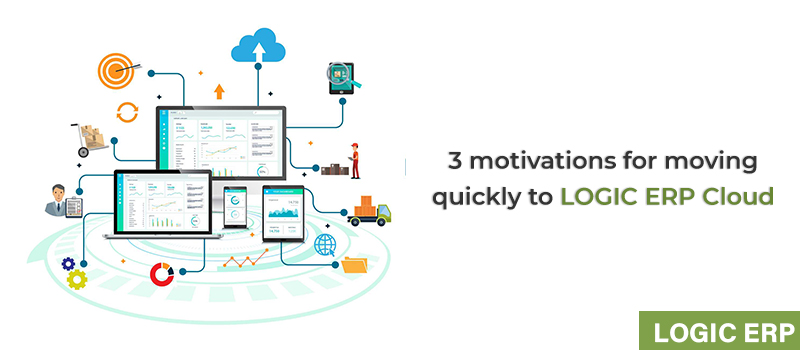 When talking about the cloud, the phrase "changing technology landscape" has become a cliché. It puts the change and development we're going through in context. Though once cutting-edge, the on-premises infrastructure and solutions on which you founded your company are becoming less adaptive, practical, and secure on a daily basis. There has never been a more crucial time for elasticity, scalability, and accessibility, particularly as new challenges continue to put businesses, solutions, and procedures to the test. A business's first priority should be to move to the cloud. It should take time, just like any other project. Create a plan, get your team ready, and take small, doable measures.
Start with comprehending the advantages of benefits of the Cloud. Dispel outdated beliefs and misunderstandings in your company about the ability of your CRM – customer relationship management and on-premises ERP systems to meet present and future demands. Don't let sentimentality limit you. With cloud-based ERP solutions, many of the issues that arise with on-premises ERP solutions are overcome.
Benefits in Switching to a Cloud ERP System
Security
Some companies are still hesitant to put their economic data on the cloud, due to security concerns as a prime reason. While some may consider this a downside of cloud-based ERP systems, its security is typically greater than that of on-premises ERP systems. Cloud technology today is extremely safe, with multi-factor authentication, cutting-edge encryption, and other important security features incorporated into every component. Furthermore, cloud ERP servers are housed in stable, central locations, reducing the danger of theft and damage. Again, cloud ERP providers can spend additional resources on database, software, and physical security than a single company can be ,due to cost advantage.
Scalability
Cloud ERP systems offer relatively close scalability that is impossible to achieve with on-premises ERP. Scaling on-premises systems necessitates replacing or redesigning several components to match growing demands, which is a time-consuming and pricey task. Cloud solutions' adaptable nature allows them to scale up or down resource usage as required, allowing the ERP to develop alongside the company. It may readily expand to handle a surge in new employment, a business purchase, or the development of additional product offerings or business divisions. To support corporate growth, the finest tech ERP systems are constructed with a flexible and adaptable architecture. A smart ERP solution will give you the abilities and operations you need right now, as well as those that will help you plan for the future.
Accessibility
Cloud ERP solutions may be accessed from any device connected to the internet and a browser, allowing users to enter, compile, and work collaboratively on data from virtually anywhere. This enables multiple divisions or business units to collaborate across company locations or nations using a specific instance of the programme without the requirement for a dedicated VPN, as is the case with on-premises systems. Furthermore, cloud ERP is less expensive to use because it does not require the purchase and maintenance of an emulation programme or VPN. A cloud ERP also helps key decision-makers to remain connected while traveling or working outside of office hours, and it gives firms access to a bigger talent pool by allowing them to recruit skilled staff more easily.
Implementation
Cloud-based solutions are faster to configure and deploy than on-premises systems, the majority requiring less than 30 days. Because the vendor is in charge of stimulating the hardware and software, this is the case. This reduces downtime while the transition is made and enables organizations to respond quickly to market changes or fulfill increasing demands.
Reduced expenses
The preliminary cost of installing cloud ERP software are substantially lower than those of on-premises systems, as are the capital costs. When you factor in support and maintenance, which is usually 50% of the initial license costs, as well as the costs to maintain and upgrade hardware and the IT staff required to maintain it all, the monthly subscription fee can still be lower after implementation. Smaller businesses who can't fathom the hefty upfront cost of on-premises ERP, even though the technology would benefit them, may find that minimizing these expenditures is critical.
Fast, flexible implementation 
Ramp-up for a cloud ERP system is much quicker, as your SaaS supplier handles hardware and software installations and provides dedicated staff with data center management expertise. Cloud ERP business applications can be configured easily.
Conclusion
Moving to the cloud stands to reason for productivity and expansion—62 percent of businesses that have done so reported higher customer satisfaction. For customization and adaptability, cloud migration makes sense. Businesses who have made the switch to cloud – based solutions observed a 44 percent boost in the pace of new product introductions as a result of the utility and specialized tools at their disposal. You may get both the capabilities and operations you require right away and those that will assist you make future plans with an intelligent LOGIC ERP solution.