Accelerate Your Apparel Brand's Success with LOGIC ERP Software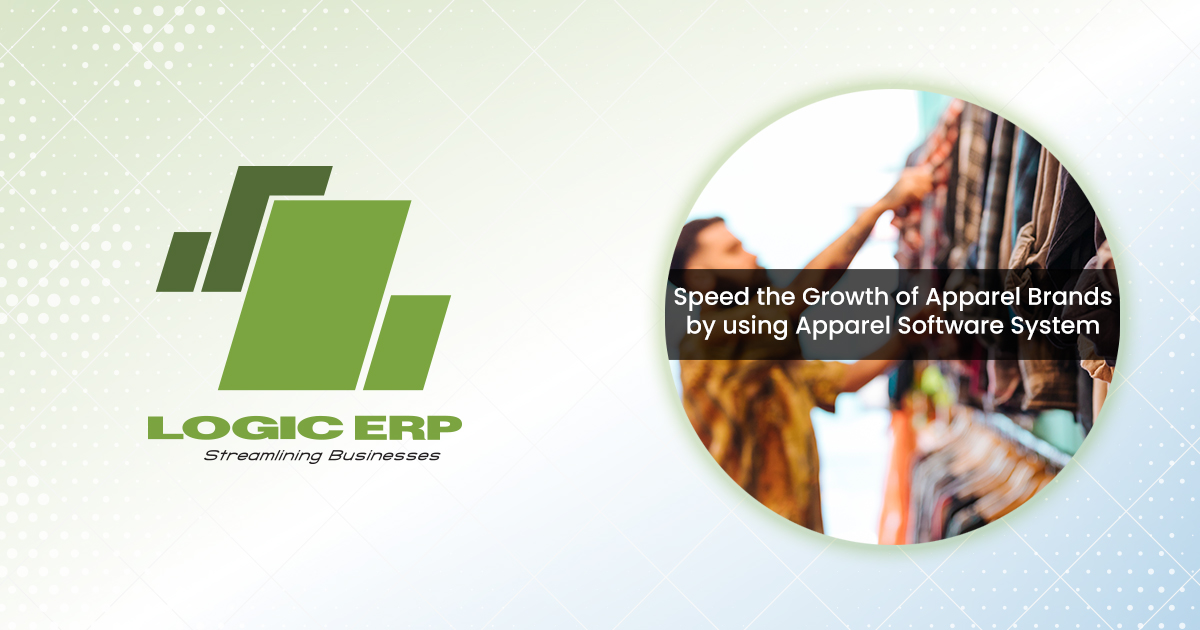 Introduction
Choosing the right software for your retail garment business is crucial in today's competitive sector. A POS system will allow you to safely manage retail store sales while also managing inventory, staff, and simplifying transaction procedures, among other things.
A software platform is necessary for apparel brands that are expanding rapidly or wish to expand rapidly in order to improve efficiency and maximize success. When implemented improperly, a traditional ERP is frequently more of a liability than an asset. It adds unnecessary steps that don't make a difference and slows down an organization. While you expect expanded proficiency and efficiency gains, unfortunate execution of a conventional ERP can create the contrary result.
The gathering of requirements, analysis, development, change management, and training for a fully customized implementation can cost millions of dollars. Depending on its size and scope, the implementation can take anywhere from six months to two years. Even after companies have expended all that money and effort, too many implementations have failed for smaller businesses to even consider a traditional ERP.
Advantages of an Apparel Software
Customer Purchasing Behavior: You can get advice on various color and size combinations for various materials to create distinct solutions.

Inventory Management: To make the best purchasing selections, keep track of fast-moving, slow-moving, and non-moving footwear collections.

Pricing: Customize pricing for companies and consumers to increase retention without sacrificing profitability.

Reports that are Insightful: Create customized reports that may track prior transactions and assist you in developing future strategy.

Management of Many Stores: Manage several stores in a centralized system without having to worry about making timely business choices.

Loyalty Administration: With a matrix inventory and a product-image map, you may categorize items by size, color, material, and design.

Simple Handling of Returns: Whether it's a franchise shop, logistics, or a multi-chain store, automated returns handling is essential throughout their life cycle.

Data Synchronization in Real Time: Experience real-time inventory synchronization from both online and offline retailers.
What Qualities Should Apparel Management Software Possess?
Running a clothing business necessitates a variety of financial, administrative, operational procedures and you want your apparel management software to seamlessly manage them all. Your attire the executives programming ought to have the accompanying center parts worked in and furthermore offer other fringe usefulness through reconciliations.
PLM and PIM
Product Lifecycle Management and Product Information Management are two methods by which companies strive to quickly and economically develop new goods that meet the needs of their target market. A PLM can help oversee and coordinate plans, materials, and obtaining data, costs, bill of materials together during the item improvement and creation stages. The PIM keeps all the pertinent item showcasing data in a single spot, for example, nitty gritty HTML depictions, Website optimization portrayals, accessible item labels, photographs, costs on different deals channels. This is fundamental in our current reality where brands should sell on different channels and stages to initially make due and afterward flourish.
CRM (Customer Relationship Management)
A CRM system is essential for tracking all of your customers' contacts, addresses, purchases, preferences, and other information. As your sales representatives and agents follow up with prospects and close more sales, the CRM should help them keep track of their tasks. The CRM ought to likewise assist you with your immediate shoppers as you attempt to offer to similar clients across various channels. Customers should also always be kept up to date on orders, invoices and shipments as they happen.
Management of Orders
There are a lot of order sources, so you need to use a lot of them to grow quickly and spread out your risk. You must promptly and seamlessly fulfill these orders in accordance with customer expectations. Add to that the intricacy of pre-orders. Also, your activities need to scale as your request volume increments.
Stock Administration
With omnichannel deals likewise comes expanded intricacy in stock administration. Good visibility into stock levels, incoming stock, outgoing stock, and required stock is essential at all times. Now and again, across different areas. Fundamentally significant is staying up with the latest across every one of the deals directs progressively.
Production and Procurement
Your software should be able to handle your needs for production and procurement, whether you do it in-house, outsource it all, or a combination of the two. You will need to be able to precisely plan your needs so that you never run out and never have too much inventory.
Conclusion
The LOGIC ERP apparel software system is ideal for small apparel brands that want to quickly expand and improve their operations in order to reach their targets in annual revenue. It is finished and reasonable and perhaps the main such programming that offers a free preliminary.