5 key features for a great Restaurant Revenue Bump!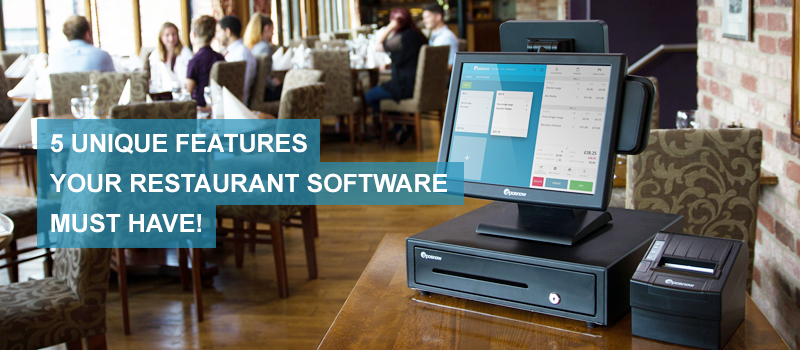 Food industry is one of the biggest retail consumption field in the country. India's consumption basket is around 30% as compared to 10% in the US, 18% in Brazil, 26% in China. Restaurant sector is lively due to its changing and innovative trends. F&B sector has a really big market. Indians spend a big amount of their salaries on food and groceries. Thus, Indian food market is the sixth biggest in the globe.
Looking at the ever-growing F&B demands, the type of challenges of the Food and Beverages industry varies widely on the type of business that is being done. Retail Store Operations, Point of Sales, Sales & Distribution and Kitchen Process(recipe management) for food court, café, bar, ice cream parlor and Quick service(QSR) have their own set of challenges.
One of the best ways to handle the growing complexity of this industry is to invest in efficient technologies such as an ERP system. A well-designed Restaurant Management Software can put together all of these aspects into a single set of information, facilitating the company's management. Apart from improving the operational performance, it also aids to incorporate all the compliance rules into one place making sure that they are being fulfilled.
Once the decision to modernize your management system has been taken, and the selection process commenced, it's the time to decide what features you should look for. Here are five key issues to consider when selecting the ideal system.
Recipe & Inventory Management: LOGIC ERP allows you to set up 'Recipes', 'Restaurant Menu Items' and various types of cocktails and drinks to keep detailed track of your ingredients inventory. Not only will it keep track of how much of each ingredient you have left, but the cost of your menu items will automatically be calculated from the ingredients they use.
Order Processing and Material Replenishment: Inventory Replenishment module, with its powerful tracking, calculating, and analyzing capabilities, increases your ability to manage inventory with an optimum service/investment balance. It allows you to maintain Material requisition, Purchase order, Rate contracts etc., Stock inward, Outward, Purchase, GRN, Expiry, Wastage, Damage and Return, Stock Auditing, closing stock status as on date and inventory analysis, Projection, Planning and Forecasting, Linked with financial accounting, Reorder level, minimum stock and auto replenishment from top to bottom or bottom to top.
Schemes & Promotions: Schemes and Promotions play a very important role in F&B business. With our software your Happy Hour sales management, Club and Campaign management, Central control over promotions and schemes and different locations or between kiosks can be easily maintained. Hence a happy business is on your way.
Online Order, Order from eMenu through TAB and Touch Screen: As India is heading towards Digital India, it is firmly important for your business to take it on the digital platform. Our Restaurant Software enables you to get eMenu, the touch screen enabled menu for guest /customer for order booking and Online customer order from remote customer for their home delivery.
Loyalty & Gift Voucher Program: Give your customers a reason to keep coming back. Customize multiple loyalty programs any way you like.Boost brand recognition efforts with gift cards and loyalty programs. Manage all aspects of gift cards from one system. Find new sales opportunities by analyzing the performance of your loyalty programs and gift cards.
LOGIC ERP can be an outstanding tool that do boost your business profits, it is important to remember that without the right ERP, the benefits it reap begin to lessen rapidly. A Restaurant POS System is a wise choice in this ever changing and complex field.