Why you need Restaurant Management Software to run a Restaurant Chain?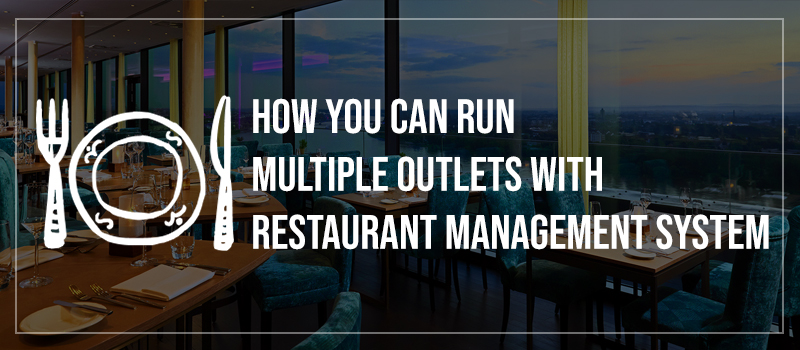 Running a restaurant is one of the challenging tasks in the culinary world. It requires the full day attention to ensure that every activity happening in their executes perfectly. Even the restaurant shuts down, the work is always unfinished. There are plenty of tasks such as:
Profit Counts
Data Compilation
Sales lookout
Updating Inventory, etc.
Having the efficient staff to manage workload is best, but you can't rely completely upon them. You will require a much reliable solution, like installing a restaurant management system. When managing a single restaurant is such a big thing, imagine running multiple outlets. It is then when having a smart management system becomes more important.
What's a Restaurant Management System?
It is a set of software and tools, designed to help you handle your food business, such as:
Cafe
Restaurant
Delivery business
Cloud Kitchen
Bar, or
Bakery
The central Unit of this system is its POS (Point of Sale). It consists of tools that can help you:
Take orders online
Manage phone calls
Streamline your inventory
Generate daily, weekly, and monthly reports related to your sales, profit, etc.
Manage table reservations
Manage the billing process
Today, most of the restaurant POS systems are compatible with existing employee and accounting software that work in the restaurants.
Why you need Restaurant Management Software to run a Restaurant Chain?
The main problem that owners face when running multiple restaurant franchises and outlets is not having complete control over the operations. They have to rely upon reports that restaurant manager of every outlet sent to them. Most of the process is manual, which is time-consuming and have a great risk of manual errors. But if you have a management software, which can provide you real-time reports and data of every branch of your restaurant, it will be a great benefit for your business.
Features that Can help you run Multiple Outlets
A restaurant management software gives the owner complete access over the restaurant activities. From customer satisfaction to inventory, you can control anything from anywhere and from any device like a computer, mobile, tablet, etc.. Following are some of the features that a comprehensive restaurant POS must have to help you in managing multiple restaurant outlets seamlessly:
Outlets based Offers & Discounts
One of the struggles that owners running the chain of restaurants faces is marketing in different geographies. They have to plan a different marketing campaign for different cities. During all this commotion, running outlet level discounts and offers also become a troublesome task. You should also have to be careful when designing campaigns so that they target the audience of a particular region.
With a restaurant management system, you can create multiple custom campaigns for different outlets. Whenever you notice a decline in any particular outlet, you can run special discounts and offers, or invest some money in marketing for the restaurant.
Recipe Management
The biggest concern while running multiple restaurants is to maintain consistency in quantity, taste, and quality. You can easily achieve it with recipe management feature. Make sure that the software you are planning to install has a recipe management system embedded in it. With this, you can set standard recipe for every item in your food menu. It will make sure that the dish turns out to be same every time it's served, no matter how many outlets there are. Even if the chefs are different, they will never face any obstacle making it. You can also update the recipe across all the outlets.
Central Customer Relationship Management
A central CRM has become the need of the hour, which allows you to have a common customer database. It means, when you update or store customer's details in the CRM, it will automatically get visible to other outlets also. This allows your staff to upsell items even though customer visits the particular outlet for the first time. You can also run loyalty programs and provide reward points, which can be used by customers when visiting a different branch location.
Reporting & Analytics
As an owner, you cannot be physically present at every outlet all the time. This increases the chances of internal theft and misappropriations. But when you get real-time updates of everything that's happening in every restaurant branch, it will save you a lot of trouble. It will make easy for you to keep track of all the activities. With a restaurant management software, you can have an analysis and reports of the following information:
Discounts & Offers
Total Bill Count
Sales Details
Live Outlet Count
Total Items Sold
Management of Vendors
There's always a regular stock requirement in a restaurant. It means you have to deal with various suppliers and vendors. When the number of outlets increases, so does the vendors. You have to manage a larger number of vendors, which is a huge task. With a vendor management feature, you can create and manage vendor profiles at a central level.
If you want to surpass your competitors in this technology-driven world, you will need a reliable companion that can help you achieve your business goals. With a LOGIC ERP restaurant management system, you can run that dream chain of your restaurants successfully and comfortably.