How can Apparel ERP Software Help Manufacturers Boost Productivity?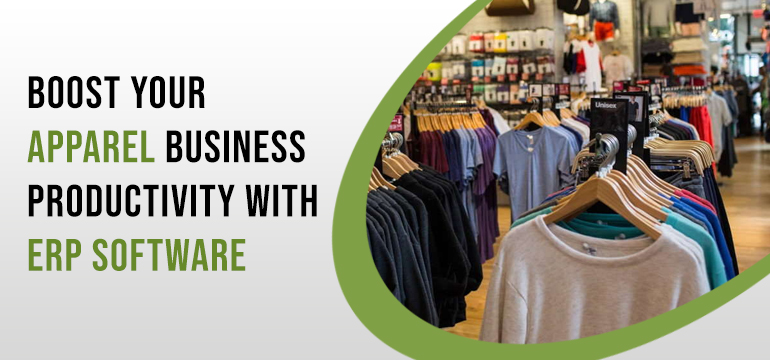 There are around 7.7 billion people on this planet, and not a single individual can live without clothes. It is one of the basic necessity for survival. Even if each person owns only one pair of pants, one shirt, and one accessory like a shrug, jacket, or scarf, it will make 21 billion articles of clothing. But obviously, we have more garment items than just 3. People spend hours browsing online clothing stores on their smartphones. Even when you will look at your nearest malls, they are crowded with students and female shoppers to check out their favorite brand's collection. Garment business is not an easy sector to handle.
There are many difficulties such as:
Deciding clothing designs
Fabric procurement
Labour and production costs, etc.
It is the responsibility of apparel manufacturers to boost their productivity without wasting time and extra money and meet market demands. In such situations, and ERP software can help apparel business owners to tackle their business challenges, thus keeping up with industry growth.
7 Ways ERP Software can help you Increase Productivity and Save Time & Money
Full control over Operations & Remain Competitive
An apparel ERP software can sync all the operations, ensuring that every process is running without any hitch. In case any problem occurs, it will point-it-out immediately in a real-time and you can act accordingly. It will save you a lot of valuable time as you don't have to spend extra money and manpower to identify the cause of the problem. This, in turn, will boost the productivity of every department, and there'll be no delays, production halts, and reworks.
Real-Time control over Inventory
With real-time inventory tracking mechanism, your manufacturing facility will be capable of handling the sudden change in throughput and can operate at optimum efficiency. It considers both, variation and averages in orders. ERP software with its inventory management module can help the apparel manufactures to achieve optimum inventory levels and decrease the waste generation, improving manufacturing productivity, quality, efficiencies, and processes.
Streamlining the Work Flow
Having apparel ERP put in place, you can reduce the scope of manual errors and reworks, thus maintaining consistent quality. Thus the time that you saved on reworks can be utilized for other productive tasks.
Availability on the Cloud
Nowadays, ERP software is integrated with cloud technology. It offers apparel manufacturers more flexible, convenient and secured web-based environment. You will get real-time communication facility with your local and overseas suppliers. The operations will be secured and you can access the data from anywhere and anytime via your smartphone.
Entire Business Information in a Single Database
You can maintain your entire information related to your business in a single database. It will ensure that the data is accurate across all the sales departments and channels. Order tracking and consolidation, cumulative production, real-time inventory update, etc.; you can access all these functions with a single click of the button. With integrated end-to-end functionality, you can enjoy complete business visibility. It assures you with ease of access to information, efficient workflow, improved productivity, and market insight.
Manage Man Power and Machinery
Apart from managing the operations, an ERP software can also help you handle your men and machine, i.e.:
Labor management
Work Hours management
Remuneration, etc.
You can also schedule your shop floor processes, depending upon your machine's capacity. In addition, you will get the real-time updates on processes and productivity from every machine, thus improving your decision-making ability. You can also schedule your production process depending upon the availability of the machine, which can reduce the set-up time and downtime, thus ensuring maximum output.
Standardize Manufacturing Processes
By installing ERP software, you can standardize the manufacturing processes of your apparel business. You can implement customized production protocols to ensure an uninterrupted work-flow. It will also help you in optimizing and standardizing business processes with best apparel industry practices. It will make the manufacturing process less complex, time-saving, resulting in better performance and efficient workforce, which would lead to better productivity.
ERP Software system for the apparel industry is well-known for bringing agility and flexibility to the business. Apart from improving productivity, it also lends the ability to meet the industry-specific challenges. By investing in LOGIC Enterprise apparel management software, you can increase your business productivity and efficiency, and contribute towards better ROI generation. Apparel manufacturers, retailers as well as distributors, all can manage the entire supply chain with ease.