Managing Multi-Store Retail Business with ERP Software Solution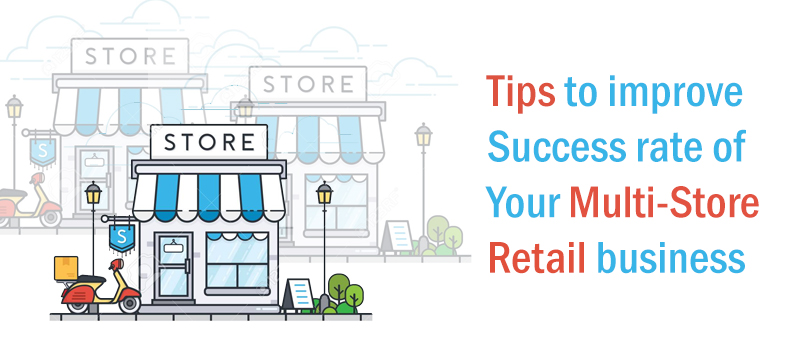 It isn't an easy task to run a multi-store retail business. But if you have the right tools, people, and process, you will find that managing the tasks of several stores are very easy. In this article, we'll talk about the few steps that you can take for ensuring your stores run without any problem under your watch. Following are some of the tips to help you in your multi-store retail business:
Using Cloud Technology
As modern technology is covering the market, your multi-store business should also use cloud technology. The cloud-based solutions are not dependent on a particular machine, so they allow you to access the data and tools you need whenever you want. The only thing you need is an internet connection. Whether you're at your house, at one of your stores, or you are traveling, keeping track of the operations of all the branches is as easy as logging into a system.
You can update the data in real-time, keeping stock levels and sales up-to-date. It is very beneficial for larger retailers. With up-t0-date information about your business activities, you will have an accurate view of your store performance, which will help you understand your business better.
A Cloud-based platform offers data security. As the information will not be stored in a local device, you don't have to worry about the risk of data loss in the event if anything happens to your storage devices.
Although, finding a reliable cloud service provider is not an easy task for a business. You'll find dozens of options when looking for multi-store POS system, customer management software, or accounting software.
Make sure you choose the tools wisely. LOGIC, for instance, comes with a cloud-based platform, which can integrate with accounting solutions. Retailers can easily sync up their financial data between accounting software and POS.
Streamline communication between stores
When you are running multiple retail stores at different locations, you have to think about the ways to keep the teams on the same page. Communication is a crucial aspect of any business, especially when you are handling data regarding critical employee information, store policies, and promotions. You have to implement reliable communication platform to ensure your messages get delivered to the right people.
Define standard operating procedures for every branch
As you are operating at multiple branches, you have to make sure that every store has a common way of operating things. This way, it will be easy for you to manage your stores and the customers will get a consistent experience with your brand.
You can do so by establishing standard operating procedures (SOPs) for how activities and policies should be carried out in the stores. The implementation of SOPs will depend upon the business type. As for retailers, it will cover the following:
Security & Safety Protocols
You must set up proper safety protocols to ensure that your customers and staff are safe and secure. The protocols should cover issues like:
The person in charge of opening and closing the store,
Things to take care off in case of natural disaster,
Dealing with shoplifters, etc.
Managing transactions
It will cover the transaction-related issues of tour store, such as:
Type of payments,
Procedure for processing returns and refunds,
Closing the register, etc.
Merchandising & Layout
Layout and merchandise planning is one of the crucial aspects of a retail business. Your SOP will provide your details regarding how merchandise must appear in your store. It will include the following:
Items to display on the floor and storefront,
Fixtures you must use,
After what time interval you should update your displays and layout, etc.
Customer support service
A proper procedure must be established around customer support service. Implement a list of policies and instructions on how the staff must behave, things to do and not to do, and how to handle the customers.
After outlining the procedures, document them in a file. You can create a shared file using a project management system, or Google Docs.
Evaluate your stores' performance
Detailed reporting and analytics can help you determine the performance of your stores. It would not cost you much to install an ERP software system that comes with reporting and analysis feature to give you a detailed view of your staff and sales performance.
On the other hand, you can also bring in the third party, such as secret shopper to evaluate your store performance. How's the store location? Is the product selection good? Are the employees working knowledgeable and helpful enough? Is the customer service experience consistent across each store? All these questions will get answered when they report you back.
Hire trustworthy people to charge in your absence
You can't be present at every location while running a multi-store retail business. So, make sure that you leave your stores in the hands of best people whom you can trust. The best approach is to hire and train the right people. If you choose the right software system for your business, it will not consume a lot of time and effort to train new staff. You can train your employees for new locations at existing ones, or, you can consider online training sessions if you are having difficulties getting existing staff to manage your other stores.
Inventory optimization at every store location
Inventory management is important when you are running multiple stores and also in terms of customer service. You should have a proper update regarding items stock level at each store to maintain proper inventory across all store locations.
In case your customer is not able to find a particular product, color, or size in one location, you should have the flexibility to check whether other branches have it or not. This way, you can guide the shopper to an alternative location, or can ship the items to your store or shopper's home.
That's why it's necessary to have an inventory management system to conduct inventory lookup or transfers between locations. It will help you to properly stock up your stores, enabling you to serve customers better. You can even track the inventory in transit. It will let you know where products are located. Also, having a cloud-based software system can help you keep track of inventory information for multiple stores from one location.
You can install all in one retail solution such as LOGIC ERP software system to take care of the daily needs of your multi-store retail business.