Key Features a Restaurant POS Software should have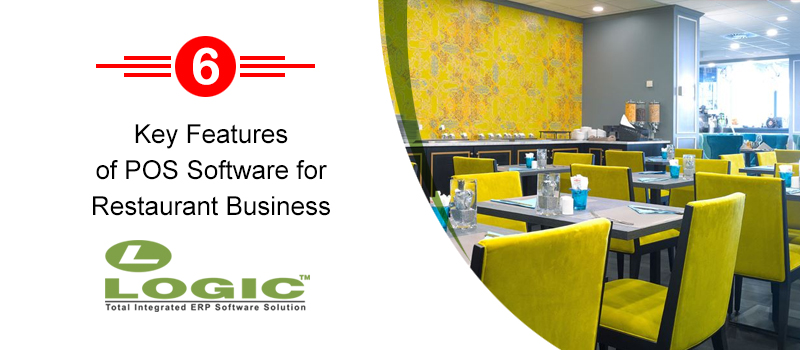 If you own a restaurant, you probably know that the POS system is a basic necessity to run the business successfully. Especially when you own a chain of restaurants. Managing multiple locations is a very tedious task as there are various things you need to take care off, such as:
Inventory handling,
Staff management,
Recipe management,
Open-Closing of the restaurant,
Billing,
Customer information,
Employee data, etc.
POS software development is in great uproar these days. The main purpose of a POS system is to process trades and are particularly designed according to the needs of a business. Therefore, a restaurant POS software is carter to process the necessities of a restaurant only.
Point-of-sale system attributes must assist the process between the dining area, kitchen, and waiters. It offers various tools that allow restaurants to give better service to their customers. Following are some of the key restaurant POS characteristics, which you have to consider when constructing a Point-of-Sale software system for your restaurant:
Handling Customer Database
The security of the customer database is very important for a business. Such that, restaurant software helps in storing customer information so that restaurants can provide better service next time when they visit again. You can use POS software to store anniversaries, birthdays, ordered meals, and other vital details related to the consumers. POS software enables you to manage your client profiles, track their purchase history, and creating classes.
Cloud-based Point-of-Sale System
POS software is now being integrated with cloud solutions these days. It makes easier for restaurant owners to store, access, and manage the data from anywhere and anytime. With this, they can keep an eye on the activities of the restaurant, especially when there are multiple branches.
Integrating POS with Inventory
A scalable POS software should be able to integrate with your restaurant inventory. It will automate the process of tracking item stocks, keep inventory level in check thus preventing over-stocking or under-stocking. It will also help you lessen the waste by giving you precise measurements about how much items you need in your inventory for the recipes. Overall, you can improve your profits by keeping your inventory in-check.
Customer Relationship Management
Running loyalty programs is a great way to improve engagement with customers. POS software comes with loyalty programs that allow you to print loyalty cards, discount offers, etc. As a restaurant owner, you can offer gift cards to your regulars without affecting revenue transactions. As the information will be stored in the POS system, consumers can easily redeem their gift cards. In short, it will help you improve customer satisfaction levels.
Reporting
You can have a daily sales report via restaurant management software. Such reports can give you insight into your business performance. With the help of summarized sales data, you can analyze which dishes of yours are in high demand and how much are they costing for your business. POS application will also provide you employee reports, which can help you manage their schedule and commissions.
Technical Support
When selecting your restaurant POS software service provider, you need to carefully analyze their technical support service. The person who has worked in a restaurant environment knows what happens when the program goes down. So, make sure that your software provider offers good technical support services. They must be available when you have queries regarding software such as new updates, adding new features, billing, etc.
These are some of the vital features that you should include in a restaurant management software. With LOGIC restaurant software, you get assured of quality service and a better understanding of your business operations.