Benefits of Using Restaurant POS Software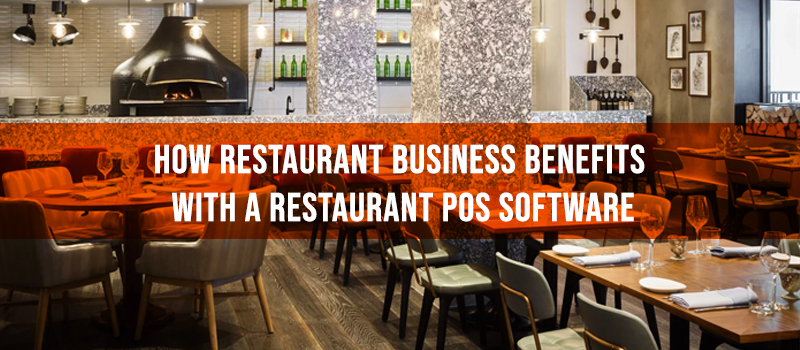 You cannot deny the fact the presence of restaurant management software has become inevitable for a restaurant these days. Many believe that the POS system helps in making their work easier and also escalates the business. This statement is certainly true as most of the restaurant owners don't think about operating and expanding the business without restaurant POS.
A restaurant POS software aids in growing your business as it offers various benefits such as:
It helps in creating multiple reports
Analyzing staff performances
Streamlining kitchen operations
Optimizing order preparation time
Now, let's take a look at how POS make a huge impact on your business positively:
Escalating Restaurant Operations with POS
One thing you should know that not all restaurant software offers every functionality that you need. You should have an eagle's eye to find the features which are compatible with your business. Following are some of the features that should be in your list as they'll directly impact your business:
Streamlining Supply Chain Process
You can streamline the operations by managing the restaurant supply chain process with the POS system. It helps in managing everything from inventory to vendors to purchase-chain and everything necessary to run a restaurant smoothly. It becomes more evident for restaurant franchises and chains that deal with multiple outlets and vendors.
Suppose you order raws materials from multiple vendors for one of your outlets. You should have a separate list for vendors, raw materials needed from them, price, quantity, etc. in one database to avoid confusion afterward. You can achieve this with the least possible human errors by installing a restaurant POS on your premises. It can even help you manage the raw material quantity being used in a particular outlet.
Reporting
If someone wants to expand their restaurant business or any business, then the past reports play a vital role. By analyzing the sales reports, you get a clear view of the growth curve, which can help you to identify the loopholes in your business model. With ERP software, you get multiple report viewing which includes total sales, total footfall details, restaurant turnover time and peak hours. Besides, you can think about expanding your business based on expenses reports, inventory reports, and sales reports. With such data, you can make a better decision and make sure that there are no errors in your current business model.
Multiple Outlet Management
One of the dreading task for restaurant chain owners is to manage their multiple outlets. You should select a POS system that will make it easy for you to handle your outlets from a single location. You must be able to access information about all your outlets on one screen. A restaurant POS software system helps you to standardize everything from your recipes to the processes at your restaurant and so on. It enables you to streamline the process and makes it quicker for you to add a replica of your other outlets.
Managing Franchise
One of the easiest ways to step into restaurant space is by getting a franchise restaurant. If you are a newbie in the restaurant industry, a franchise would give him/her a complete set of instructions that how a restaurant works. As a franchise owner, you would need a good POS system to cope up with the brand sales. An ideal POS system will serve as a good platform for transactions and billing. Other things to take care of when running a franchise outlet are basic instructions, norms, and recipes that you need to follow. You can achieve this by installing a restaurant POS on your premises.
Features to look for in Restaurant POS
When you know what you need to scale up your restaurant business, the next step is to look for an ideal restaurant management system. The better the technology, the more efficient it is for your business. Let's look at the features you need in your restaurant software:
User-friendly interface
An ideal restaurant POS is the one whose interface is easy to understand and staff has not to face difficulties to work with it. Since you have to provide training to your staff to teach its working, your restaurant POS should be easy enough for them to operate.
Quick to implement
Most of the traditional POS takes a couple of days to implement and run. Now, with technological advancements, you can also work in a cloud-based POS software system. It takes only a couple of hours to implement and set up. There's minimum time wastage even if you have to migrate to a new POS.
Flexibility
Customers use different mediums to pay for their bills. And now, because of the online wallets and virtual money, a very less percentage of customers pay their bills through cash. That's why your restaurant billing software should allow the customers to pay using online wallets, contactless payments, credit/debit cards, mobile apps, etc.. It should have the flexibility to work with different options when it's about orders and transactions.
Managing Multiple Outlets
When you are scaling your business, you need to add more outlets to your restaurant chain. As a restaurant owner, you must look for a system that enables you to manage all your outlets from one location. LOGIC offers a real-time report analysis feature that helps you to see what's going on at each of your outlets even though you are not physically present there. With this, you could easily see which outlet is performing better and can use that database to figure new strategies.
Using the right POS system will help you to escalate your restaurant business to a new level when properly utilized. LOGIC restaurant management software offers a one-stop reliable solution to streamline your restaurant operations.