How to manage your Restaurant during COVID-19 Crisis?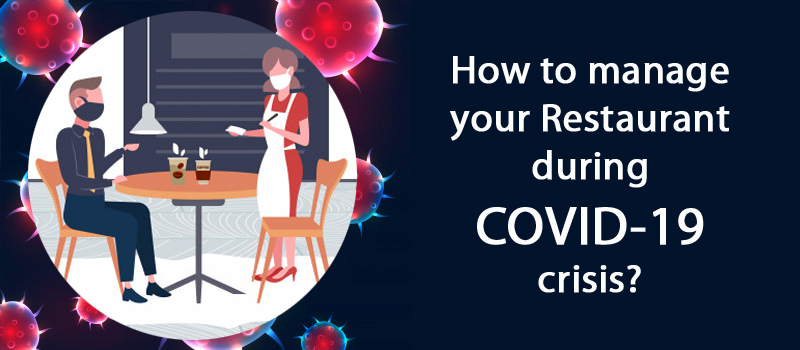 From the past few weeks, the COVID-19 virus has affected the whole world in a very severe way. In these tough times, the whole world had come together to fight this pandemic. Every industry is playing its role to provide support to the society and the restaurant industry is one of them. Restaurants have a huge responsibility to ensure the health and safety of the employees and customers. It is the highest priority nowadays. As a restaurant owner, you have to be there to support your employees and customers and provide them a safe dining experience.
Following are some of the tips that you can implement in your restaurant to fight against COVID-19:
Use Digital Payment
As the government is asking us to avoid direct contact as much as possible, you can use e-bill payment, mobile payment wallet like UPI, and other digital payment methods. Doing so, you can avoid contact with currency, printed copies of bills, and card-swipe machines. There are various payment merchants that allow you to send bills via SMS to the customers. They can check their bills and then pay by scanning the QR codes through their mobiles. LOGIC restaurant management system is embedded with multiple digital payment options to allow you and your customers to follow contactless payment.
Sanitizing Menu Cards
Without-a-doubt, menu cards are the most touched item in the restaurant. Daily, 100's of people use it to check 'what's in your menu', thus possessing a great deal of danger. Ask your restaurant staff to treat the menu cards with the utmost care and make it a top priority to sanitize the menu cards regularly. Many POS systems come with digital menu cards that you can provide to your guests to access via mobile phones. It mitigates the risk of the virus spreading as no physical contact is involved in using menu cards.
Online Orders and Free Home Deliveries
As the Govt. is asking people to avoid going outside, the restaurants may have to suffer a decline in their customer bases. You can prevent such situations by offering home deliveries, so that your customers may not miss the dining experience of your place. Use the online ordering and delivery management apps to take your business online and cater to the customers.
Prioritize Healthy Dishes in your Menu that Boost Immunity
According to doctors, if you are eating healthy and your immune system is working perfectly, then there are fewer chances of having COVID-19 or any other virus. You can promote healthier dishes on your menu by highlighting food options. It will help the customers to select the dishes that are good for their immune system. This small step of yours can benefit many people around you.
Maintain Hygiene Level in every Outlet
Scientists say that the COVID-19 virus is transmitted through surfaces. Therefore, it is necessary for you to sanitize your restaurant outlets frequently. Place hand sanitizers on every table, put signboards that advise customers to wash their hands when entering and after finishing their meals, and clean tables when customers leave after finishing the table. Such measures can improve the health standards of your restaurant and prevent COVID-19.
Make sure that your employees receive the same amount of attention that your guests received. Provide gloves and masks to your kitchen workers, stewards, servers, and chefs as a safety measure. If any of your employees are sick, ask them to stay home, have a checkup, and take good rest until he/she completely recovers.
At last, as a responsible citizen, don't panic and don't create panic. Although COVID-19 poses a health threat to the whole world, panicking in such situations will only make things worse. LOGIC restaurant software will help you to maintain the flow in your business, and by following the above-mentioned tips and reinforcing hygiene standards, you can fight with COVID-19 pandemic effectively.