How to deal with COVID-19 to streamline your Pharmacy Business?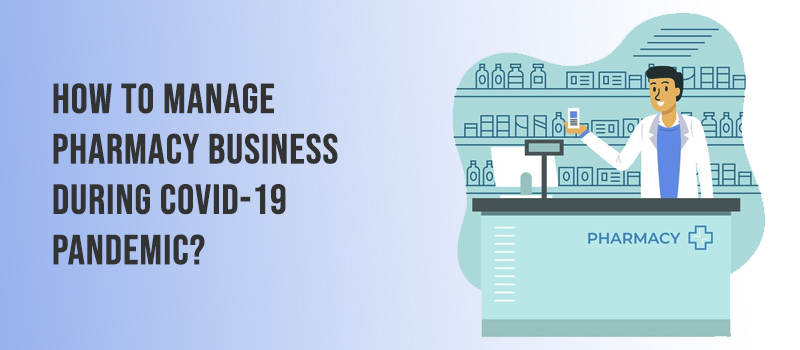 One business that cannot stop its operation, no matter what the situation is the Pharmacy business. Medicines being an essential need, it is necessary for a pharmacy to run, even if a deadly virus like COVID-19 is going on. They are like a support system for doctors and health officials to fight any type of disease. Remember Swine flu, Hantavirus, the pharmaceutical industry at that time worked day-and-night to find the cure. The same situation is now, where every medical organization is working hard to fight against coronavirus. As a pharmacy owner, you have to manage your business even if you are not at the shop. You can do so by opting for a pharma cloud software that allows you to take control of your business from anywhere and any time.
You might have some questions regarding how to smoothly run and manage the pharmacy during these crises. Following are some solutions that you can apply:
Controlling drug shortage
When the lockdown was initiated, people were seen overstocking the medicines that can be used to cure mild fever, cold, and cough. It created a shortage in all the pharmacy shops that severely affected other people. So to prevent the drug shortage, you can use a distributor management system that comes with pharma software to keep the list of right distributors who don't go out of your radar.
Also, having an inventory management solution will keep you updated regarding your stock levels. And once you stock up the medicines, you can notify your customers about the availability of items and send them a reminder.
Reduce walk-ins and promote home delivery
Make the online presence of your pharma business so that consumers can order online from your pharmacy by looking into your inventory. This way, it will reduce the crowd from gathering into your shop and also prevent the virus from spreading. You can do so by launching a mobile app dedicated to your pharma business on PlayStore/AppStore. You can integrate your mobile app with pharma retail & wholesale software to receive the orders.
Start the home delivery of items at your customer's doorsteps. Since everyone is avoiding to go outside as-much-as possible, the LOGIC home delivery app will enable you to offer home delivery, which will also minimize the risk of contamination to a great extent.
Manage Manpower
As the government has advised that businesses should work with 50% manpower, you might face a difficulty of manpower shortage. But if you have a reliable online ordering and delivery management platforms, you can easily handle a large number of orders with the least skills and minimal staff. It is found that a touch-screen POS can save 80% of your time by minimizing manual work of billing, stock management, etc.. LOGIC pharma software offers a customizable solution for your business so that you can run your business smoothly even with minimal staff.
Raise awareness among your patients
Raise awareness among your patients and educate them about the preventive measures they must take to fight against COVID-19. If you see someone with the symptoms of coronavirus, then ask them to go to nearby health centers. If they only have mild symptoms, provide them with necessary medicines, and ask them to self-isolate as advised by the doctors. Place a banner outside your pharmacy shop to prevent symptomatic patients from entering inside. You can fetch the necessary medicines by yourself and give it to them by maintaining an adequate distance.
Keep your employees & patients safe
Keep the alcohol-based sanitizer in the pharmacy and ask your employees to use it whenever they make contact with a patient.
Encourage everyone to maintain a distance of at least 2-meters and avoid physical contact as-much-as possible.
Regularly disinfect all the surfaces that are frequently used. Ask your employees to carry at least two face-masks, one to use in the pharmacy, and another one to use when they go outside.
Place posters to promote self-isolation for the people who are showing symptoms of respiratory illness.
Why do all these points matter?
As a pharmacist, you hold a responsibility to ensure the well-being of your patients, of yourself, and your employees. These are those times where your power will be tested frequently. And to help you overcome this pandemic, LOGIC will assist you in every possible way to ensure that your business runs smoothly and seamlessly.