LOGIC Helps Retailers Conduct Touchless Retailing Business Practices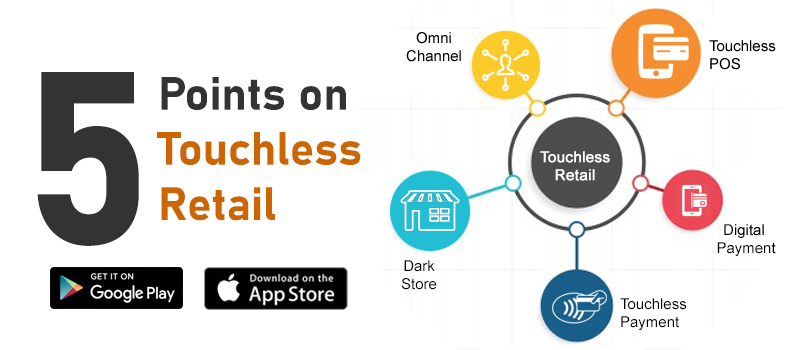 Retailers are facing a lot of challenges during these pandemic times. Consumers are showing interest in touchless shopping options, while retailers are also reconstructing store operations to offer an efficient and safe shopping experience, especially when it's about supermarkets or grocery stores. The idea is to:
Provide a measure that could minimize physical interactions between checkout and shoppers.
Promote social distancing guidelines and perform a healthy business practice that could keep consumers and employees safe.
Offer a system that doesn't require customers and employees to touch payment terminals and checkout touchscreens as much as possible.
Subsequently, retailers are considering touchless retailing options to scale-up their business in the post-COVID-19 era. Some are looking for more time-consuming, radical, and costly means to serve their customers such as grab-and-go technologies. But we, at LOGIC believe that the simplest, least costly, and quickest way to move a business to a touchless retailing is by digitalizing the whole process. You can begin by implementing minor changes in your business process. It's the easiest and fastest way to eliminate the need to touch payment terminals and checkout screens.
5 Ways LOGIC Can help You make Touchless Shopping Reality in Your Stores:
Using Touchless Point-Of-Sale System
In the touchless POS category, there are two options available for you: Mobile POS, VAN Sales. The mPOS will enable you to conduct transactions in a versatile manner without getting stuck at one location. The customer experience of your store will improve and waiting time will decrease, preventing crowd gathering at the payment counter. You have to download an mPOS mobile app on your Smartphone or tablet and you are good to go.
On the other hand, you can use the VAN POS system to manage your van sales and distribution process. By using handheld terminals like Tabs or Smartphone, you can automate and enable field and mobile sales. It will improve your sales cycle reliability and efficiency
It will help you to keep track of the stock-levels, as well as eliminates the need for paper-based back-office reconciliation and prevent duplicate data entry.
Prioritize Digital Payments & Go Cashless
The age of digitalization already started a few years ago. But it took a pandemic to realize that this concept is the future of doing businesses. Supermarket and grocery store owners are now emphasizing on digital payment modes like wallets,  digital payments, etc.. LOGIC Retail software supports various wallets like Mobikwik, Paytm, JIO Money, etc. with its POS software, The software integration with digital payment aggregators like Pine Labs will allow you to collect cashless transactions from the consumers. As the currency notes may carry the danger of spreading the coronavirus, having digital payment mode is a positive thing for your retail business.
Boost your sales with Contactless Payments
Touchless payments have become very popular among consumers and retailers since the start of the COVID-19. As the government has asked everyone to prefer social-distancing, people are turning towards solutions that minimize human touch. While there's no need for money exchange with in-store pickup, a touchless payment mainly refers to smartphone-integrated digital wallet scanning like QR-code scanning through PayU Money. The integration of LOGIC software with PayU Money will enable retailers to practice link payments in which, they can send a link on SMS for payment collection. Also known as a tap-and-go approach, you can collect POS payment without credit card swipes or cash handling.
Convert Traditional Retailing into Dark Store
In the last few months, everything has been upended because of the global coronavirus pandemic. Due to this, retailers are now moving their businesses to dark stores or dark fulfillment centers. It can be clothing brands, grocery stores, or home good retailers. The social distancing and stay at home orders have decreased the customer's numbers inside physical stores. So its time to train your staff about pick and pack activities, and enable them to interact with customers via WhatsApp  & web bot, and collect orders against existing stock in dark store. With LOGIC cloud retail services, you can convert your POS system into a dark fulfillment center.
Omni-Channel Retail is on the rise
Omni-channel retailing means selling your products through multiple selling  channels, for example, E-Commerce, Mobile App, market place, and social media and brick & mortar store. It allows your business to have both, physical and digital presence. It is the right time that you focus on providing a cohesive user experience to your customers at every touchpoint. For example, you can take your retail business online through LOGIC AapTak Mobile App. Consumers can place their orders via Smartphone and you can schedule home delivery of the items.
Another way is selling  on  marketplace  partners such as Amazon, Flipkart, etc.. These  give you a broader exposure to a larger consumer base, where consumers from other states or cities can also place their orders. You can use marketpalce  software manage your orders and inventory centrally. also retailers can extend sell widely used by consumers to search for nearby stores. So make sure your store shows up whenever a  consumers searches for the item that's also sold by you.
Cloud-Based ERP is the Modern way of doing business
With the pandemic going on right now, it's better to do the business from a safest place. Right now, people are also avoiding going outside as everything is available on the internet that they want to shop for. So, you should also take steps to take your business online with a cloud-based ERP software system. It can be accessed from multiple devices like laptops, tablets, mobiles, computers, etc..
LOGIC Mobile POS and and ERP system will enable you to improve the consumer's experience when they shop at your store. One of the important benefits of using cloud-ERP software is that it does not require any hardware for installation. All you need to have access rights and a good internet connection. The database is managed by a virtual server that keeps your data safe online, which you can access anywhere and anytime.
To know more about our services, contact us. We will help you to understand how LOGIC and our cloud-SaaS based ERP services can scale-up your business.