Technologies that can help Apparel & Garment Business Take Front Seat in Retail Industry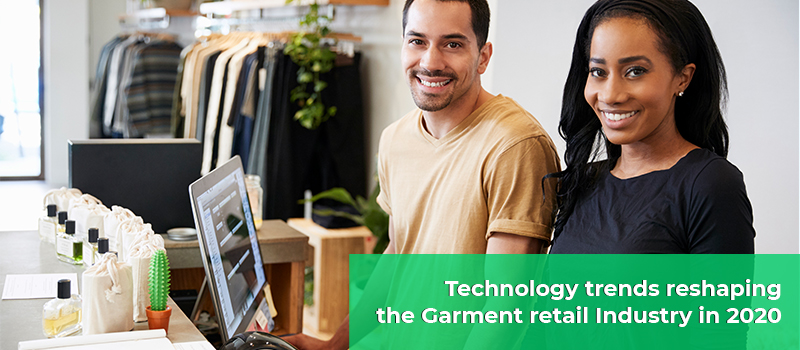 As the whole world is fighting against the deadly pandemic, the apparel industry is also fighting a war to address post-COVID-19 challenges. If we talk about the future of shopping, then it's quite interesting and unpredictable. In the first and second quarter of 2020, we witnessed websites working as stores and stores behaving as websites. And all this happened because of the shopper's buying behavior.
Businesses started understanding the importance of digital presence and its significance in the present scenario. Customers are preferring contactless technology that can prevent them from touching things while shopping or paying bills. Not only that, the use of E-wallets and UPI is also increasing to make the transaction process safe and secure. Apparel retailers are moving their business models to online models to improve their sales, profit, and growth rate. As an apparel & garment business owner, you have to know what technologies you must utilize if you want to survive the digital transformation of the retail industry. Following are some of the technologies necessary to digitally transform the apparel, garment & footwear business:
Contactless/Digital Payment Modes
The medical studies revealed that currency or cash is one of the potential carriers of coronavirus. That's why the government advised people to avoid using currency notes as much as possible to prevent the virus from spreading. This is why retailers started shifting to e-commerce platforms as the people stopped visiting stores physically. Back in July 2020, a report by Capgemini Research Institute revealed that in the next six to nine months in India, over 74% of the consumers would prefer digital payment modes over cash transactions. "As the need for no contact exchange, avoiding physical-transferable cash, and social distance will increase, it would contribute to the growth of electronic transactions. There will be a rapid change in customer's payment habits because of the macro-level financial inclusion. The world will witness the exponential growth in digital payment adoption and digitization of micro-enterprises."
Cloud Backup System
One of the crucial factors to transform the apparel retail business digitally is the cloud backup system. The companies that were working on the on-premises business model started facing challenges in maintain records and traffic when the pandemic hit worldwide. As a result, they witnessed a sharp decline in their sales, profit, and traffic rate. Though, many of them shifted to cloud adoption. Cloud-based business models are highly scalable that enables the availability of data at any time and anywhere. This pandemic has taught retailers an important lesson, "No matter what situation it is, they should be ready to address any kind-of business challenge." A cloud-based ERP system allows you to auto-backup the data, keeping it safe and secure from any type-of anomaly.
Advance Stock Replenishment Module
If we consider the impact of COVID-19 over global supply and trade chains, they are going through a massive and unusual route. Retailers have to deal with over-stocking or out-of-stock scenarios as the product demand may vary according to the situation. Implementing multi-scenario planning and real-time operations can help you to manage a dynamic shift in the demand and predict the future flow. The Advance Stock Replenishment module by LOGIC ERP is designed to refill the inventory level of branches or stores based on the requirement defined in master-level auto-mode. The module will help apparel retailers to run smooth inventory movement process from warehouse to branches or stores. As an apparel and garment retailer, you can strengthen the supply chain to successfully maintain your business continuity in the post-COVID-19 era.
Home Delivery
Home delivery of goods and items have played an optimal role in minimizing the effects of COVID-19. Started as a concept of delivering essential items at doorsteps, now it's been adopted by almost every apparel retailer or manufacturer to further expand their business. It gives consumers a choice to shop while sitting at their homes as they don't have to worry about coming in contact with others. Not only that, empowering your e-commerce channel with digital payment mode will allow apparel business owners to collect online payments for the orders.
Touchless POS System
There are mainly two options available in the touchless POS system: VAN sales, mPOS. The Mobile POS allows you to perform cashless transactions without getting stuck at one location. It's like a moving billing terminal. For apparel retailers, it's the best option to improve customer's in-store experience as it decreases waiting time, prevents crowd gathering at the payment counter, etc.. You can use the mPOS app and VAN POS system by LOGIC ERP to keep track of stock levels, prevent duplicate data entry, as well as to eliminate the need for paper-based back-office reconciliation.
LOGIC ERP is playing a crucial role in enabling small or big apparel business owners to move to digital platforms by offering cloud-based ERP services that come with digital payment mode, touchless POS systems, advanced stock replenishment module, auto-cloud backup, real-time visibility across operations and inventory, etc.. While it's easy for macro-business to integrate new technology, it becomes difficult for micro-stores to do the same because of limited resources and knowledge. But LOGIC ERP, with its industry-specific cloud-based business solutions, is making it easier and simpler for small businesses to adapt to this new environment.